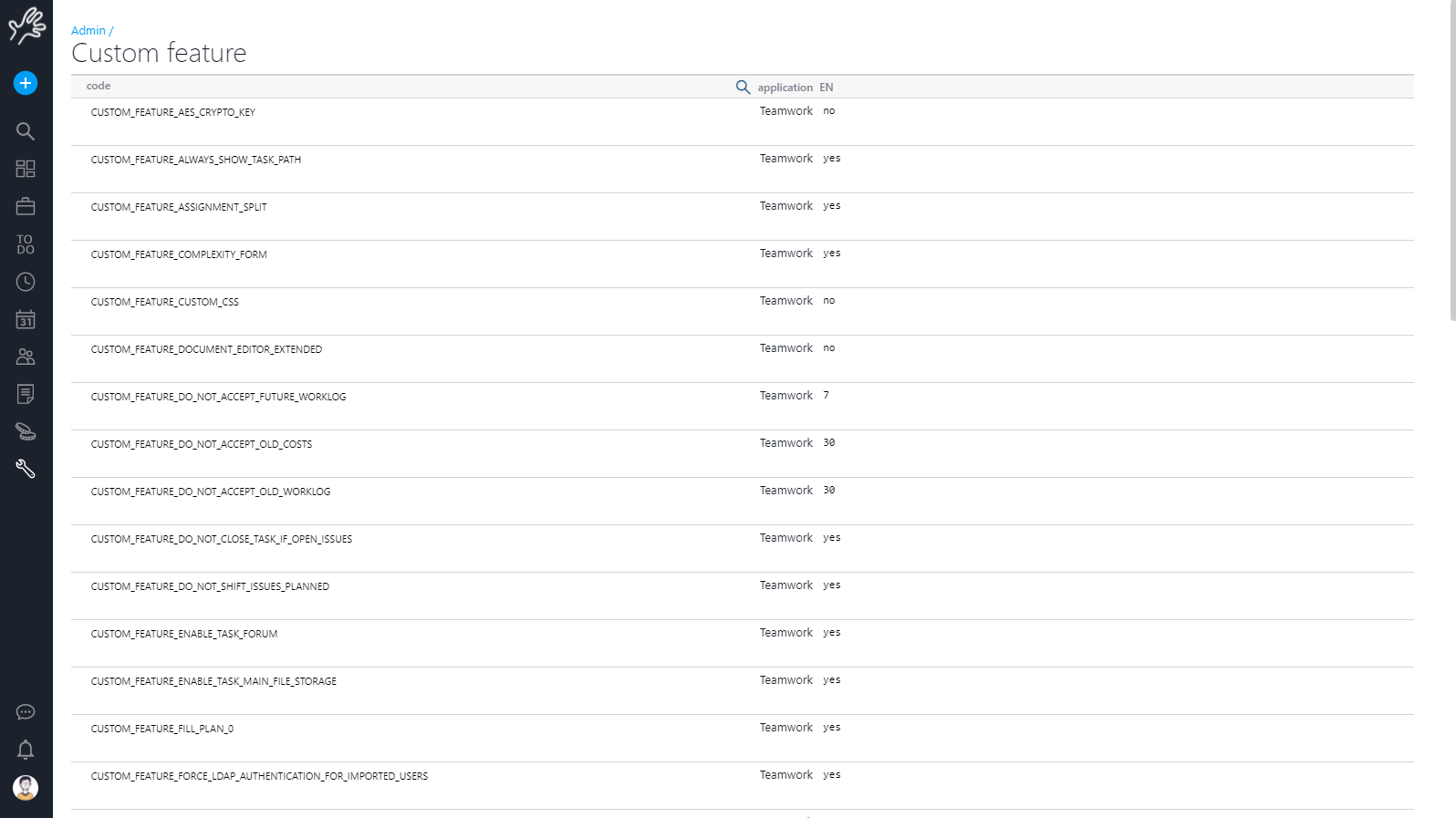 Since Twproject 5.2 Twproject allows enabling / disabling of powerful customized parts, in such a way that also customers with customized parts can update Twproject without danger of losing any customization.
Sections that can be currently enabled / disabled are:
AES_CRYPTO_KEY
Is the AES key used to encrypt documents if a "encrypted folder" is used as standard repository.
Default: no
ALWAYS_SHOW_TASK_PATH
The full project tree is displayed on lists (project list, time heets, assignements etc.) ignoring projectread permissions.
Default: yes
ASSIGNMENT_SPLIT
Enables the "split assignment" functionality. Default: yes
CUSTOM_CSS
Allows to add a css stylesheet to the standard one. It could be used to change color, logo etc.
Default: no
DOCUMENT_EDITOR_EXTENDED


Enable an extended html editor for documents.
Default: no
DO_NOT_ACCEPT_OLD_WORLOG
Age in days your worklog  is accepted
Default: 30
DO_NOT_CLOSE_TASK_IF_OPEN_ISSUES
Projects cannot be closed if there are ToDos open
Default:yes
DO_NOT_SHIFT_ISSUES_PLANNED
ToDos planned on project will not be shifted shifting the project
Default:yes
FILL_PLAN_0
Adds a button "Fill plan at zero" on the plan, which fills unplanned parts at zero.
Default: yes
FORCE_LDAP_AUTHENTICATION_FOR_IMPORTED_USERS
If active, Ldap imported users MUST authenticate using LDAP; fallback will be active for manually created users only. Make Twproject safer
Default: yes
HIDE_LOAD_DETAIL_IF_0
Do not show assignment details if load is "0"
Default: yes
HIDE_OLDER_TASK_FROM_COMBO
Project older than xx months will be hidden from the selection combos. Keeps the project selection clean and easier.
Default: 36
MESSAGES_EXPIRES_DAYS
Number of days a generated alert message will expire. It is used for e-mail, digest, sticky, log notification channels.
Default: 15
NAVIGATE_TREE_TO_TOP
When "yes", it tries to navigate to the top project
(considering your permissions) when editing using Gantt.
Default: yes
NOTIFY_ONLY_SIX_HOURS_OLDER_TASK
When "yes", Twproject generates date and status events only after 6 hours the project creation. This avoid to send notification is project setup phase.
Default: yes
RECONCILE_PLAN
Add a button on the plan view to reconcile planned hours with what has been done.
Default: no
SHOW_EXP_ON_TIMESHEET
This enables the show expenses button on worklog week.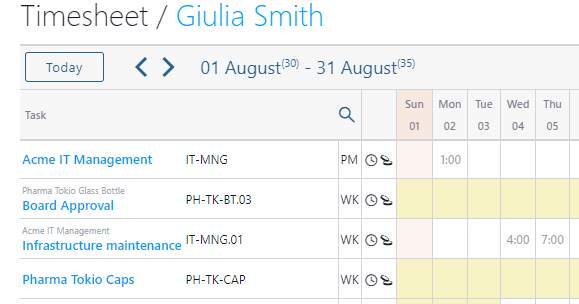 Default: yes
SHOW_NOTES_ON_SIDEBAR
This makes the notes written in the Deliverables field be visible on every project tab.
Default: no
SHOW_UNDERPLANNED
In the plan view shows days where resources are under-planned.
Default: no
SHRINK_PARENT
Parent projects  will shrink to its children size
Default:no
TIMESHEET_SHOW_TASK_PATH
Shows the complete project path on the timesheet page instead of project name only.
Default: no
USE_SIMPLE_PLAN
Operator load is computed using plan only, not work estimation
Default: no
USE_PROJECT_COLOR
Enable/disable project color
Default: yes
WORKLOG_FORM
Allow to define a alternative worklog form. Requires an ad-hoc customized form.
Default: no
Custom permissions
For special purposes like restricting view to portlets or pages, administrators can inject new custom permissions. Have a look to
[TWPROJET_ROOT]/applications/teamwork/plugins/permissionInjector.jsp
Add you permissions here and then restart Twproject; your permissions will be available for usage.
Even more customization options
Twproject team has several ways to further customize Twproject and integrate it with other data sources without forcing the customer release to be a separate code branch, which would make application updates problematic. For example since 5.3 Twproject supports "injecting" further, external, persistent classes. Contact Twproject staff for further information.