Team Performance Domain is one of the 8 Project Performance Domains introduced in PMBOK's seventh edition.
These replaced the 10 Knowledge Areas featured in the previous Project Management Body of Knowledge edition.
This article will explore what this is all about and what this change implies for project management.
CONTENT INDEX
Project Performance Domain: what are they?
As mentioned above, the 10 Knowledge Areas of the former PMBOK have been replaced in the seventh edition by the 8 Project Performance Domains.
These are referred to as groups of interrelated activities critical to the effective implementation of a project.
As opposed to the knowledge areas of the sixth edition, performance domains are designed to span the entire life cycle of a project and focus less on rigid processes and more on the practices and behaviors that lead to desired outcomes.
The 8 project performance domains were developed to ensure project success and include:
Measurement
Uncertainty
Therefore, they encompass all aspects of the project, from team management to planning, process control, and stakeholder management.
The most significant difference between PMBOK's sixth and seventh editions is that the focus has shifted from technical processes and tools to more general principles.
The seventh edition focuses more on the fundamental concepts of project management instead of focusing only on specific technical processes and tools.
This makes the guide more accessible and usable to a broader audience, including those without technical or specialized training.
Team Performance Domain: what is it about?
Now let's take a look specifically at the Team Performance Domain, or team performance domain, a segment of the PMBOK.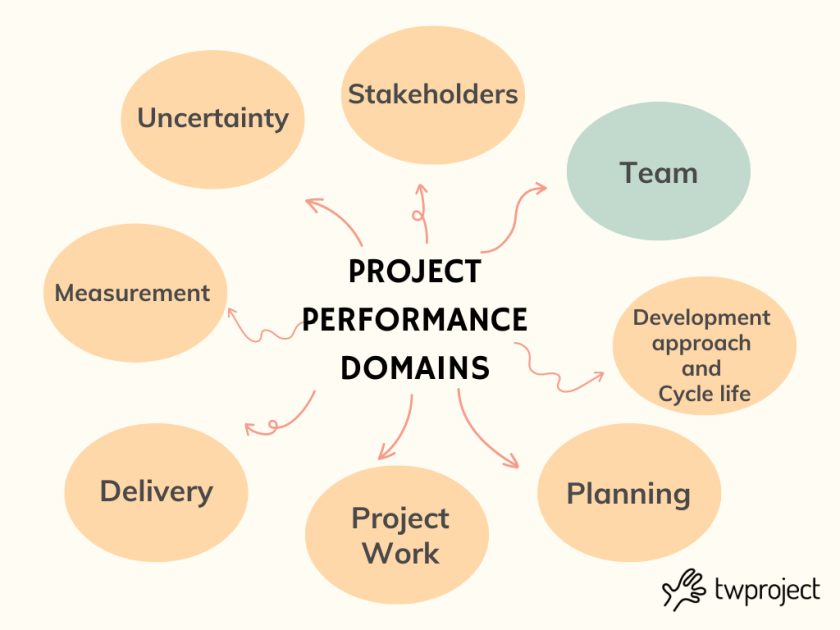 In particular, three main aspects are covered within this domain:
1. Project team and how it works
2. Team Management
3. Leadership skills
The Team Performance Domain is about the support, organization, management, leadership, and culture of the individuals responsible for producing project results.
This entails defining the culture and environment that enable a diverse mix of individuals to evolve into a high-performance project team.
This includes identifying the activities necessary to promote the development of the project team and fostering leadership behaviors by all team members.
The project team generates value for the organization by producing project deliverables.
As we discussed earlier, performance domains are a new concept introduced by PMBOK 7 to replace knowledge areas.
Likewise, process groups have been replaced by project management principles.
The Team Performance Domain focuses on creating a high-performance team, effective team coaching, raising the level of operations, creating collaborative team spaces, and monitoring and measuring their performance.
Certain processes and actions are put in place to achieve the planned goals of this performance domain.
In PMBOK 7, it is assumed that if a team leader successfully executes all the activities of the performance domain according to the principles outlined here, the result will be a high-performing team.
Among some factors that contribute to an effective team are:
Open communication: an open environment fosters productive meetings, problem-solving, the birth of new ideas, etc.;
Shared understanding: what the project will create is clear to everyone
Shared ownership: the more invested team members feel in the project results, the more motivated they will be in their work;
Trust: employees who trust each other work together more effectively;
Collaboration: collaborative teams generate more innovative ideas;
Adaptability: a better-performing team can adapt to different environments and situations;
Resilience: in the event of a problem, the team can recover quickly and continue their work;
Empowerment: those who can make decisions independently without being micro-managed all the time achieve better results;
Recognition: recognizing a job well done motivates team members to keep performance high.
The project manager must keep a respectful, collaborative, and non-judgmental environment that allows the team to thrive and achieve maximum return on performance.
Expected results of the Performance Domain Team
Historically, responsibility for a project was always assigned to a single person, typically the project manager, who was in charge of the project's success (or failure).
In contrast, the project team leader can delegate responsibility to team members and be held accountable for the work.
However, when we look at how some organizations have been structured in recent decades, sometimes, responsibility for a project, product, or service has been assigned to more than one person.
The PMBOK, in its chapter on the Team Performance Domain, refers to this as shared ownership.
This means there are contexts in which work results are assigned to more than one person or team.
This may be the case with a high-performance team that is stable, empowered, and self-organized.
Stable teams become a high-performance teams by progressing through four stages:
Training: team members work together and begin to get to know each other,
Assault: conflict and stress resolution,
Standards: at this stage, employees begin to understand their colleagues' strengths and can support each other,
Exhibition: When the team reaches its peak performance.
The time for team growth in the performance stage may depend on different variables and cannot be predetermined.
However, when such a high-performing team is achieved, an organization can assign employees to a project and let them self-organize to decide their way of working.
They will be free to choose and evolve their processes and practices to implement within their project and set up operations based on the organization's policy.
To put it another way, the organization can enable a high-performing team to be responsible for the work and own the organization's results.
The self-organization of the high-performance team improves the efficiency and effectiveness of the work accomplished and the satisfaction of team members. They feel valued and involved in the project, thus increasing their sense of ownership and long-term involvement with the organization.
Twproject helps teams achieve the best possible results by providing them with the right tools to manage work in an agile and productive way.
Work together with your team effectively