The project work performance domain is one of the eight performance domains introduced in PMBOK's seventh edition, constituting an integrated system to ensure the successful delivery of a project.
Let's see what it is all about in this article.
What is the project work performance domain?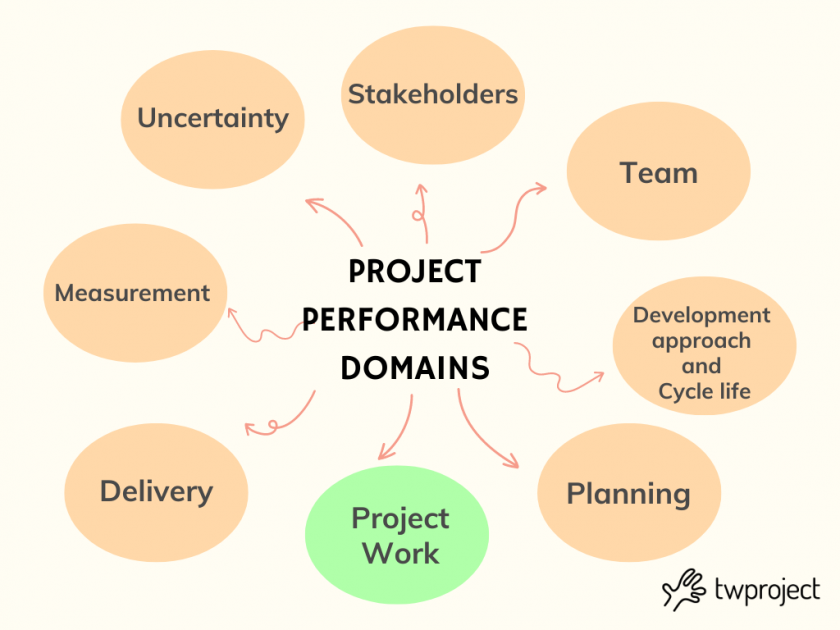 The Project Work Performance Domain focuses on the actual project work that will be carried out, and all that is involved in the execution of that work.
More specifically, this domain covers the activities and functions of creating project processes, managing physical resources, and fostering a learning environment.
Project work includes process definition and execution, communication, engagement, physical resource management, procurement, and other key elements to run smoothly.
Among the necessary functions that are part of this domain is the need for continuous process evaluation.
Customization is a major element as copy and paste hardly works in projects.
According to the latest edition of the Project Management Book of Knowledge, project work includes:
Managing existing workflow as well as any new work and changes;
Keeping project team motivation and concentration high;
Setting up efficient project systems and processes
Communicating with interested parties;
Managing physical resources, such as materials, equipment, and supplies;
Working with suppliers to plan and manage procurements and contracts;
Monitoring changes that may affect the project;
Enabling learning and knowledge transfer.
Let's take a look at these aspects in more detail:
Managing existing workflow
The project manager and project team periodically define and review the processes that the team is pursuing.
Process customization can be used to optimize work according to the project's needs.
Besides being efficient, processes should be effective. This means they should adhere to quality requirements, regulations, standards, and organizational policies and produce the desired result.
Keeping project team motivation and concentration high
This includes short- and long-term evaluation of progress toward delivery goals.
This involves ensuring workload balance and employee satisfaction and motivation.
Communicating with interested parties
Communication can be formal and informal, verbal and written. Different channels of communication and involvement may be used depending on the stakeholders.
Information can be shared in meetings, conversations, electronic archives, etc., as needed.
Managing physical resources
The goals from the physical resources point of view are:
Reducing or eliminating on-site material handling and storage;
Eliminating waiting time for materials;
Minimizing waste and wastage;
Ensuring a safe working environment.
Working with suppliers
Many projects involve some sort of collaboration with external suppliers. Procurement can include everything, from materials to tools, labor to specific services.
Organizations typically have rigorous policies and procedures regarding procurement and collaborations with suppliers. These define who has the authority to enter into a contract, the limits of that authority, and the processes and procedures that should be followed.
Monitoring modifications
Any project will inevitably face changes, either more or less important. The appropriate adjustments in staffing, resources, budget, timelines, etc, must support these changes.
The project manager is the one who has to deal with change management to properly drive the change.
Enable learning during and after project
Regularly and at the end of the project, the team and stakeholders can meet to discuss what worked and what can be improved in the future.
These retrospective meetings result in so-called "lessons learned" useful for future projects.
Interaction of the project work performance domain with other performance domains
All performance domains are closely related to each other.
The Project Work Performance Domain enables and supports efficient and effective planning, delivery, and measurement.
Furthermore, this domain supports navigating through uncertainty, ambiguity, and complexity and balances their impacts through integration with the other domains.
Interfacing Project Work Performance Domain with Twproject
Twproject can provide outstanding support for implementing all the activities detailed in the Project Work Performance Domain.
It enables customizing work processes, monitoring activities, and making changes efficiently.
Through the use of dashboards and reports, it helps keep team motivation high by balancing workload and monitoring team performance.
This software also offers an embedded communication system that streamlines information sharing among team members and with other relevant parties.
Regarding physical resources, Twproject helps track resource use, minimize waste, and optimize the use of materials. It also enables effective supplier relationship management, contract and delivery tracking.
It also provides useful tools for swiftly finding and implementing necessary project changes.
Lastly, it makes learning within the organization easier, allowing lessons learned to be easily documented and shared.
Twproject, in combination with the Project Work Performance Domain, can yield more effective and efficient project management.
Using modern tools and recognized project management principles, managers can streamline their work processes, improve communication, effectively manage resources, and collaborate more efficiently with suppliers.
Still in doubt? Well, you can try yourself with a free demo.