My fellow Project Managers, welcome to the mightiest match of this century: PMBoK 7 vs. PMBoK 6!
Jokes aside, the world of project management is constantly evolving, and as professionals in the field, it is paramount to stay up-to-date on the latest trends and methodologies.
In this article, we will explore the differences between PMBoK 6 and PMBoK 7, highlighting the evolutions and new challenges that Project Managers face given these changes.
Before we begin, here's a joke: "The project manager is like a juggler who must keep time, cost, and quality in the air. But! All balls are made of rubber, except for the quality ball, which is made of glass!"
Now that we've eased the mood let's cut to the chase.
PMBoK 7 vs. PMBoK 6: introduction to the differences
1. Basic principles
PMBoK 6 is based on 10 knowledge areas and 49 processes, constituting a fairly prescriptive and linear approach to project management. This approach worked for many years but showed its limitations when applied to complex and adaptive projects.
PMBoK 7 introduces a more flexible and agile approach based on 12 core principles.
These principles, which apply to any type of project and industry, help project managers better adapt to the challenges and changes during project development.
2. Performance Domains
While PMBoK 6 focuses on knowledge areas, PMBoK 7 introduces the concept of Performance Domains, namely 8 performance areas that cover the different dimensions of a project. These domains are:
These Performance Domains cover critical aspects of project management, offering a more holistic and integrated view of the project management process. As a result, project managers can focus on value creation and adaptability rather than following a strict, prescriptive approach.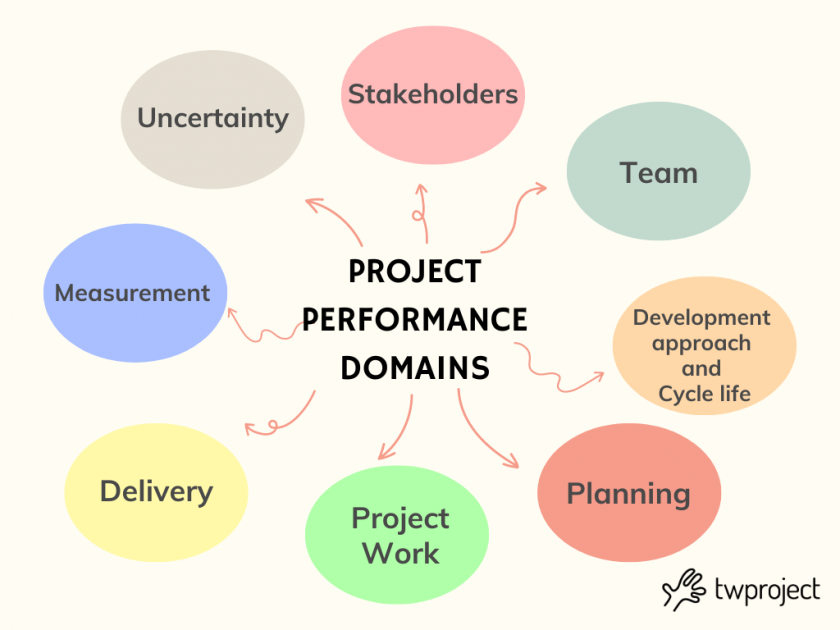 3. Hybrid and agile approaches
PMBoK 6 introduced a few Agile concepts, but PMBoK 7 takes it further, stressing the importance of hybrid and Agile approaches in modern project management.
This reflects the growing need for flexibility and adaptability in organizations that manage increasingly complex and uncertain projects.
Project Manager Challenges in Consideration of PMBoK 7
1. Adapting to a more flexible and agile approach
One of the main challenges for project managers in the transition from PMBoK 6 to PMBoK 7 is adapting to a more flexible and agile approach to project management.
This requires shifting away from old habits and prescriptive ways of working to embrace new techniques and tools that promote adaptability and speed in response to change.
2. Managing stakeholder expectations
As Performance Domains are introduced, project managers must be able to communicate effectively with stakeholders and manage their expectations throughout the project life cycle.
This can be challenging, as different stakeholders may have other goals and priorities. It is, therefore, essential to establish open and constructive communication with all stakeholders to ensure project success.
3. Focusing on value creation
PMBoK 7 emphasizes value creation more than PMBoK 6. Project managers must focus on the project's value to the business, stakeholders, and customers rather than merely completing tasks according to a set plan.
This requires a results-oriented mindset and continuous watch for opportunities to improve and optimize resources.
4. Managing uncertainty and risk
PMBoK 7 acknowledges the importance of managing uncertainty and risk in projects. Project managers must be prepared to address unexpected challenges and adapt their plans accordingly.
This requires a proactive approach to risk management, early identification of threats and opportunities, and the skill to make quick and informed decisions to mitigate negative impacts.
5. Developing personal skills and leadership
Shifting to PMBoK 7 also requires the development of project managers' personal and leadership skills. Besides technical skills, professionals must hone their communication, negotiation, time management, and conflict resolution skills.
Also, they must be able to motivate and lead project teams toward achieving goals by leveraging team members' diverse skills and strengths.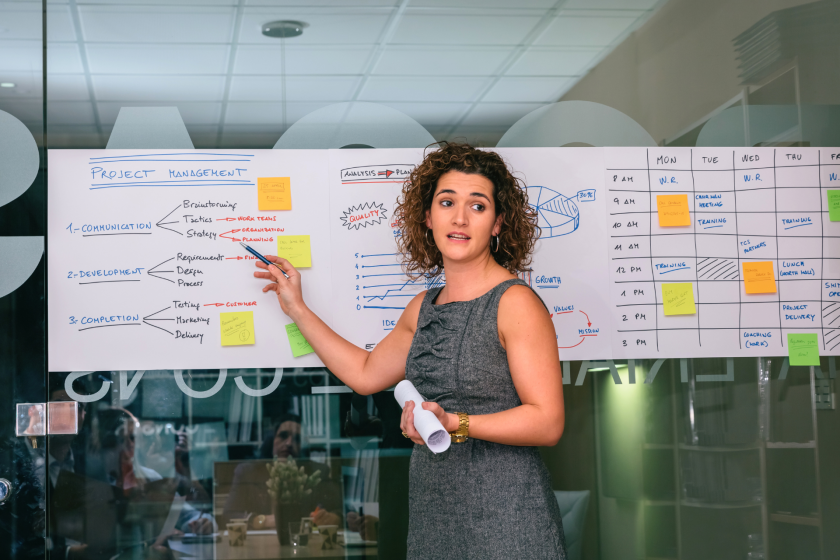 5 practical tips for tackling new challenges in Project Management
Now that we've outlined some of the major challenges facing project managers as they transition from PMBoK 6 to PMBoK 7, here are some practical tips to help you overcome them:
1. Regular training
Keeping your skills up-to-date is critical to facing new challenges in project management.
Attend training, seminars, and workshops, and strive to learn from peers and industry leaders. Also, it is important to keep abreast of the latest trends, tools, and best practices through blogs, podcasts, books, and articles.
2. Networking and collaboration
Nurture your professional networks by attending industry events, conferences, and online forums.
Sharing experiences and knowledge with other project managers can be precious and will help you better understand how to apply PMBoK 7 in your day-to-day work.
3. Adopting an experimental approach
Feel free to test new methods and techniques in your work. Adopting PMBoK 7 requires a degree of openness to change and experimentation.
Bear in mind not all solutions work for every project or scenario. Be ready to test different strategies and adapt them to your project's needs.
4. Reflecting and learning from experience
Learning from past experiences and using these lessons to improve your project management skills and processes is crucial. Take some time to reflect on your experiences and what you learned during your transition from PMBoK 6 to PMBoK 7.
Examine what worked and could be improved, and use this information to guide your future decisions.
5. Balancing strictness and flexibility
Lastly, finding the right balance between sticking to PMBoK 7 principles and practices and being flexible enough to manage complex and dynamic projects is essential.
Keep sight of your primary goal: to create value for stakeholders and the organization through effective and adaptable project management.
The transition from PMBoK 6 to PMBoK 7 brings a significant challenge for project managers, but it also brings an opportunity to improve and innovate in how we manage projects.
By adopting a more flexible, agile, and value-driven approach, project management professionals can successfully meet the challenges of our ever-changing world.
Bear in mind, however, that a good project manager is always open to some ironic joke: " If project management were a game, it would be the game of musical chairs–where everyone tries to find their place before the music stops!"
Now that you know the differences between PMBoK 6 and PMBoK 7 and are aware of the challenges ahead, you are ready to conquer the world of project management and guide your projects to success.
Godspeed, and may the power of PMBoK be with you!