Will AI know how to recommend how to choose a project management software? We wondered about this and wanted to give it a test! The result caught us by surprise 😉
We'll let Artificial Intelligence have the floor to tell us how to choose project management software from its perspective.
If you are looking for project management software, then you should know that the right choice can make all the difference between the success and failure of your project.
There are many products out there that offer varying levels of functionality and flexibility. In this article, we will discuss how to choose the right work management platform for your needs.
What is project management software?
Successfully managing a project requires good activity planning.
The creation and execution of a work management plan are thus imperative and involve auxiliary tools.
These programs help professionals and companies manage their activities in a simple and orderly manner, as they make it very easy to:
analyze;
design;
plan;
monitor set goals
Also, they can come in handy for visualizing and organizing all the information concerning a project so that decisions can be taken based on clear and extensive facts.
How to choose the right project management software for your needs
Choosing the right project management software can be challenging, as many options are available. Your choice will also depend on your specific project needs and your budget.
Before deciding which software to make use of, you should consider some factors such as:
your project scale;
skills needed;
what features are essential to the needs and success of your project;
the number of users who will have to use it.
Good software should also include advanced features that can improve efficiency by preventing issues related to turnaround time.
Twproject's features: the ultimate software for project managers
Twproject is a popular project management software that offers all the features to manage any project successfully. The software includes tools for:
activity planning;
activity scheduling;
monitoring of work progress;
risk management;
communication among team members.
Twproject also has some advanced features that make it particularly useful in managing complex projects. For example, it provides tools for analyzing data, including cross-referenced data, and creating detailed reports on activity progress at any time.
It also includes tools to track individual user performance and report problems before project delays happen.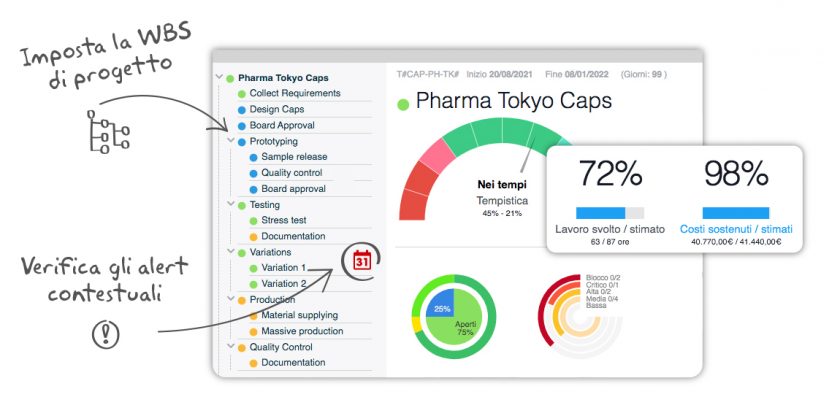 Benefits of using project management software
Project management software can provide multiple benefits for anyone managing a complex project.
First, it can boost overall efficiency by streamlining many manually demanding tasks such as scheduling or activity progress monitoring.
Also, it can significantly raise team productivity by making it easier to track individual user performance and share information among staff members in real-time.
These programs can also enhance transparency and reduce the error margin, making it much easier to plan activities and provide accurate information on project progress at any time.
Finally, it can help cut business costs by saving valuable time by implementing automated processes within your team or organization.
How to improve efficiency with a project management software
However, even the best software is not enough if it is not used correctly or is poorly implemented.
To maximize a project management software's efficiency, it is crucial to ensure that all members involved in project implementation understand how to use it correctly.
Furthermore, it is essential to ensure all users have access to project status information at all times.
Choosing the right project management software is never an easy matter.
Although there are many different options available, it is important to consider thoroughly what needs to be met to complete your project and find the solution that best fits those needs.
Make sure you weigh all available options and judge them by their features and functionality before deciding what to purchase.
If you follow the tips provided in this article, you will be on track to find project management software that meets your needs and helps make your work a success.
Not bad, right?
If even the AI recommends Twproject, all you have to do is try it out! 😉