If you are looking for an optimal solution to manage your team's tasks and to-do lists, in this short article we will help you find the right software for you, with an updated overview for 2023.
Compared to other long lists that you will find online, ours will be short and effective, because we have selected and tested for you the 6 best products on the market, and we will examine them in their free and paid versions.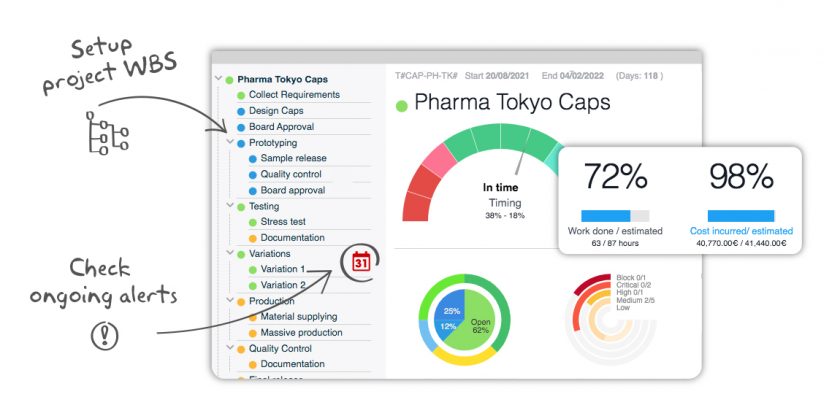 If you are looking for a flexible software solution that can meet the needs of workgroups of any size, from small businesses to larger companies, you can give Twproject a chance.
Twproject is an optimal tool because despite its simplicity it offers all useful tools for project management in every key aspects, from to-do lists, to task assignments, to worklogs, up to budget and workload management. Its strenght lies in the possibilty to combine a waterfall management, highly structured and useful for the project manager to keep the entire production cycle under control, with an agile system that responds to the needs of the individual workers to manage their daily assignments through simple tools. In a recent article we talked about the difference between waterfall vs agile management.
In the setting phase of Twproject, the project manager can create a general WBS and an interactive Gantt, which will allow to keep deadlines and budgets under control over time. Then, the manager can start assigning tasks and managing daily work through to-do lists, kanban boards, weekly planners. Every need, whether of the project manager or of the employee, is covered in Twproject.
In short, the main features of Twproject are:
Waterfall/agile management
Gantt chart
Kanban board
To-do list
File sharing
Worklog and attendance sheets
Budget and resource management
Workload management
Pricing: from 4.89 € per user/month.
Pros: Twproject is a complete tool for all the different working roles, allowing you to differentiate positions in the organization and offering better time and cost management than many other products on the market. In Twproject, the project manager always has a constantly updated overall view of the project.
Cons: We haven't found any.
Twproject is the right answer to those looking for a complete but simple tool, an exhaustive but highly flexible system.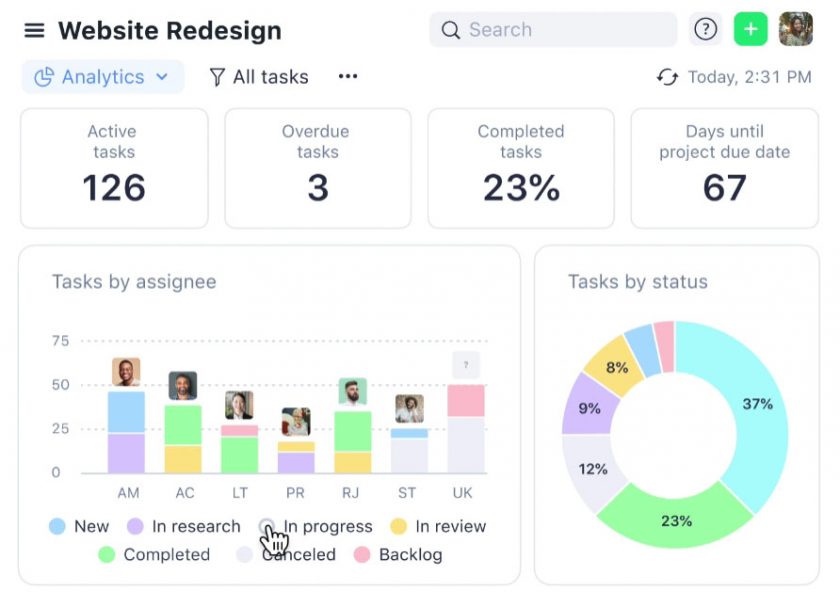 Wrike is also a very popular task management software and is well suited to the needs of both small workgroups and larger enterprises.
It has an integrated work time tracking system, but it is a bit lacking in the possibility of adding free annotations because it does not have tools for notes or concept maps.
Wrike's main features are:
File sharing
Monitoring progress on tasks
Workflow statuses
Milestones
Pricing: Free to $24.80 per user/month.
Pros: unlimited projects; customization according to the different needs of the type of team.
Cons: Gantt chart and tracking timer only available in paid plans; lack of annotation tools.
Whether you're part of a small team or managing a large company, Wrike can do it for you. However, if you're a creative thinker, you might feel a little limited.
Monday.com is currently a highly advertised product that offers task management functions in a simple and intuitive manner. It features several task management features that will let you create assignments with ease.
However, as is to be expected for such a sponsorized tool, its cost is not exactly among the cheapest.
Monday.com's main features are:
Calendar view
Time tracking
Automations
Unlimited tabs
Pricing: $8/user per month to $16 per user/month.
Pros: integrated messaging system especially suitable for teams working remotely; user interface that allows you to view more information in one place.
Cons: somewhat disorganized and dispersive navigation; lack of some functions, especially the dashboard, in the mobile version.
Currently one of the leading players on the market for task and to-do-list management, with tools that foster team collaboration. However we hope that over time it will improve in flexibility.
ProofHub is powerful, all-in-one project management and team collaboration software that has amazing task management capabilities to help you get more done. From setting priorities with custom to-do lists to assigning tasks and deadlines with ease, ProofHub ensures that everyone is on the same page.
You can also collaborate on documents, files, and presentations, and communicate with team members using chat, comments, and discussions. ProofHub is easy to use and its flat pricing plan makes it a great option for businesses of all sizes.
Key features:
Multiple task views – Table, Board, Gantt, Calendar
Built-in chat
Custom field reporting
Time tracking
Comments and @mentions for effective collaboration
Customized workflows
Online proofing
Pricing: Flat pricing at $45 per month (billed annually) for unlimited users.
Pros: simple learning curve, suitable for teams of any size, a centralized hub for organizing and storing data for small or medium sized groups.
Cons: notifications are sometimes overwhelming
An all-in-one project management and team collaboration software, ProofHub caters to the scalable need of teams of any size. This makes the tool suitable for a number of different industries and workflows.
Basecamp is also a particularly useful application for remote teams. Its operation is simple: enter a project and divide it into tasks to be completed, then save the latter in the form of a to-do list. Then you can assign tasks, define due dates, add notes and attachments.
However, Basecamp lacks some rather basic project management features: first of all, the ability to prioritize tasks and track time; furthermore, this platform does not offer tools such as Kanban boards and Gantt charts. If your team can do without these tools, Basecamp is a good solution for a medium-sized company.
What Basecamp offers:
Real-time messaging
Simplified task management
Self check-in
Project Progress Tracking (Hillcharts)
Pricing: Free to $299 per unlimited users/month
Pros: good price/quality ratio; placing all tools, communications and documents related to a project in a single place, which facilitates collaboration in the group.
Cons: lack of some basic features; somewhat limited storage space if collaborating on multiple projects and if team members upload several files.
A simple interface with essential information concentrated in a single view, particularly effective if your team works remotely and with independent timing.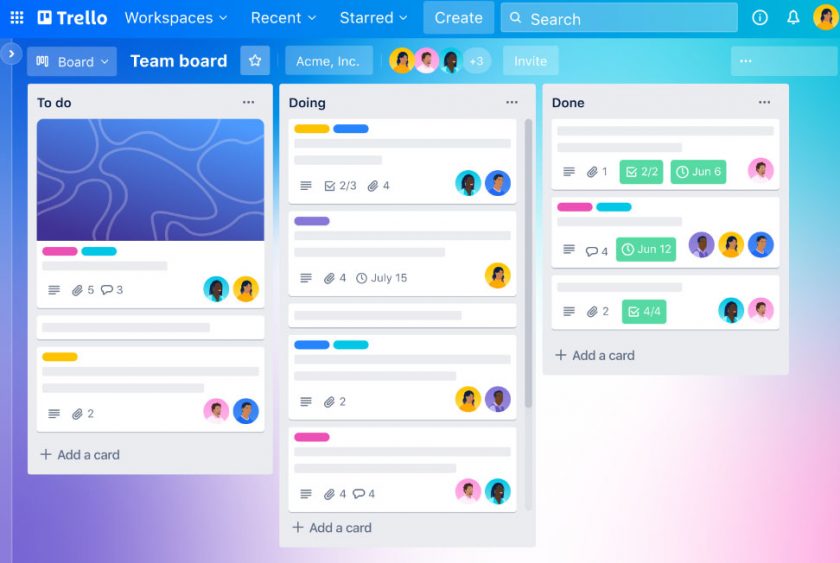 Trello stands out for having Kanban cards as its main focus: therefore, its main interface looks like a large bulletin board with different cards on which users act as if they were noting information on post-its.
In order for Trello to be efficient for projects with higher complexity, it is necessary to purchase a paid license. In that case you will be able to unlock some additional features like Gantt charts and others. Therefore, our doubt is whether the effort is worth it, since there are other software that offer the same features at lower prices.
Trello's main features are:
Organizing in "boards", "lists" and "cards"
Checklists
Files attachments
Unlimited integrations (premium version)
Public/private boards (premium version)
Increased customer support (premium version)
Price: Free to $17.50 per user/month.
Pros: instant notification system; ease in viewing deadlines; good navigation and visibility also in the mobile version.
Cons: no offline work; file upload limitations; not suitable for projects with multiple work teams.
Trello is a very visual and highly adaptable solution that is useful when working remotely. However, it is not efficient when working on large projects or if you intend to make long-term plans.
Conclusion: how to choose the right task and to-do list mamagement software for you
1. Define your team's main needs
In a previous article we addressed the reasons that should lead you to opt for a project management software, instead of relying on individual initiatives, which are still too often limited to paper notes or at most shared Excel sheets.
In our experience, many employees complain of not having the right technology and tools to optimize their work. In fact, it is not always possible to keep track of every project activity, meet deadlines, monitor progress and manage your team without an adequate tool.
But how to understand what to use? We recently talked about the ten aspects to keep in mind when choosing a good project management tool. In short, you should focus on the key aspects of task management and understand which ones are critical to your team. Consider these ten points and prioritize them:
Workflow: project's phases
Gantt charts
To-Do lists
Time tracking and resource management
Internal collaboration
Budget management
Customization
Integrations
Remote and/or mobile use
Language and assistance
Finally, remember that the ultimate goal of good task management is not to leave anyone behind. With careful management of activities you will be able to strengthen the sense of belonging to the group and not waste resources, being these economic resources but also and above all human ones.
2. Take a free trial
As you have seen, it is clear that by now the choice of software solutions in the world of task management is vast. Therefore, after you have opted for one or more solutions, our advice is always to do a free trial. The reasons are in our opinion the following:
Don't spend your money right away buying the first project management software that comes into your mind; many of them offer a free trial period. Of course, be careful to use this service well and watch out for the trial period to expire! Choose who gives greater guarantees also in this sense.
Very often, together with the free trial, you will be able to access customer support and therefore explore all the features, understand their use and compare your needs with the experience of those who know the system well, also taking advantage of any customizations. Also remember: if the platform you choose doesn't have the features you want, it doesn't mean they won't be there in the future: the best software companies are constantly testing and regularly releasing new versions of the product.
Would you like to give a chance to our first on the list? Twproject offers you a free 15-day trial and in our opinion it is a very useful solution for managing projects of teams of all sizes, perfect if you need to rely on a single platform wich is easy to use but also accurate and elaborate.
These are for us the best task management and to-do list software of 2023.
Let us know about your experience and what your final choice will be!