There are so many tools for managing projects everywhere!
Each with its characteristics, suitable to meet different needs.
In this article, we want to point out those that (for us) are the key aspects, or at least factors to consider, when choosing a project management tool in the company.
But first of all, here is a statement.
[av_notification title=" color='green' border=" custom_bg='#444444′ custom_font='#ffffff' size='large' icon_select='no' icon='ue800′ font='entypo-fontello' av_uid='av-u38an2′]
The Project Manager does not have an easy task.
[/av_notification]
Structuring an entire project, from its birth to its conclusion, assessing potential risks, choosing the right team communicate with stakeholders in a clear and timely manner , and face the unexpected … it's not easy at all.
In order to organize all these variable phases in a single coherent plan, certain skills are not enough  ( essential for this activity); there is also a need for a high-performance project management tool.
Why choose a project management tool
When working on a project – of any size – there are four main elements that must work together:
1. Scope: basically, it refers to the dimensions, goals and requirements of the project.
It is the connection between the goals that have to be achieved and the budget allocated in order to reach them.
Scope changes are the most demanding and it is imperative, in these cases, a reflection and a review of the project that involves all stakeholders.
2. Resources. It has three aspects: people, materials and equipment.
First of all, it is important to ensure that the right number of people is employed in a project and that they have the appropriate skills and knowledge to complete the assigned tasks.
Next, you need to get the right materials and equipment, in the right location and at the right time, essential for the team in order to operate efficiently.
3. Time. When doing a project, time management is a crucial aspect.
Each activity must be listed, programmed with a pre-established duration and deadline and allocated with the right resources.
4. Budget. All activities have a certain cost that must be estimated and added up.
It becomes clear that at any level the use of a project management software can make the difference.
This need begins to be perceived in different sectors; in fact, excluding the traditional ones in which project management was born, even new types of companies start to use this tool.

What key aspects to look at when choosing a project management software
Each software has its own characteristics and is different from the other …. So ours ☺
Let's see together what are the key functions that a project management software must have considering the new market trends and scenarios.
1. To-Do-Lists
Regardless of whether they are structured with numbered or bulleted lists, colors, markings, etc. to-do lists are optimal ways to organize information.
That's why people love them … and even project managers.
The simple list of things to do remains a cornerstone of project management.
The easiest way to measure your productivity is to look at the to-do list in the morning and check at the end of the day whether all the tasks have been completed or if there are open points left.
Although many project management tools include to-do lists, not all of them give the right connotation to them.
Instead, it is essential to simplify the creation and management of activities, but also the sharing of lists of activities and to do lists with colleagues.
We are aware of this, therefore, in Twproject we have created a system that leaves freedom of management.
With Twproject, in fact, it is possible to switch from activity lists to Kanban cards to views on calendar – always for the same project.
This allows team members to view their activities in the way they most prefer.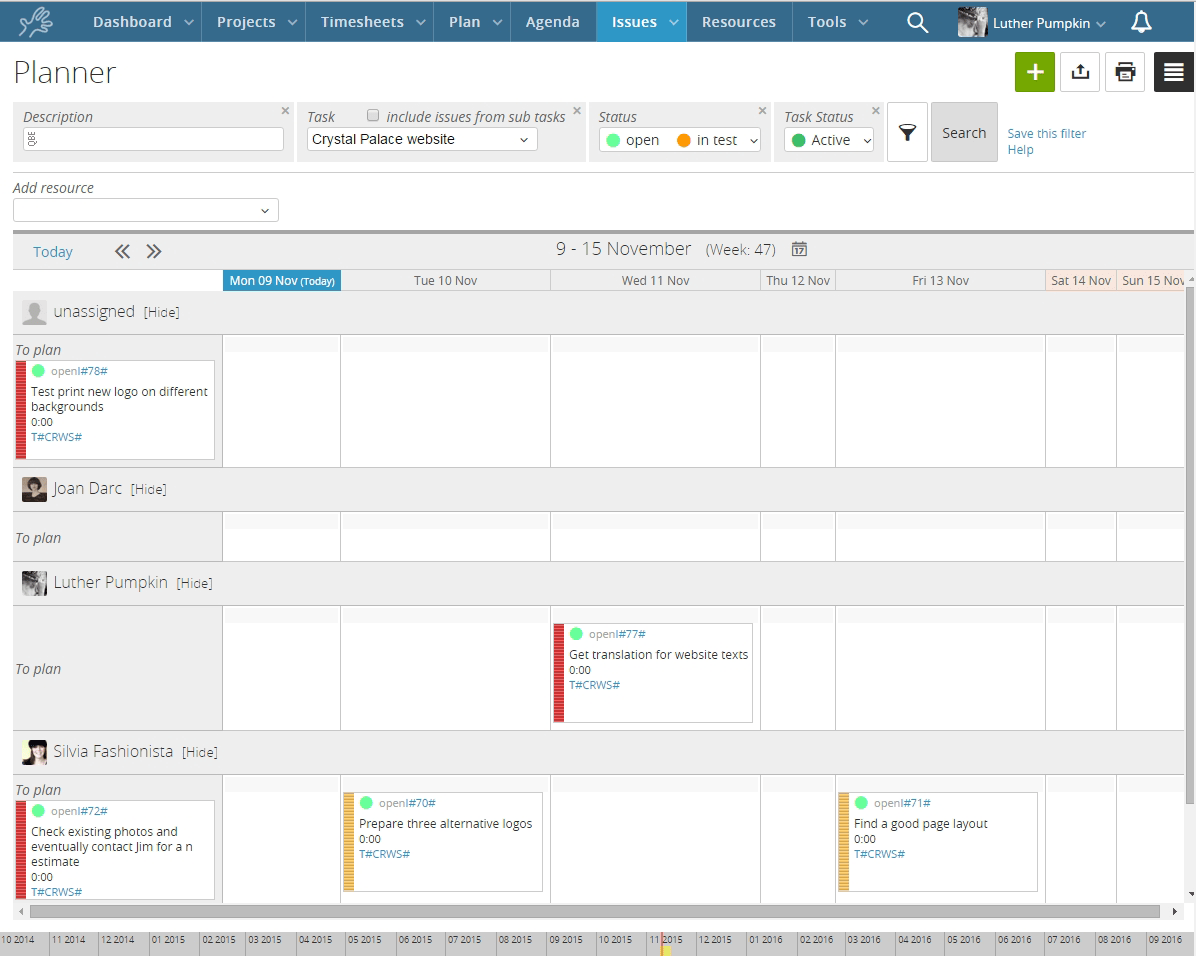 2. Workflow
Workflow tools help keep track of activities and projects as they move through various stages of the process.
These products often use a Kanban card and boards as a framework for showing jobs in progress.
Like the to-do list, even a workflow management tool is not that complex, but it is an invaluable help for a project.
Therefore, when choosing the best tool to successfully run projects, it is good to choose one that is complete.
The suggestion, therefore, is to identify the software that offers a large amount of functionality when considering the cards, such as:
design boards as a framework for any type of process
attach file
comment
assign team members
etc.
Even the start of the project should be simplified: to start a new project, it should be enough to create a new board. It should take just one minute.

3. Gantt chart
Designed by mechanical engineer Henry Gantt in 1910, the Gantt chart has had a relatively long run as a project management tool.
A Gantt chart uses horizontal bars to illustrate the completion dates of the project, from start to end, progress and milestones.
While a Kanban card is best used at a single task level, Gantt charts are better for the overall view of the project and its flow.
There are several valid tools that use the Gantt chart, including, of course, ours too!
In particular, we wanted to push ourselves towards an innovative solution.
Our software balances advanced project management functionality with a very simple interface.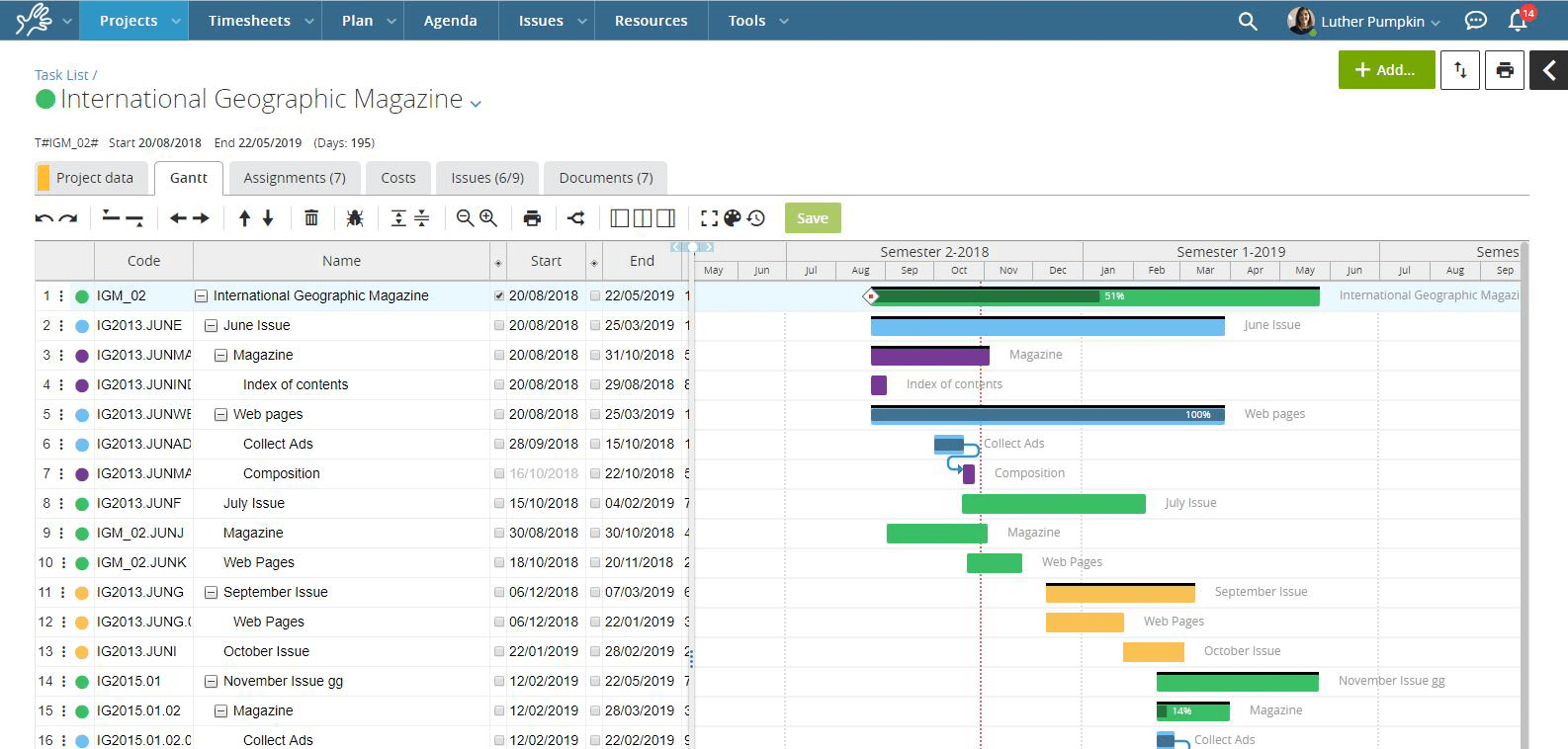 4. Time monitoring
If you work in direct contact with customers, time monitoring and invoicing are two necessary features that the project management system must have.
For this, it is essential to find a software that presents a time tracker. So, whenever you want to time a specific task, it is sufficient to start the clock in order to keep track of every second.
In order to monitor the time, it is essential that the chosen project management tool also offers the possibility to manually enter the time related to the activities.
It is important to guarantee the traceability of time spent.
Over the years, we have found that the whole project team is benefiting from this functionality.
Surely the project manager will be able to:
Keep track of the work done at any time of the day;
Consult and assign the timing to each activity at the end of the working day.
In TWproject it is also possible to manage several projects simultaneously and display them in different ways, depending on the analysis required.

5. Collaboration
Improving collaboration between teams and in the team is an evergreen goal for every type of organization.
It is now clear that e-mail are not a reliable and effective collaboration tool and in most cases do not help to improve team alignment.
As a result, some project management tools focused on the collaboration aspect in the group.
In order to guarantee the best opportunity to collaborate with colleagues or customers, the chosen software must have:
Message boards
A chat
The possibility to share files / documents.
Therefore, we suggest that you choose a tool that focuses on business collaboration, and that is perfect for heterogeneous teams.
Combining project management, communication, digital asset management and basic payment tools in one software, becomes fundamental given the alternation of the size of projects in companies.

6. Management of the project budget
Defining a project budget, implementing it and monitoring it in real time are key steps to keep project performance high.
Therefore, when choosing a project management tool, it is important to pay particular attention to the allocation of costs.
In TWproject, we have chosen to give the Project Managers the tools related to costs, and at the same time to give the possibility to split them on different fields.
Thus, it is possible to manage both the costs generated by the work and the additional costs.
The costs, then, are tracked by all the tasks, therefore, from the root of the project it is easy to have an overview of the total costs as a whole or for a single branch.

7. Customization
The software must be a support tool for the Project Manager, it should facilitate the activity and help complete the project successfully.
Therefore, the tool must be able to adapt to the project, and not vice versa, by creating:
custom fields and forms
custom reports
custom advanced analysis
Twproject allows multi-level customizations.

8. Integration
In an interconnected society, work must also maintain the same standard.
In evaluating a project management software, it is important to analyze what evolutions and connections the software allows.
This means projecting the choice from a strategic point of view. If the software integrates with the major corporate CRMs or ERPs, the current investment can also be considered from a perspective point of view.
9. Remote feasible, even on ios and android
With the new ways of remote work, first of all the smart working, there should be the opportunity to work on different platforms by connecting also with a tablet or an Ipad.
Therefore, when selecting a project management software, it is important to evaluate that the software is able to perform on systems such as ios and android.
10. Language and assistance
When choosing a project management software, it is important to look at the language in which the software is available.
This is because the software must be used by the entire team and often the language can be a brake.
It is possible to create a winning project if all the team members find the tool easy to use, and the language is one of the elements that contributes to the usability of the software.
Finally, we want to underline the importance of technical assistance. Too many times this aspect is neglected. But when working with projects, timeliness is essential … together with the language.
Whether you are managing large, complex projects or simply trying to create a process for your daily work, life will be much easier if you choose to use a project management tool.
This, of course, is our point of view!
And what's yours? Which project management tool do you use in everyday life?
Tell us which features are essential for you.