What are the skills of the Project Manager today? That's a good question!
Project management is not an easy job. In reality, this is composed by a series of difficult tasks, including the start-up, planning, execution, control, closure of a project and, last but not least, the management of the team.
And the project manager must do all this successfully. In order to do this, he must possess a variety of not only technical, but also transversal skills.
[av_notification title=" color='blue' border=" custom_bg='#444444′ custom_font='#ffffff' size='large' icon_select='yes' icon=" font='entypo-fontello' av_uid='av-raflfp']
The project manager does not deal only with systems and processes, but also with people.
[/av_notification]
Here is then a list of 10 skills (9 + 1) that every project manager should have. 
CONTENT INDEX
1.Leadership
One of the first skills that come to mind when thinking of a manager is leadership.
This is a skill that some consider innate and that can not be learned.
However, we think everyone has the potential to learn how to apply leadership techniques.
Leadership can show up in different styles, depending on the personality of the project manager.

2.Communication
This aspect is closely connected with leadership.
It is not possible to be an effective leader if one is not able to articulate needs and necessities, but also praises and compliments.
Not only does a project manager communicate with his team, but also with stakeholders, suppliers and customers.
Communication concerns not only a personal level, but also specific tools such as reporting or collaboration tools via chat, file sharing and other means that allow to tag discussions.

3.Planning
This is a technical skill, absolutely essential in a project manager – otherwise it is very likely that the job chosen is wrong.
The only way to achieve the project goals within the established time frame is to divide the goal into individual activities along the timeline and to associate one or more team members to each activity.
In short, this is planning, and it is the heart of what a project manager does.
There are many tools that help this process. One of them is the Gantt diagram, which provides a visualization of the program with tasks, duration, dependencies and milestone.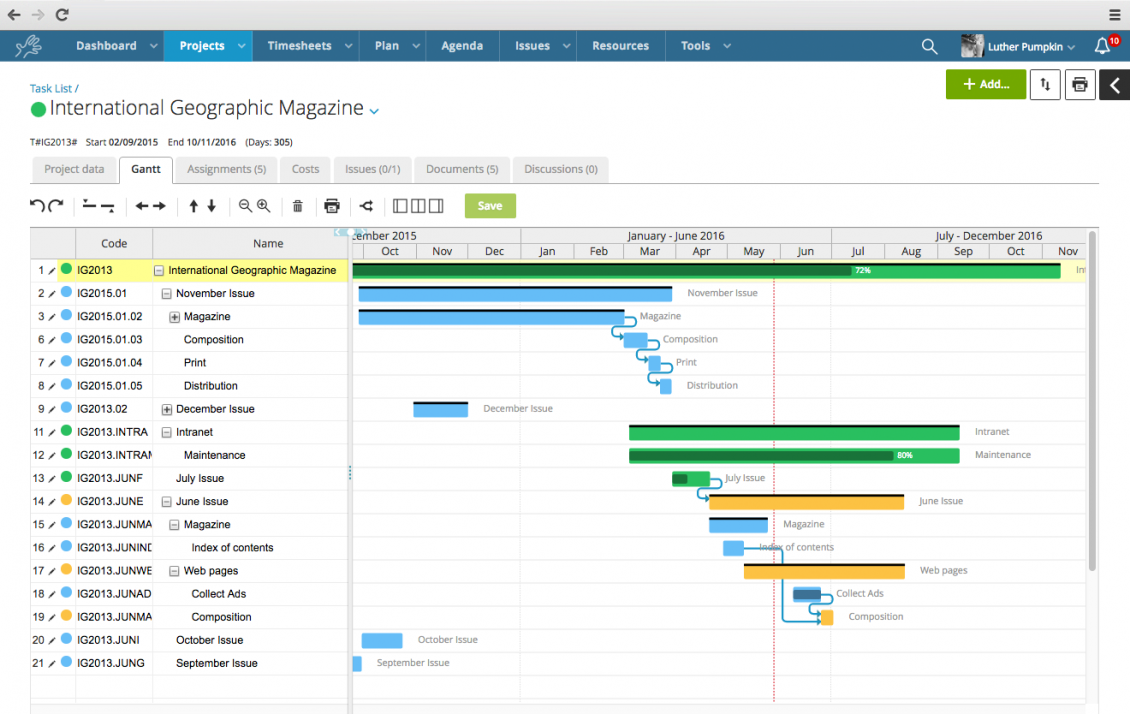 4.Risk management
Doing anything is a risk. Planning a project, big or small, is also connected with some risks.
It is part of a project manager's job to predict these events before they become real problems.
Therefore, before carrying out the project, it is necessary to insert the identification, the assessment and the control of the risk.
The more a project manager is able to manage risks, the more likely his project will be successful.
Of course, it is not possible to anticipate everything that could happen during the life cycle of a project.
Unforeseen problems can arise, so a valid and ready process to handle them when they arise is needed.

5.Cost management
The concept is clear, without money you cannot do anything.
Once the budget is created, the first task is to make sure that this is realistic and that it is possible to meet the financial needs of the project.
After that, the costs should be checked regularly during the execution of the project.
Failure to meet this requirement could harm organizations that manage limited budgets.
A good project manager has the ability to finish projects not only respecting the time, but also respecting the given budget.

6.Negotiation
Being good at negotiating is similar to communication, but it deserves a separate discussion.
Negotiation is not limited to negotiating the best price from a supplier, even if this is part of the job.
Managing a project means being in constant negotiation.
For example, stakeholders could make requests that may impact the scope of a project, and these must be managed and negotiated.
The same goes for the possible conflicts that will arise between team members or other people involved in the project.
Strong negotiating skills will resolve these conflicts before they explode and threaten the project.

7.Critical thinking
Project managers are not the only ones who can benefit from this ability.
Most of us do not think, but react and follow a series of answers that we have said or learned, like an automatic pilot.
Critical thinking is simply objective when analyzing and evaluating a problem or situation, so that an impartial judgment can be formulated.
Every day we are working on a project, we want decisions to be impartial.
The only aspect guiding the decision should be to pursue the best thing for the project.

8.Activity management
This is another technical skill that should be impressed in the DNA of a project manager.
There can be countless activities that complete a project that must be created, assigned and managed.
This means that poor management in this process can have a serious impact on the success of the project in general.
In these situations a project management tool could be a valid help.
Features that promote collaboration with the team and which help to prioritize and provide instant updates when tasks have been completed or are running are needed.

9.Quality management
This skill is often overlooked by project managers and is the one that probably needs more attention.
It is possible to be negligent in favor of meeting deadlines.
Respecting deadlines is certainly important, but the project in general is useless if it produces a product or service that is poor.

10.Sense of humor
With this we do not mean to be a comedian in the workplace, but there will for sure be a time and a place for a bit of healthy humor.
The sense of humor allows to have a different perspective, allows to see a problem in a different way and, maybe, also to see a possible solution.
Humor relieves stress both in the case of the project manager and the team. Only when the tensions are resolved, in fact, actions and ideas can be more profitable and productive.
The sense of humor also helps morale.  Working hard does not mean that the environment must be suffocating.
Although this may seem absurd, this ability is definitely not to be underestimated as far as project management is concerned.
So, these were the most important skills that a project manager should have in order to improve his effectiveness and productivity in  project management.
Having these skills will not only benefit the organization, but also the managerial career in general.
For you, what are the most important skills that a project manager has to have? Have we forgotten something that is relevant to you? Write us your opinion.