Twproject is used all around the world by all kind of teams, most of them are smart production companies that design, develop and crete amazing new products. If you are one of those, this new release is dedicated to you, with Twproject 6.1, in fact, you will be able to follow all your customers requests completely. Twproject is now equipped with a powerful ticket management system that allows e-mail "closed loop". This new feature, combined with re-designed project public pages, give you a new integrated and powerful tool to manage your entire products life-cycle.
And that's not all…this new release includes a new project history viewer to check how your projects statistics changed in time, Project Managers will be now allowed to inspect project baselines.
Twproject 6.1 : tickets and troubleshooting management
How do you usually receive feedback from your customers? By e-mail? Or using a dedicated web page?
With Twproject you can have both up and ready with few clicks. Enabling a specific project page you can allow your customers to send you requests.
Tickets will be collected in the right place, your project, and you will be notified immediately every time a new request is added. Your customers will monitor their requests, checking their status, adding comments, from a single dedicated page. Every e-mail exchanged will be tracked by Twproject and saved on the ticket.
Supporting the e-mail closed loop you will be able to check all requests added to your e-mail account, answer to your customers and having all the conversation saved in your Twproject's ticket!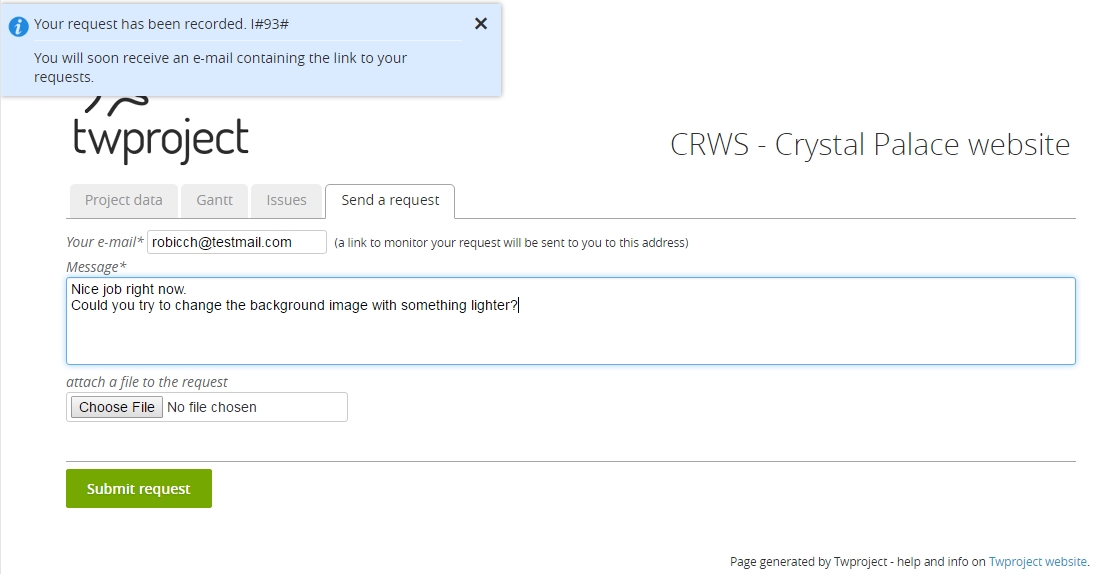 All of this integrated with the most powerful project management software.
Twproject 6.1 is closer to your customers: the new project public pages
Do you want to involve your customers in one of your projects? Just set-up a project public page.
Your customers will see the project progress, health, statistics, the entire Gantt chart and will have a simple way to communicate with you: a form to submit requests; but they will see only what you want to show them.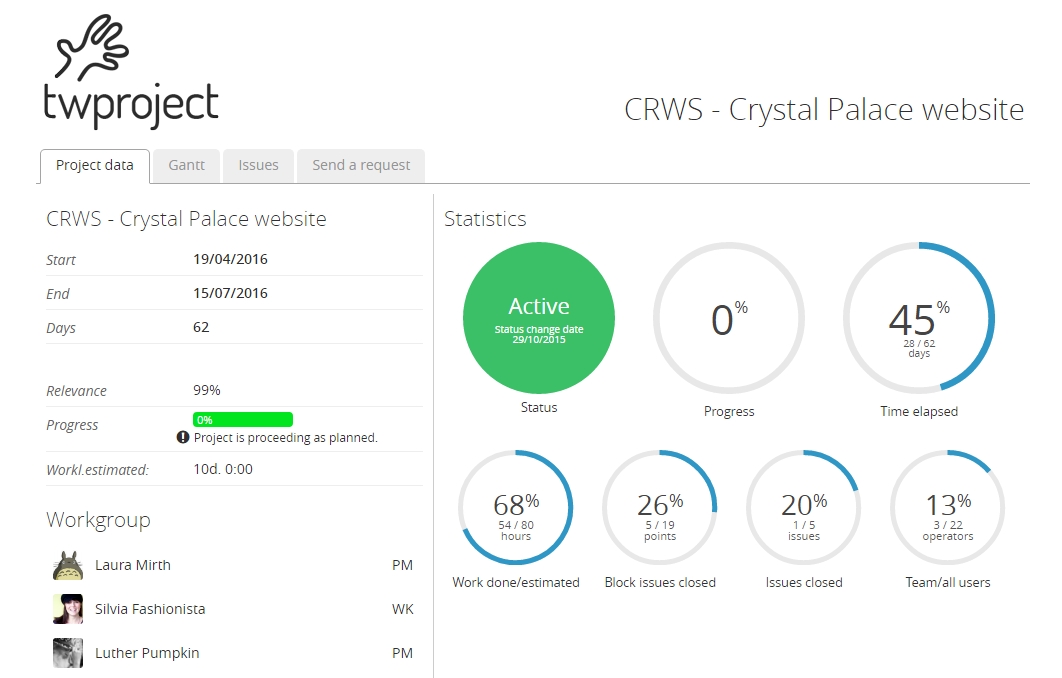 Twproject 6.1 keep the history
You need to re-schedule your project? Just do it!
Twproject 6.1 records daily the complete status of your projects. Now you can inspect baselines and see your project's status in the past with the flashback slider.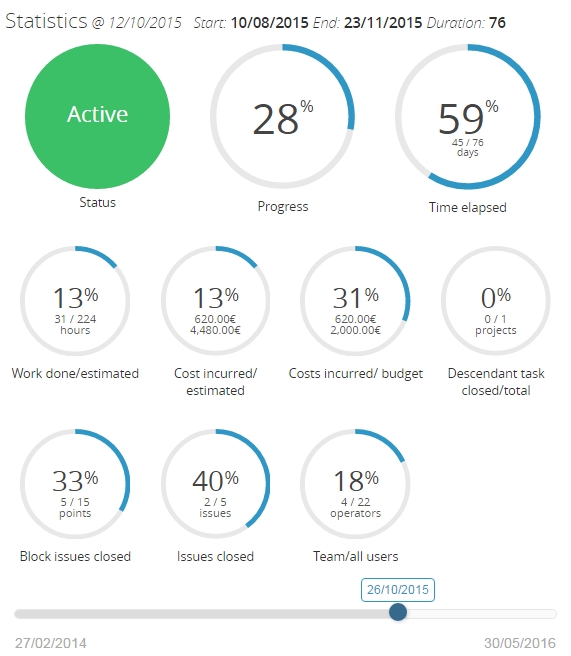 Twproject 6.1 is nicer
Our UI team is always at work to refine Twproject user interface and in release 6.1 they tried to get easier the editing phase; "add" buttons has been enlarged and are now context responsive. Several pages has been fine tuned to be more captivating.
We also add the possibility to upload a logo for projects, companies and resources so that identifying your customers will be so much easier.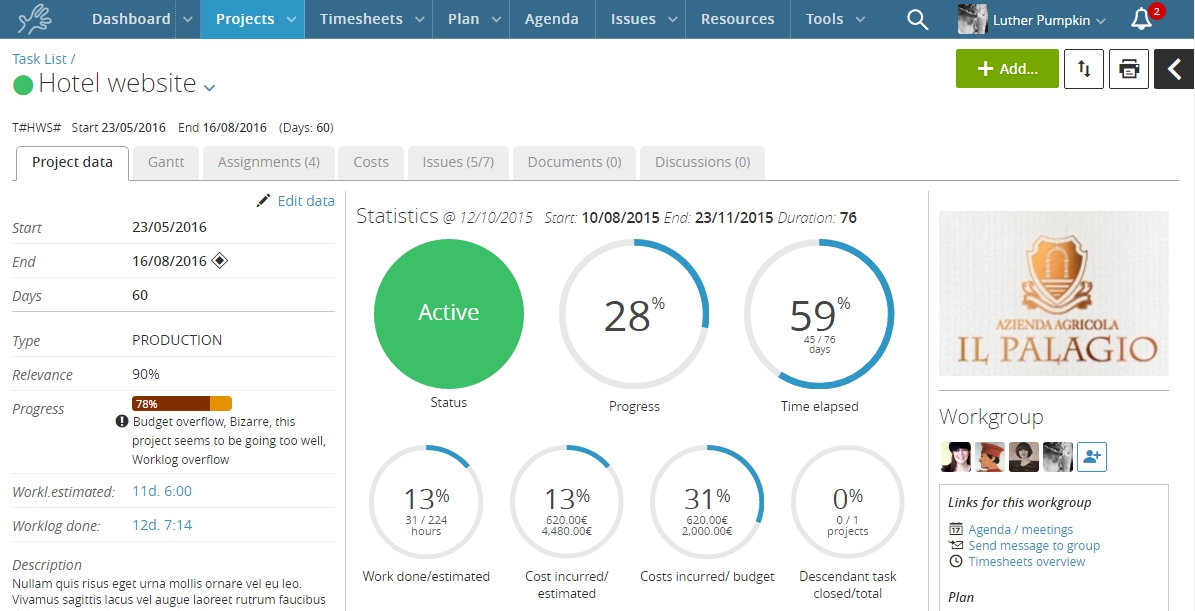 Twproject 6.1 is more
Release 6.1 includes also some interesting features on Gantt Editor (columns sizes are preserved and has been introduced better visibility of task progress), task and issue list can be now filtered by "customer" and "recently used", issue requester can now be a company instead of a person.
All improvements and bugs solved are listed here https://twproject.com/twproject-changelog/
—
The update is free for all users of version 6. A few changes on database schema will be done at startup.
[av_button label='Download the new Twproject now' link='manually,https://twproject.com/on-your-server/' link_target=" size='large' position='center' icon_select='no' icon='ue800′ font='entypo-fontello' color='green' custom_bg='#444444′ custom_font='#ffffff' av_uid='av-38yas0′]