Twproject 6.2 is finally out with a brand new mobile interface.
We are so proud of it and we really hope you will find it useful and practical as we do.
In the last few months we listened to all your comments and feedback and we realized that having a new app that could be more operative was crucial. Twproject is now used worldwide by thousands of companies: shared teams, flexible environments, enterprise customers that need to access everyday  Twproject just with their mobile devices. Now, with this new release, creating tasks, adding assignments, documents and issues is easy and fast and its all in your hand.
The design of the new mobile interface is easy to understand and use, we worked a lot on this aspect and I think we found the right compromise between powerful functionalities and usability.
A closer look to the new mobile app:
To access Twproject mobile just navigate with the browser to:
your_twproject_address/mobile
and add the page to your home.
It runs perfectly on every mobile devices, IOS, Android, Windows without installing anything new.
Login with your Twproject account and, on the dashboard, you will have exactly the same information you find on your desktop version. Things requiring attention are on top, marked with a red line, and then your open tasks, your issues and your approaching milestones.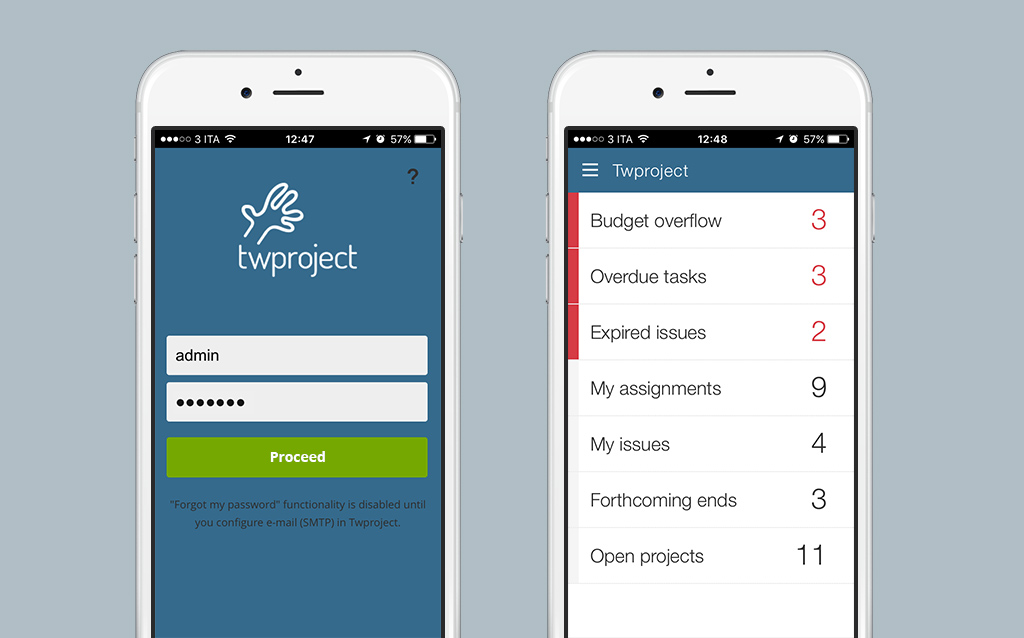 At the top left of the page you have always the menu icon, opening the main menu to access projects, issues, resources, agenda, documents and file storage, worklogs ad expenses.
On every list you will be able to add new items and save, or to go back to the previous page (bottom bar). Twproject security model is applied on the mobile app too, so you can do here everything that you can do on the desktop application.
The mobile app is very practical for inserting worklogs, closing issues, using timers just with few clicks. On projects and issues in fact, you have a swipe menu to easily insert worklogs or expenses.
With the new Twproject mobile interface you can access your contacts, read project documents, check your agenda.
Twproject mobile is free to all customers of previous versions and included in the free Twproject trial.
The power of Twproject wherever you are.
What's new in 6.2?
The new release includes also a lot of small improvements and bug fixes.