It happens that Twproject customers ask us if they can insert in the resource list just the users that have an active login in. Twproject, actually, can be used to insert also all your contacts and customers. This is a great feature that let you use the system like a CRM.
All resources inserted without login, in fact, are not counted in the license count, so you can have many.
What if we see it in practice?
The first contact:
Say that you are at one of your yearly trade fairs and, after some hours, you meet John James from ACME SPA, he is smart and you talk to him for a while about your company services, he is very interested. You talk about his boss Mary Stuart, and also about the last NBA Match Boston – Cleveland, he roots for Boston Celtics. At the end of the conversation he gives you his business card.
Well, if you are using Twproject project management software, it's time to save all these information, and you can do that very easily. For example I would simply take my IPad and create a new resource. I would create a new lead for John James from ACME SPA, I would record that his boss is Mary Stuart and all the other information written in his business card. I would also save in the notes that John roots for Boston Celtics…we never know.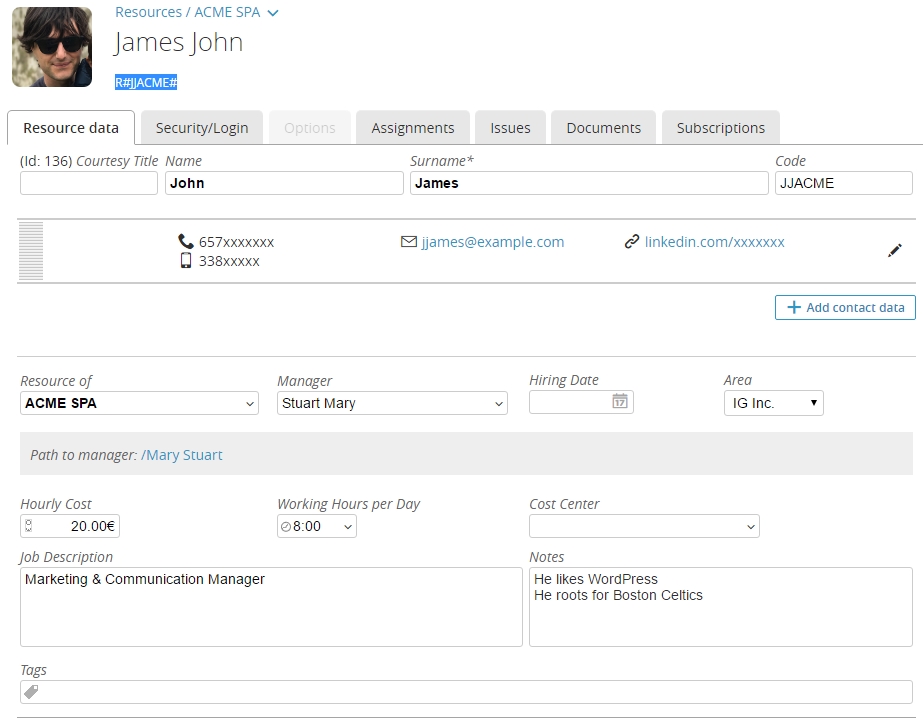 Follow the lead
Now that your lead is inserted, you can search for the project you use to save pre-sales information and insert a new activity for the conversation you had, just to remember everything you said.

At the moment what you have is just a lead, so there is no need to create a specific task for this activity, it could be just a phone call. The best way to manage this situation is to create a new pre-sales activity (a new issue in Twproject), a reminder, to call John after a week and talk about what your company can do for him.

After a week the system will remind you about your call, thanks to the link you can check all resource's detail and may start the conversation with the Boston Celtics. If your conversation is profitable you can finally create a dedicated pre-sales task for ACME, for registering in details your first contact, maybe a demo, your offer and the final contract.
A new Pre-Sales Project
Now that your lead has become a real pre-sale project you can insert it in Twproject to check its progress.

Thanks to Twproject all pre-sales activity can be monitored, managed and saved like all the other projects:
Contacts and projects together
Agents assigned on pre-sales activity
Pre-sales progress monitored
Pre-sales budget and expenses management
Pre-sales effort registered for future report and considerations
All this because, with Twproject, you can have both a CRM software and a Project Management software, together.