I recently read a very interesting post about how to use Scrum methodology in a SEO & Digital Marketing Team. The post has been written by Marcus Miller (@marcusbowlerhat) and you can read it here:
Using agile project management for SEO & digital marketing
This post gives me the idea to write a new one explaining how to use Twproject with Agile methodologies and, following the Miller's post, how a SEO & Digital Marketing Team can use it.
Scrum: What is it and why with Twproject?
How it is well explained in the post, the Scrum methodology is a project management approach helping small teams, and in particular software development ones, releasing products in an incremental and iterative development.
This approach defines a flexible and cohesive environment where a team can develop a product as a unit, self-organized, with common goals.
A Scrum team usually consists of several people, with specific roles, that, starting from a project with a well defined list of features ("the backlog") , works together in short time cycles, on prioritized  sub-sets of features ("sprints").
Team communication is encouraged with daily scrum meetings and a retrospective meeting at the end of each sprint.
Even if Twproject works fine, both with Waterfall and Agile methodologies, the second approach meets perfectly the idea behind our software.
Encouraging team communication, self organization and a more practical approach to what needs to be done, saving time and energy, are just some of the key ideas of Twproject.
Scrum Roles
Product Owner, Scrum Master and Team member, these are the specific scrum roles that you find already loaded in Twproject, and this will be the only roles required for managing your Scrum project, I refer to the post at the top for roles definition and usage.
You can activate these roles from the Twproject admin page ->  New area creation wizard -> Create an area with SCRUM specific roles.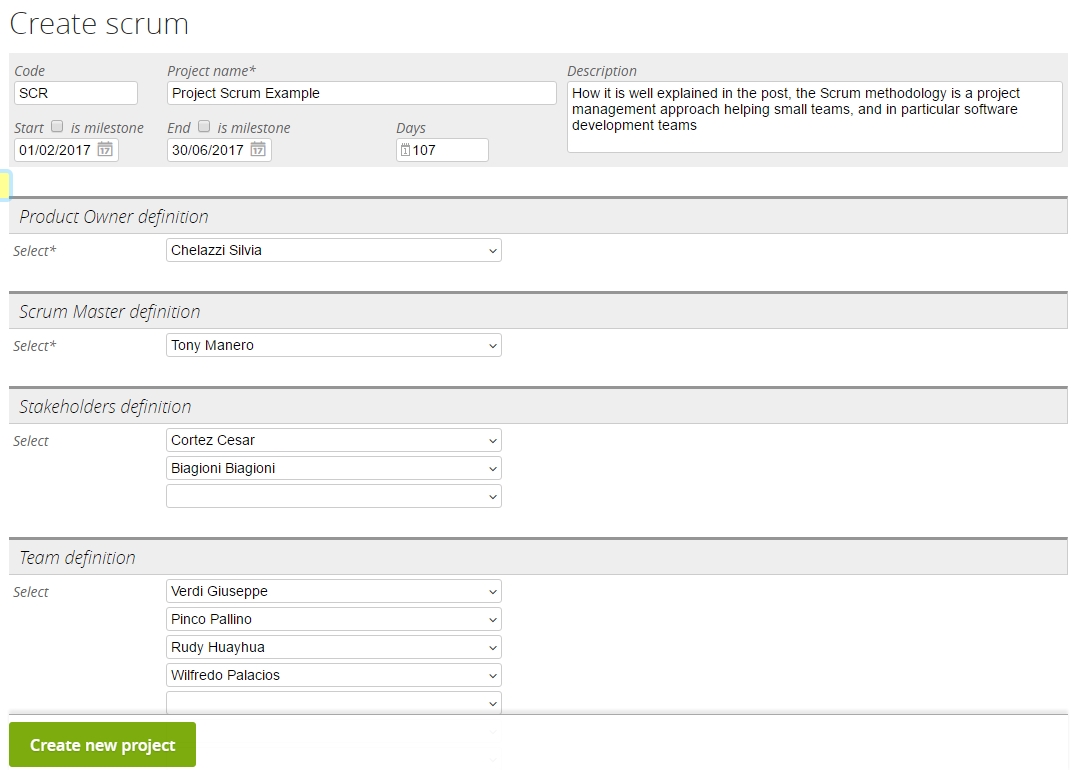 Once the scrum area has been activated, in the project section, you will find a new "create scrum" button.
Thanks to this functionality you will create your scrum project in minutes, just selecting your team members, the system will create the project assigning the correct resources with the chosen roles.
Agile tools
Once the project is created and all your team is assigned with the correct role you have to insert the backlog. This can be done easily with Twproject using issues.
An issue in Twproject is a task activity, a to-do, a ticket, a backlog item, something that needs to be done in a specific task.
Twproject backlog issues can be prioritized, ordered, and have customizable status (open, in test, working, closed, is up to you), a time estimation and a due date.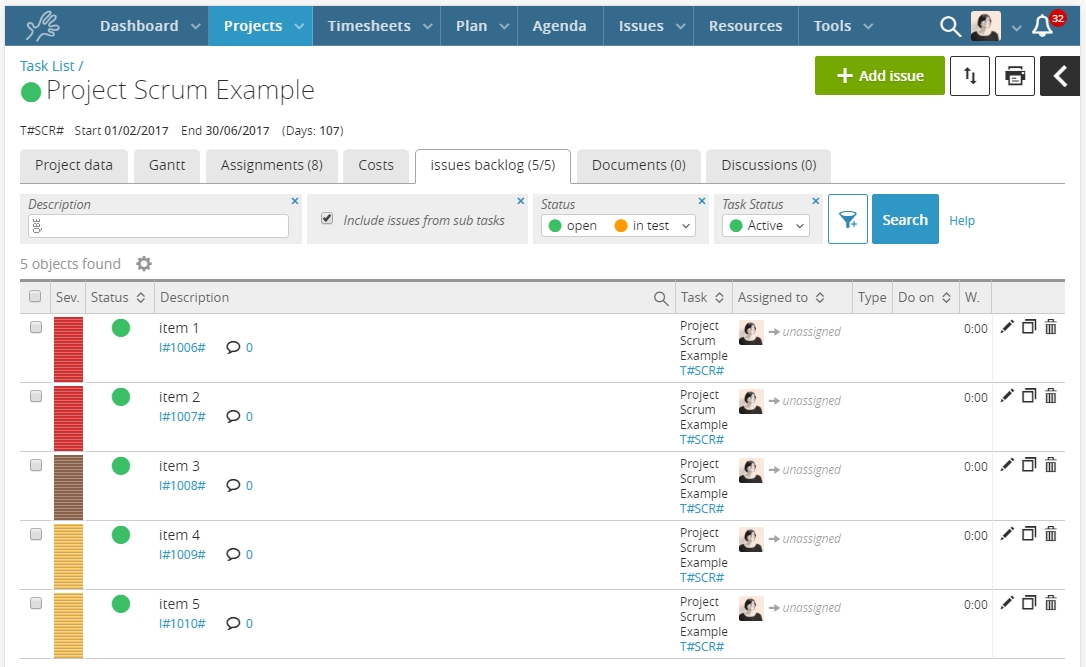 Managing your backlog with Twproject is very practical thanks to the Kanban tool that lets you visualize your items by priority, by status, assignee and so on. Thanks to the Kanban you can see the status of the work, what is assigned to who, checking with a click all the progress your team is making.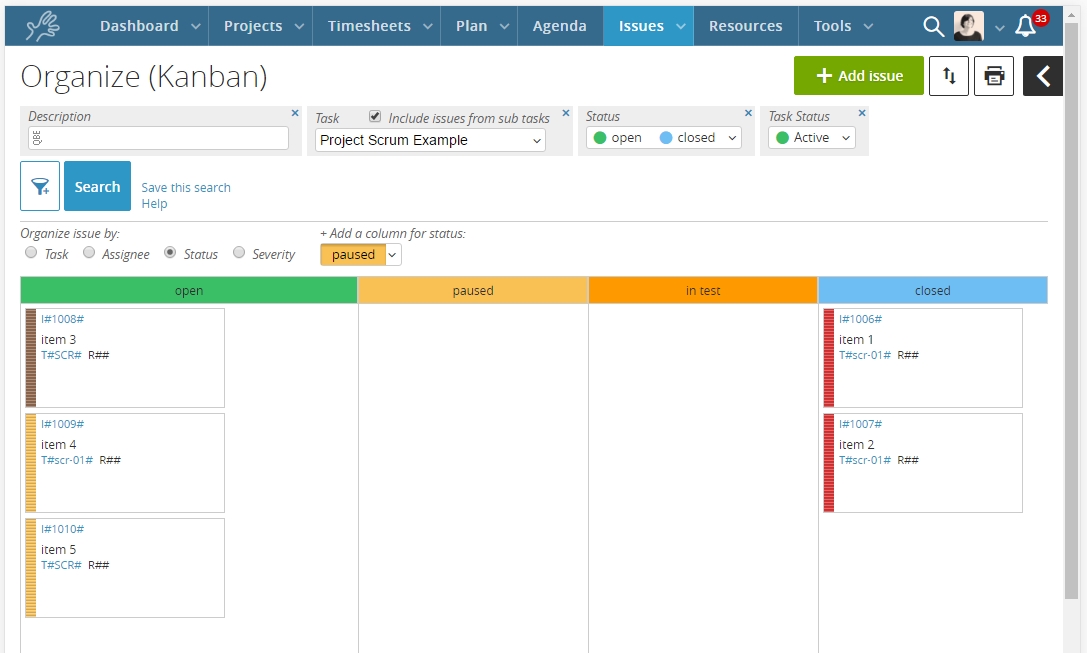 Once the backlog is created you can create your first sprint.
The sprint creation includes also the set up of an agenda event for all the team members for the stand up meeting.
At this step you will also select the backlog items that you want to move to the new sprint: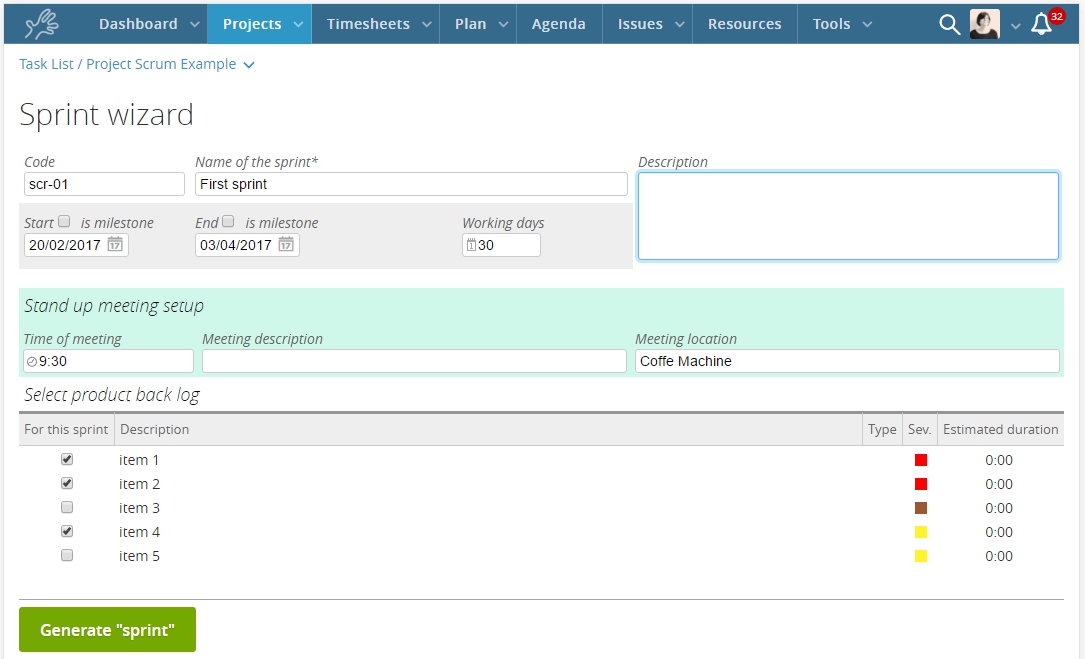 Once your sprint is created is time to work. The team members will see in their dashboard all their items with priorities. Team members can communicate with a dedicated forum, working together to get things done.
At the end of the sprint, you can create a new agenda event, starting from the project work group to analyze what has been done, what you can improve, and how to go further.
This procedure will be repeated until you finish all the backlog and your project is closed.
Twproject includes also a set of reports that you can use to control your product developments, one of them is the burn down graph, a specific chart showing how the team is performing.
Conclusion
As Marcus Miller pointed out in his post "No matter how efficient we become, the work still has to be done": no matter how a software can help you managing the project, you still have to do the job, that's true, but we really hope that our tool can make your life easier.
I think that one of the best features of the Scrum methodology is that it is meant to be improved on the go, you do not actually need to be a master to start organizing your work, you can refine from sprint to sprint.
Using Twproject you can start immediately and without effort using this methodology and test if it works for your company too.
I suggest you to read the post of Marcus Miller that explains in a very intuitive way how this methodology works and how to introduce it in your team.
Using agile project management for SEO & digital marketing
The post is focused also on how to use this methodology in a SEO and digital marketing company, but, as you can imagine this approach can be used in every fields, try it out and contact us if you have questions!