Are you looking for software to help you handle time management in your company? Then you are in the right place.
Our time is the most precious resource we have. And so far we can all agree.
But we know that it is not easy to learn how to manage time, and this is as true in life as it is in the workplace.
For those who have the professional need to monitor not only their own time, but also that of their team, finding efficient ways of approaching this task is crucial: it will help reduce stress and increase company well-being and satisfaction.
It follows that the benefits of accurate time monitoring in work projects are manifold:
reducing work stress and increasing productivity
meeting deadlines
assessing the value of the activities in which you invest the most time
the precise calculation of time spent on typical tasks and thus more awareness when making budgets
finally, and this applies to teams of any size, this will be complemented by shared responsibility for the work done
And if this list of benefits is not enough for you, take a look at the exhaustive list of reasons why time management is a key activity for your company.
Time management is probably one of the most important monitoring activities of any company, from the smallest to the largest and most structured.
CONTENT
But it has a weakness, which is constancy: we do not always have enough of it to find the right tools and so we risk relying on temporary or inconsistent solutions.
Therefore, shared efforts are needed, along with patience in implementing registration and monitoring, regularity in putting them in place and continuing them over time, but also courage to change course when we see that things are not working as they should.
Time management software is like a fellow traveller who accompanies and guides us in this task.
We need to try out several of them to find the ideal one because, although they are similar, they do not all work in the same way.
Two macro-types of software
Platforms that monitor work schedules and allow the creation of timesheets fall mainly into two categories:
simple time recording apps
comprehensive project management solutions that also integrate other functionalities.
Our advice is to combine time management software with other planning solutions, hence choosing a tool from the second category.
In this way, all parties are involved and working time is a piece of the puzzle that fits in with the others, which is useful for analysing the functioning of projects and the team as a whole.
One example above all?
The typical case where past timesheets are used to estimate the cost of future activities and plan the budget of new projects accurately.
We have already outlined the many advantages and techniques you can implement using a comprehensive time management tool within the broader framework of integral project management.
Our ranking
And here we come to the point. What are the best tools on the market?
So which ones meet the need to combine time management with other aspects of management and which have another feature that we find advantageous, namely flexibility? We are here to tell you.
We tested several software packages, among the most popular on the market, that have time entry and time tracking as their focal point, and came up with a ranking.
Hopefully this will be useful to you!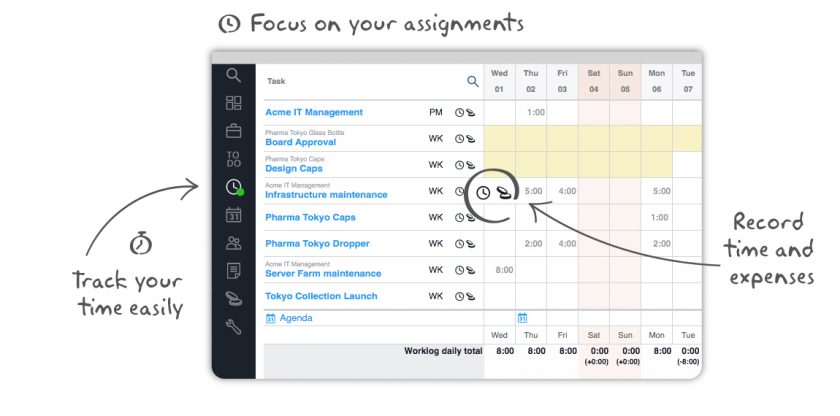 Twproject is the tool that makes flexibility in timesheet recording its strong point.
With Twproject, every insertion mode is covered in order to meet personal needs.
In fact, the platform offers the constant possibility to monitor the recorded worklogs in real time, highlighting overruns compared to the planned schedule and being able to adjust them if necessary.
The recorded data can be easily exported: by person, project, customer, dates and much more.
This data fits into every single aspect of business management with Twproject, from the planning phase, continuing through execution and up to the final invoicing phase of the work performed.
In addition, Twproject has a notification system to help you always remember to record your worklogs, so that you do not miss any information.
Best features:
Various recording modes: it is possible to enter the hours worked with timesheets showing a chosen time interval, or with a stopwatch that can be activated when needed, or also through assigned ToDos.
Various registration accesses: on any page of the platform you can enter your worklogs, starting from the dashboard and continuing on the individual project and phase pages, on the ToDo list or even on your timesheet, with different time intervals.
Calendar: customisable at time interval level (weekly, bi-weekly, monthly), integrated with the timesheet page.
ToDo: very flexible and user-friendly tool. Through ToDos the worker can enter the hours worked on individual tasks, manually or with timers. When a ToDo is closed, the worklog window opens automatically.
Costs: the budgeting function (for project or phase managers) automatically reports the hours worked on the various nodes of the WBS. In the cost statement, it is possible to view the details of the activities performed by each worker. In addition, a comparison between estimated and performed work can be displayed and additional costs can obviously be added.
Revenues: this section also distinguishes estimated from invoiced revenues, and it is possible to save invoicing documents.
Worklog management: this function allows you to view the progress of worklogs and also to approve worklogs entered by the project manager. By default, all worklogs have the status "to be approved", but it is possible to customise this option according to business needs.
Workload analysis and management: based on the workload entered, from availability, and taking into account any absences, it is possible to plan in advance the workload of operators or to reschedule assignments in progress. The workload in Twproject is very efficient and also allows to distinguish between routine and direct project activities.
Project planning: the hours worked in certain projects can serve as a planning source for subsequent similar projects. Twproject offers tools for detailed planning and allows the project to be broken down into its single phases, assigning specific characteristics to each of them.
Interactive Gantt: the first and most useful planning tool is the Gantt chart, which allows you to set phase timings, deadlines, milestones, etc.
Statistics page: it collects the worklog data entered to generate graphs on the progress of the project or its phases, relating this data to costs. On this page it is also possible to view the situation at any point in the lifetime of the current project.
Pricing: from €4.89 user/month.
Pros: Twproject is the collaborative tool par excellence, it allows timesheets to be placed in a broader framework, it allows the manager to have budgets, operator load, statistics etc. under control, and the workers to always have a clear idea of the use of their time. It also helps not to forget to enter the hours worked. It adapts to the needs of any team.
Cons: We do not detect any cons.
For those looking for a comprehensive and collaborative time management system, the best choice is Twproject: simple and adaptable to every need, it allows work to be monitored effectively.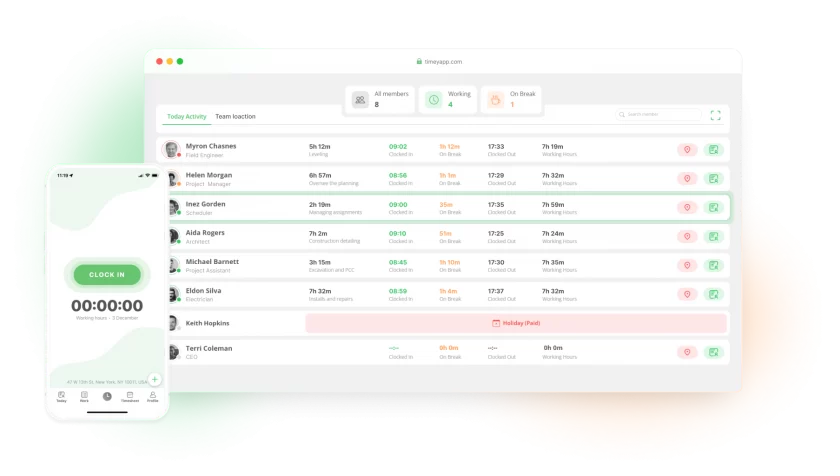 Timey App is a web and mobile app making time tracking and project management working together.
It is designed to help individuals and teams track the time they spend on different tasks and projects, as well as manage and organize projects.
Best features:
Time tracking: Timey simplifies time tracking with clock-in and clock-out features, ensuring precise time recording. It also effortlessly records break times, allowing for accurate time tracking and better resource management.
Kanban Project Management: you can visualize project progress through the intuitive Kanban cards, making it easy to transition projects between "waiting," "in progress," and "completed" stages.
Project overview: you can keep all project-related information in one place with the project overview feature. Monitor tasks, work hours, reports, and milestones to ensure everything stays on track.
Time-off scheduler: keep track of team's time-off requests, including vacation days, personal days, and sick days.
Billing Clients: create and send professional invoices to clients, with the ability to track payment status and add discounts or taxes.
Pricing: $6 user/month
Pros: Timey simplifies time tracking, streamlining the process for individuals and teams. Its intuitive interface and mobile accessibility make it easy to track time accurately and efficiently.
Cons: while Timey is a powerful tool, it might have a learning curve for some users who are new to time tracking software. Training or tutorials may be required to fully utilize its features.
A software solution for different individuals or companies that need time tracking and managing tasks or projects.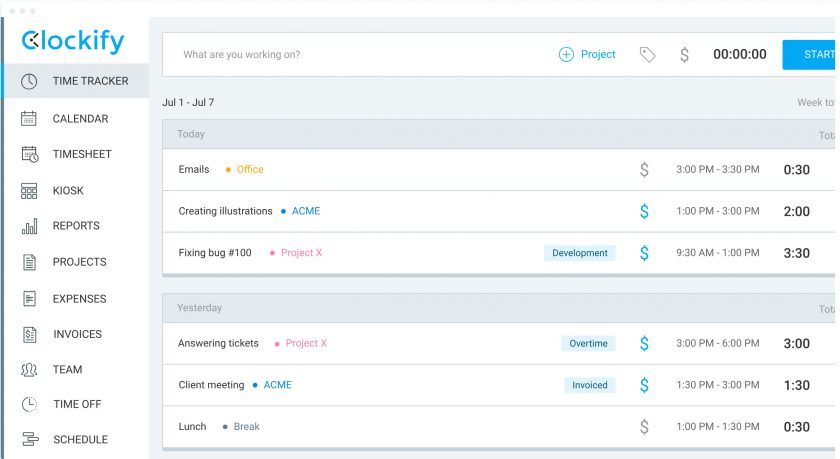 Clockify is an application for recording working hours and creating timesheets that allows you to track work between projects and make it billable.
It also provides information on work habits and reports on team performance.
Best features:
Stopwatch or manual time tracker: allows you to record working times and mark them as billable. The recorded timesheets can be edited later to add more information.
Calendar: it can also be integrated with the Google or Microsoft calendar, it offers time-off management functions with request and approval protocol.
"Kiosk" function: it allows you to create access points to which you log in in order to monitor work times on certain projects. Several users can be logged in to the same kiosk at the same time.
Dashoard: it allows you to view statistics on how the team used their time.
Reports: They enable data to be exported according to different criteria.
Scheduling and project management: task allocation with a simplified operator load view; project management also has basic functions.
Budget: it is possible to enter supplementary expenses in addition to personnel costs and subsequently create receipts to the customer.
Maps: it monitors the movements of logged users over a given territory, a useful function for teams working on the move.
Pricing: basic licence from $3.99 user/month.
Pros: User friendly, easy to use; accessibility from various devices and good mobile app version.
Cons: little or no customisation. Not suitable for large teams, companies with several departments, etc. Lack of Gantt.
An application that started with the function of time tracking and later expanded to other basic project management activities.

Harvest is a web-based timesheet management system that has a strong connection with budget and invoicing management. For other functionalities it relies on integrations with other parallel systems.
So it can be a convenient solution for freelancers or small teams.
Best features:
Projects: it is possible to create projects by customer, of three types: consumable, fixed cost and non-billable. Each project has predefined tasks on which employees work.
Timer or manual recording via the weekly planner. The timer does not stop if you change windows or also if you close the browser.
Budget per project: settable in hours or money. Addition of extra expenses.
Invoicing: functionality with many options to create invoices from the hours worked on projects.
Summary graphs: line or block graphs to display trends in income and expenditure and hours worked, divided into billable and non-billable.
Team management: it shows a summary of hours worked, reports overruns, but has no real workload balancing functions since it does not allow reallocation of tasks.
Pricing: single pro licence $10.80 user/month.
Pros: a specialised tool offering various analysis tools, including "what-if" scenarios.
Cons: Client-based project management: may not be suitable for teams working differently. It is not possible to mark hours worked at several levels, but only for specific tasks of a project, i.e. not on phases, not on the project in general, etc.
Harvest offers analysis tools for time tracking and is suitable for those who rely on detailed chronological reporting; it has some rigidity.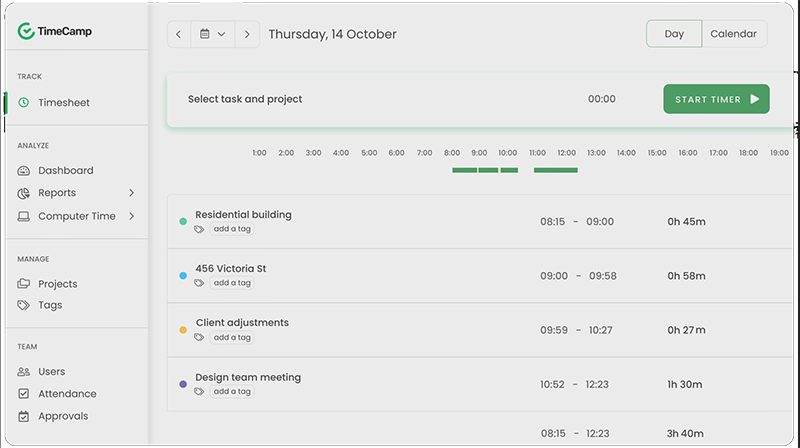 TimeCamp is a time tracking application that pays attention to project budgeting and transparency in communication and time management.
Best features:
Types of insertion: with stopwatch or manual insertion.
Automatisations: automatic entry with url and keyword analysis to identify the project being worked on; "idle tracking" functionality that automatically pauses the stopwatch when the user is not active.
Status of timesheets: they are all subject to manager approval.
Different views: classic timesheet view or "calendar" style.
Reports: presence of more than twenty types of pre-built reports to check the productivity progress of the work group. Possibility of creating customised reports.
Invoicing: from workers' timesheets, to which different hourly costs can be applied, invoices can be created and exported directly.
Budget: creation of a budget with addition of expected costs. Notifications in case of overruns.
Pricing: starter licence from $2.99 user/month.
Pros: Useful for those who need a basic tool. For all other project management functions it relies on external tools, allowing some integration.
Cons: Lacking in project management, it has no planning functions apart from time schedules.
Innovative tool with some interesting automations, more suitable for freelancers than for structured companies.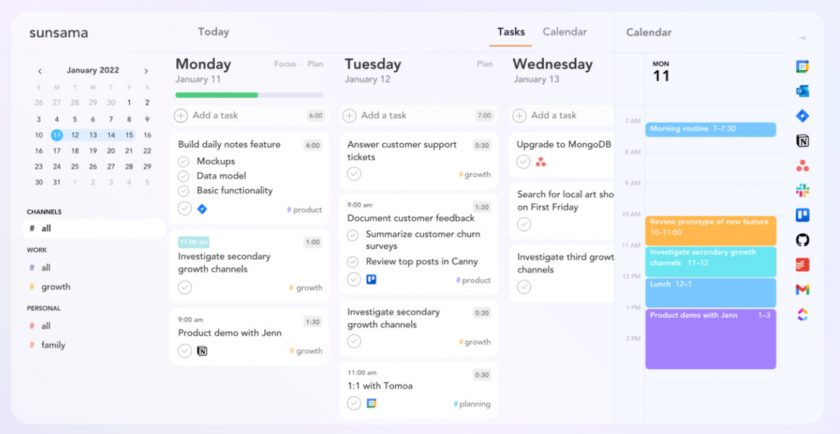 Software that uses agile methodology for task management and tracking. It makes main use of the kanban board, within which it inserts timings.
Best features:
Customisation of working methods: provides many options for personal planning and time management.
Task management: tasks can be added from the calendar, which has a kanban board style view, and assigned (if desired) to a channel and then placed in the right place on the day, week or month. There are tasks that can be set as routine tasks and added by default.
Task start and end dates: these can be set as desired.
Channels: sort of areas within which you can place your tasks. It is also possible to have sub-channels. Otherwise, tasks remain uncategorised.
Archive: can be customised or made automatic. In the latter case, it automatically takes care of saving past tasks.
Operator load: it signals in red if an assigned task causes an overrun of the scheduled working hours.
Review: it has weekly review functionalities in which the achievement of objectives is analysed.
Pricing: single licence $20 user/month.
Pros: Tool with a strong focus on personal well-being and on balanced working time management.
Cons: Sunsama is a good tool for personal productivity. But it may not be the best pick for larger team projects and collaboration with co-workers.
The philosophy of agile working is reflected in this application both in terms of graphics and content customisation.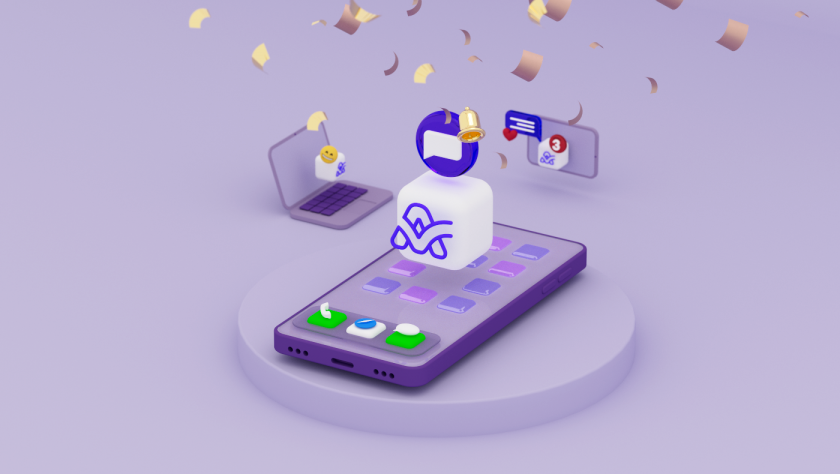 Project management tool with time tracking functionality that allows you to monitor and manage work time, per project, per customer, per scope or per assignee.
Best features
Project management: it allows you to create projects with data such as description, category and customer. Customers can be included in projects but you can choose to hide certain activities from their view. There are no project sub-phases.
Task management: each task has an assignee and a delivery date.
Stopwatch: must be activated on projects by the project manager and at that point allows monitoring of work times.
Timesheet: it is also possible to add the hours in the timesheet afterwards, and it will show any case of over- or under-hours in different colours.
Resource management: it is possible to create different professionals with customised hourly costs, and to change the hourly cost according to individual customers.
Reports: they can be filtered by time frame or even by customer or type. They show progress on the work done.
Budget: it makes it possible to distinguish between worked and estimated hours, also in percentages, and to calculate the billable total.
Pricing: pro licence from $8 user/month.
Pros: good comprehensiveness of the tools available, ease in learning.
Cons: poorly customisable reports and interfaces. Lack of main dashboard.
A software suitable for different types of professionals and companies. Its lack of flexibility is compensated for by the variety of functionalities.
Final remarks
Thus, we have seen which are the best tools to help managers and workers keep track of the time spent on various tasks, projects and other deliverables.

A good choice will lead to more informed business decisions and an overall increase in productivity and profitability.
Therefore, the ideal is to find a tool that caters for individual needs, takes into account personal peculiarities and at the same time incorporates this activity within a broader framework, so that time tracking does not remain a stand-alone element, isolated from the rest of the business processes.
With Twproject, all resources involved can follow their own patterns and record the work as they see fit. The project manager will later be able to analyse this data with ease, as it will already be correctly integrated under every aspect of project management.
So hopefully we have persuaded you that time management is not a struggle against time. On the contrary, it means embarking on a journey and learning along the way, acquiring the practice that only the right experience can give you.
Try Twproject free of charge for 15 days and don't miss out on any of the details of your working time!