How to carry out a project? It can be a tough task to deal with. The quote "If you fail at planning you are planning for failure" when it comes to project management couldn't be any truer.
CONTENT
When you have to carry out a project, there are all sorts of variables to take into account: scope, budget, stakeholders, communication, resources, tools, etc.
Keeping everything in balance throughout the project's lifecycle so that everything ends up being successful requires great forward planning.
In this article we will share 10 tips to help you get it right when it comes to project implementation.

How to carry out a project: Define your project scope
Define the scope of your project, or in other words: start with the goal in mind.
This means going through the objectives to make sure what the end result should look like and the benefits it should provide.
When managing any type of project, it is crucial to understand the overall mission before diving deep into the many tasks required to complete it.

How to carry out a project: Define your timeline
Determining your project timeline is a critical step: when should the deliverables be delivered? How much time should be allocated to each phase?
The timeline for each activity can be defined later on, but the project deadline is generally set and generally does not change.
It is the deadline that will drive the schedule for the different phases of the project.

How to carry out a project: Consider your available resources
Determining what resources are available will help you prepare to begin your project.
Assessing your available human resources, investments, machinery and equipment is necessary to pinpoint any bottlenecks in project execution from the very start.

How to carry out a project: Define your milestones
The success of a project depends on identifying key milestones throughout its development.
These milestones, are strong indicators of the work that is done during a project.
In fact, having mini-goals along the way is easier to manage than having one big goal at the end of the project.
This way, you can also better manage risks and monitor your project's progress.
With Twproject you can do all this easily.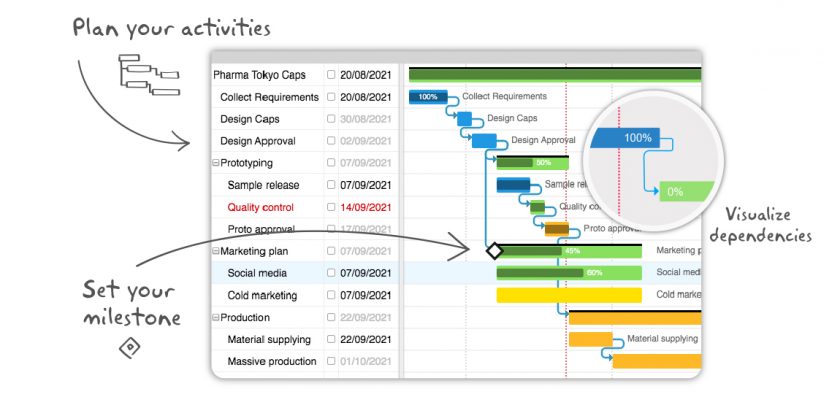 How to carry out a project: Don't forget how important communication is
In order for a project to run smoothly, communication between stakeholders must be coherent, consistent, and effective.
Specifically, the line of communication between the project manager and team members must always be open.
This way, anyone will have the chance to voice opinions, concerns and new ideas without hesitation.
Ineffective communication is one of the main causes of failure in many projects.
Therefore, it is very important to ensure that everyone is given the updates and information they need to make decisions, for example, through project status reports.

How to carry out a project: Assess your team members' strengths and weaknesses
It is well known that team members play a major role in a project's success.
This is why it is necessary for the project manager to know their team members' strengths and weaknesses in order to allocate work in the most appropriate and efficient manner.
In a well-constructed team, the weakness of one employee is the strength of another.
Assigning the right tasks to team members with the right knowledge will enable faster completion of tasks and quality results.

How to carry out a project: Use a project management tool
A project management software is an extremely useful tool for a project manager.
This system works as a big centralized platform that holds all the relevant information about the project.
From the creation of the project with all its phases and timing, to the management of resources with their respective loads, without forgetting about communication, time management and daily activities.
Twproject can do all of these, it is a tool that enables teams to collaborate and deliver extraordinary projects.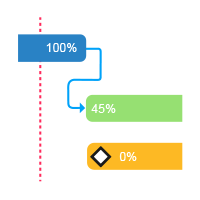 Plan your project at your best!
Twproject offers you all the functionalities you need!
Try Twproject now!
How to carry out a project: Manage potential risks
Risk management is central to project success.
These potential threats can sneak in at any time and can threaten the entire progress of your project.
To ensure that your project will be successful, potential risks must therefore be pinpointed in advance so that effective measures can be taken if necessary.
By having experience with similar projects, if any, it will be possible to predict when the risk is imminent and when corrective measures need to be taken.

How to carry out a project: Think about your project
Conducting regular analysis contributes to gain a more thorough understanding of project specs.
A successful project relies on many different factors, such as collaboration, time management, skills, etc., that may or may not work.
So, by thinking about and reviewing your project, especially at the end, to understand what went well and what needs improvement, you can learn lessons that will improve your future work.
Particularly in the case of similar projects, you will be able to know from the outset where the major risks lie and what the potential solutions are.

How to carry out a project: Keep learning
The modern world is extremely dynamic and business sectors are no exception.
New opportunities and unprecedented risks pop up constantly; therefore, your approach to project management needs to be flexible.
That's why it is worth to keep an eye on industry news on a regular basis to discover any promising developments or new risks.
Bottom line, project management is not the last resort to fight poor or unexecuted planning.
On the contrary, project management is the key to how to successfully carry out a project.
Failing to leverage project management within an organization, regardless of size, will only lead to subpar performance.
Working on good planning, choosing good project management software, and following the 10 tips offered in this article are steps that will only lead to successful projects.
Still in doubt? Well, you can try yourself with a free demo.