Milestone or project milestone is the management tool used to define a specific point in the project planning.
The points define, in fact, the beginning and the end of work and mark the end of an important phase of the work.
Milestones can be used to symbolize all started and finished stuff.
CONTENT INDEX
If a milestone focuses on the main points of project progress, it becomes useful as a planning tool.
Just as the tasks break down a larger project into manageable parts, the milestones split a project into milestones.
So, when starting a project, milestones can help immensely with programming.
Milestones are usually present in project management software, and of course also in Twproject.
They have their own specific icon in the Gantt chart function, and are diamond-shaped.

Project milestones: the planning
Project milestones are a way to estimate the time needed to complete the project more accurately.
Hence, they become essential for precise project planning.
With milestones, you can better calculate project planning by segmenting it into more manageable and easier-to-control time intervals.
They are also a flexible tool for planning.
With a little bit of flexibility, they can do much more than act as mere indicators of the project phases.
For example, milestones can be used as reminder of important meetings for the project or to report other interesting events, such as workshops or training courses.
They can represent also the moment of invoicing customers.
In short, using this diamond icon is a great way to make sure everyone is aware of upcoming deadlines and upcoming important meetings.
Naturally, milestones can indicate the deadlines for anything related to the project.

Project milestones: Keep track of progress
Part of a project's planning is the ability to monitor and keep track the progress of that program in real time.
Milestones are a way to see both at what point is a specific single activity, and the general state of progress of the project itself.
This is useful when dealing mainly with stakeholders.
In fact, these are generally not interested in a detailed report of the project progress.
What they want to know is if the project moves forward or not as initially planned.
Milestones are ideal for this type of report because they show the main phases completed.
Here at Twproject, for example, we use milestones to define the release dates of the software. This helps us being aware of how many features we can add from time to time in order not to stray the release plan. But this is just one of the many ways they can be used!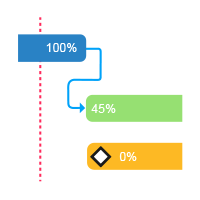 Plan your milestones!
In Twproject you can plan your project by highlighting the milestones. Thanks to the interactive Gantt you will always know if a delay has an impact on the milestones and you will be notified immediately.
Try Twproject now!
Project milestones: Simple task or milestone?
Discern between what to consider a simple desired dates and what to consider a project milestone can be difficult.
More projects are complex, more difficult is to recognize the difference between simple dates and milestone.
To resolve the doubt it is essential to ask itself the following questions:
Is this a dates that can be rescheduled or not?
Will this affect the final deadline?
Is this an important moment in the project that will indicate future progress?
Is it an event that has an impact on the project?
Answering these questions will help you understand if we are talking about a normal date or a milestone.
Basically, the most important events of your project must be reported as milestones, so that they can be easily visualized and mapped by the project team.
Project milestones: Why use them?
Milestones can improve project planning and execution in different ways:
1) Monitor deadlines
No plan is complete without a list of deadlines. The best way is to use the project milestones to indicate them.
The milestones, as already mentioned, are usually marked as a diamond-shape icon in the project planning software.
Hence, this icon represents a delivery, a presentation of the deliverable or in any case a deadline that mustn't be forgotten.
2) Make it easy to identify important dates
Are there important days that may have an impact on the project?
Perhaps a training course for the project team or a workshop?
Or a meeting with the stakeholders?
It is important to keep in mind all these events in project planning.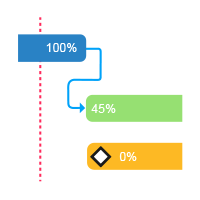 These are events of such importance that they can have an impact on the whole project and it must be easy to identify them.
3) Identify potential blocks of the project
Many projects rely on work produced by external teams or partners in order to progress.
If these external factors are not monitored, the probability to forget or not following them increases.
So, if you are working on a project that depends – even – on someone or something of external with which you do not have frequent contact, it is important to list these results as milestones.
As we have seen, milestones are a very useful project management tool.
It is also an easy-to-use tool for project planning and reporting.
In Twproject a milestone always coincides with the beginning or end of a task, this because normally a milestone is linked to a delivery or a kick-off phase.
In order to support the team in achieving the goal, Twproject also sets up a milestone notification system.
The notifications make even easier the work of the team that will automatically receive the alerts of the activities expiring or delayed and they will complete the tasks.
By default the alarm (milestone of the neighboring task) is 3 days before the milestone, but it is also possible to change it from the configuration pages. (insert a screen)
Reaching and overcoming a project milestone is also good for the morale of the team and of the project manager himself.
This is why every tool (like the alert) that facilitates the task is always very well received.
Now it's your turn to try to map your project with milestones and see if they help you better understand deadlines and deliveries
What are your waiting for?