In the vast world of enterprise software, there is one specific area that should never be overlooked, and that is project cost management.
Project cost tracking is indeed an essential activity in project management and if done wisely can reduce waste, increase awareness but also improve collaboration and personal satisfaction.
But what exactly is "Project cost management"? It is a process that deals with estimating and reporting the costs of company projects by relating them to the budget.
In other words, it allows us to create budgets for income and expenditure in projects and activities of all kinds, and consequently to make adjustments and accurate forecasts.
A software tool to manage this complexity can be the key. Filling in spreadsheets is not only time-consuming but can also be confusing: you risk scattering information, having to repeat the same data several times, thereby making mistakes and in any case generating chaos.
In this post we will look at the best project cost management software.
Objectives
Let's go more in depth and see what the typical functions of a cost management software are:

Budget setting: this is useful to have a spending limit. The budget can either be the expected revenue or the spending intention. Read here for a comprehensive overview of the various approaches to budgeting. The budget can be allocated to the project as a whole but can also be broken down into the various project phases.
Cost allocation: the hourly costs of employees must be recorded in the system, but at the same time flexibility in their deployment must be ensured.
Distinction between estimated and actual costs: for each item of expenditure, a comparison between the estimated and actual value is useful to make adjustments to the budget and revise the timetable.
Multiple cost items: any project is made up of ordinary and ancillary costs. Good software must allow everything to be recorded accurately and flexibly.
Timeline: it is important to have a graph with the development of costs, to see the evolution of the financial situation over time and to make up-to-date statistics.
Document management: an additional advantage of using a good tool is the possibility of creating and archiving project expenditure documentation (tenders, invoices, etc.) in one convenient location.

All of this must be present in good project cost management software and contributes to higher financial performance and optimal project management results, reducing the time previously spent implementing tedious and repetitive lists of cost items, personnel costs, payments and so on.
Here are the best project cost management software tools
So if we have persuaded you to adopt software that will greatly improve the quality of your work (and your life) for financial management, here is our personal selection of the 7 best cost management software on the market: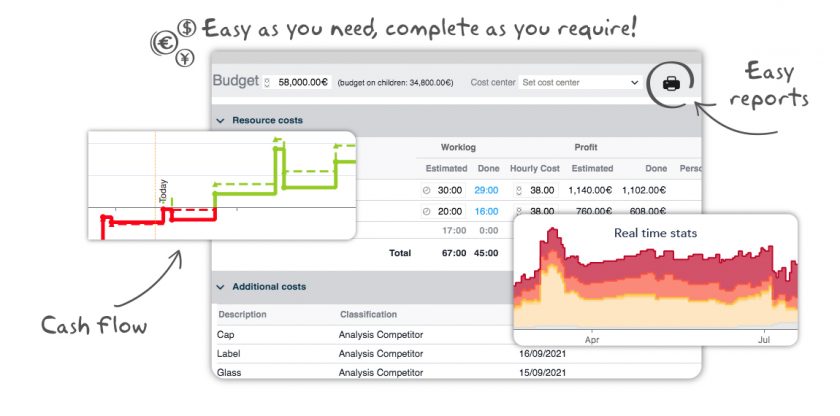 Twproject is the perfect synthesis of classic project management and cost control.
It aims to reduce the tools used in the company by providing one that covers 100% of the needs of each project manager.
The special feature of this solution is that, within a project management software, you find all the functionalities for accurate project cost management. It is therefore not necessary to use an ad hoc tool to keep costs and budgets under control.
Would you like an example of the advantages of Twproject's integrated management? The project manager can build his or her project Gantt by defining timeframes and dependencies, assigning resources to manage their activities and at the same time define a budget at each level of the tree, enter expense and billing forecasts and actual expenses as the project progresses. Twproject also includes resource costs and reporting for complete financial management.
To sum it up, here are its main features:
Budget/cost management integrated into the project structure
Resource cost management
Comparison of estimated and actual costs
Overrun reporting
Input of receipts and invoices, even from mobile devices
Filters allowing costs to be exported for different items
Summary graphs
Pricing: from 4.89 € per user/month.
Pros: Twproject manages project costs, revenues and resource costs in a single environment, correlating them together. The tool is easy to use, but at the same time very adaptable to individual needs, both personal and corporate.
Cons: No cons were detected.
Twproject is a system that is always up to date, and among project management software it has a very advanced and accurate cost management.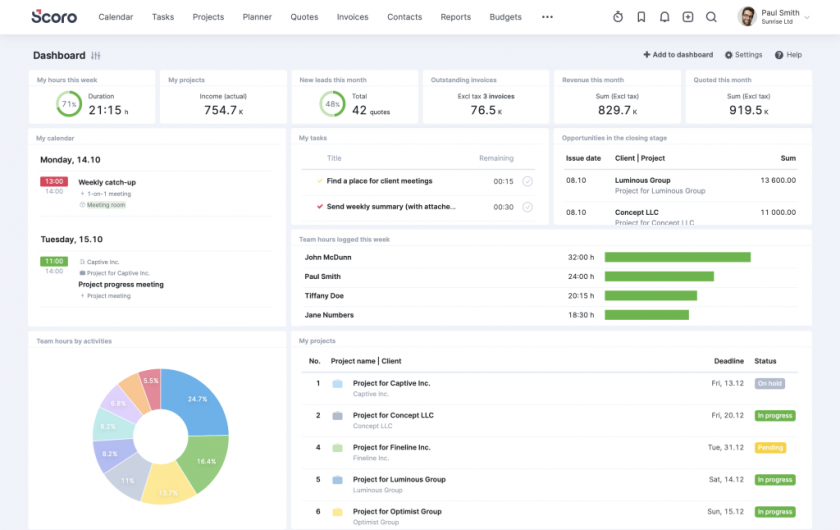 Scoro is also an inclusive platform that combines budget, CRM and project management functionalities.
The system allows time tracking to be integrated with financial data, so that the company has an accurate view of profits. A great deal of importance is placed on working time, in order to maximise internal efficiency.
The main features of Scoro are:
Integrated billing system
Income and expense reporting
Time tracking on tasks, projects or clients
Pricing: from 26 $ per user/month.
Pros: good usability, the workflow is linear and allows several aspects to be kept under control.
Cons: project phases do not have an independent budget; prices are more expensive than in other systems.
Scoro helps companies maximise employee efficiency by putting the value of working time at the centre.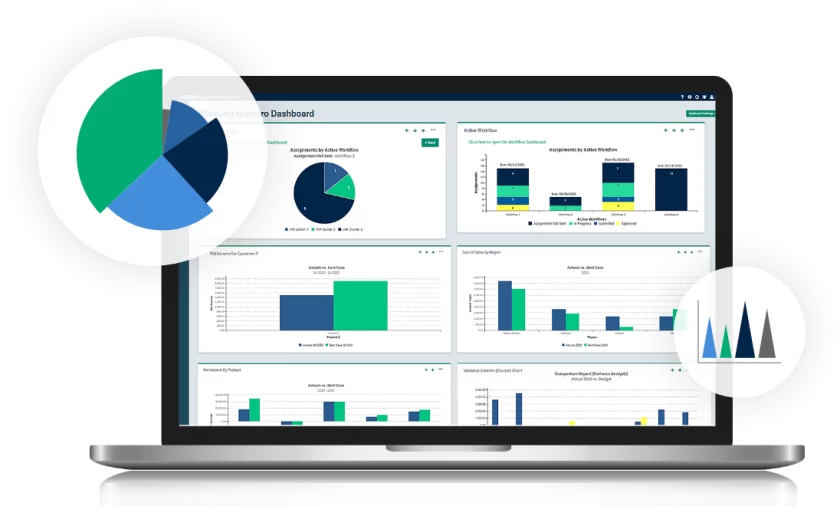 Centage is a cloud application that aims to support in business processes of budgeting, forecasting and reporting.
The system can be integrated with different data sources, thus allowing companies to keep the systems they currently use and ease the transition.
It provides pre-built templates for operations such as revenue planning and allocation of budgets to resources.
Its functions may be summarised as follows:
Forecast feature with different scenarios
Integrated reporting of income statement, balance sheet and cash flow
Collaboration tools
Simple import/export
Wizards
Pricing: customised quotation.
Pros: a specialised tool offering various analysis tools, including 'what-if' scenarios.
Cons: it is not suitable for those looking for an all-in-one solution because it requires integration with other systems.
Centage is a powerful budgeting tool for small and large companies, although it is somewhat lacking in versatility.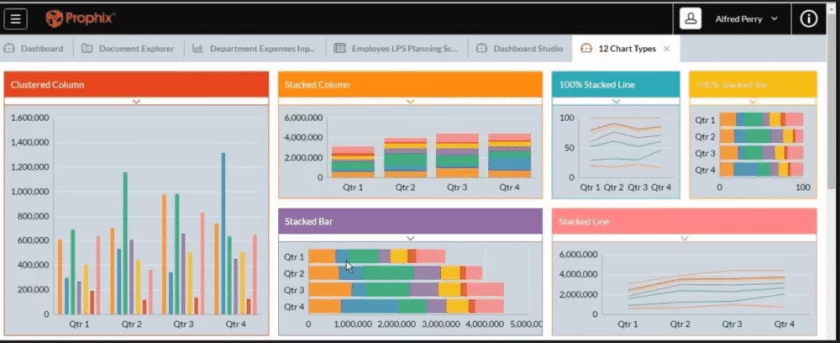 Prophix is a useful tool for those who want to do good financial planning. It offers various profit optimisation models and makes it possible to predict the profitability of projects.
It proves to be a robust solution for companies of various sizes, with an easy-to-use interface and a good amount of graphs and tables, which are however not customisable.
Functions include:
Budget forecasting and planning
Analysis of historical data
Use of formulas
Exporting models
Pricing: customised quotation.
Pros: highly specialised product offering sophisticated analysis and forecasting tools.
Cons: the learning curve can sometimes be a bit tricky for those who are not very technologically literate.
Budgeting, forecasting and reporting are useful and efficient once you understand the models: this can take some time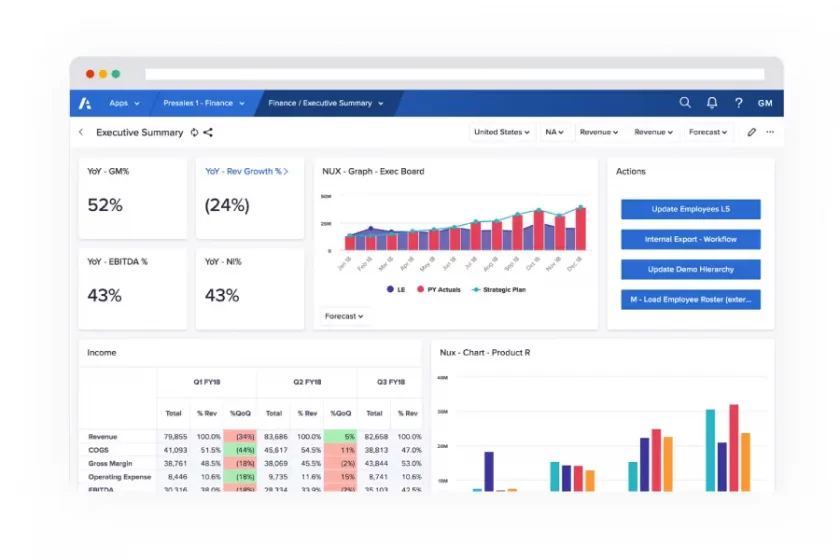 Anaplan is a particularly specialised software for financial planning that offers dynamic solutions and relies heavily on internal team collaboration.
It also offers very refined future planning tools, but like many complex systems, its use is not straightforward. Every piece of data must be fully planned from the first implementation in order to build a system that is scalable over the long term and remains flexible to business changes.
What Anaplan offers:
Customisation and integration
Planning and forecasting tools
Data analysis and reporting
Access and security controls
Pricing: customised quotation.
Pros: fully customisable; offers the company good self-analysis tools; real-time collaboration; good calculation functions.
Cons: lack of certain visualisation types; lack of flexibility in reports; inefficient with fragmented data.
A powerful tool but one that can present some pitfalls for those just starting out.
Vena stands out for having the objective of not disorienting those fond of the old Excel spreadsheets. Its interface is therefore specifically designed to draw continuity with the old systems used in companies.
At the same time, however, it wants to encourage sharing and collaboration within the work team and therefore relies heavily on sharing tools, role security and so on.
It offers the possibility to start from pre-built templates or to customise your own budget management statements based on existing structures.
Vena's main features are:
Importing data and models
Calculation formulas
Forecasting tools with different types of analysis
Customisable objects
Pricing: customised quotation.
Pros: streamlining of workflows; user-friendly interface; possibility of combining data across company departments.
Cons: complexity of the initial setting; slowness in loading data.
The familiarity of the Excel interface combined with a good calculation engine.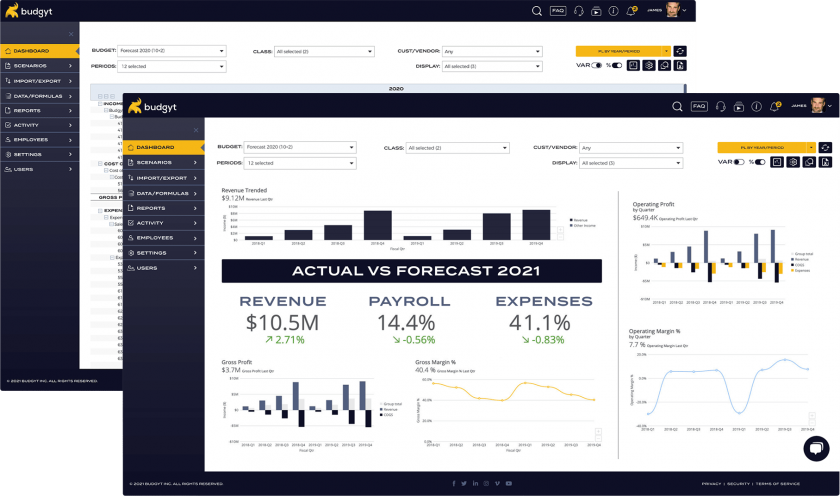 For those accustomed to an agile approach, Budgyt may be a good solution. In fact, this cost management tool has functions suitable for analysing small data, without necessarily having to enter the entire company business plan.
In addition to promoting collaboration by providing tools for shared management, Budgyt values speed and efficiency in data presentation.
It is a tool appreciated by those who value ease of use, speed of data entry and a clean, simple interface.
Some of its main functions include:
Dashboard for presentations
Single data access point
Flexible and customisable data visualisation
Division of roles at each level of the system
Granular approach
Pricing: customised quotation.
Pros: easy to use and short learning curve; readability of data even for laymen, useful for data sharing.
Cons: a little mobile-unfriendly; not always immediate updates.
A partially successful attempt to apply the agile philosophy to budget management.
Conclusions
We hope that this overview of the best project cost management software will help you in choosing a cost management software for your company.
Ultimately, thanks to the research we did to write this short article, we came to some conclusions that we can genuinely give you for when you will make your evaluations.
The features you will need to look for within your software are:
1. intuitiveness: if a piece of software is easy to use and quick to learn, its implementation can be rapid, and in this way there can be a real advantage over the compilation of classic spreadsheets.
2. Process automation: as a consequence of the previous point, the reduction of manual work must be the focal point, especially with regard to repetitive and routine processes.
3. Budget planning must be able to be linked to different targets, not only to the project but also to its individual phases or to the client. In short, target flexibility must be guaranteed.
Twproject possesses all these qualities and is an excellent blend of efficiency and versatility. A company, whether small or large, can exploit Twproject as a single solution for managing a multitude of functions, including cost management.
Have you ever tried using the support of a financial management software?
Take a 15-day free trial and let us know your opinion!