No project plan is complete without a project management timeline.
Essentially, when you approach a project, you should never approach it as a single process. It is more appropriate to consider it as many interconnected micro-projects.
Whatever the level of difficulty of the project you are dealing with, in fact, splitting a task into smaller parts makes it significantly more manageable.
Above all, approaching a complex project one step at a time is much less overwhelming than trying to do it all at once.
That is, essentially, why we speak of a project management timeline: it helps to break large tasks down into smaller chunks and then organize those chunks into a logical order.
Let's get to know more about it in this article.

What is a project management timeline?
A project management timeline is an overview of a project's deliverables organized in chronological order.
This gives the project manager a way to get a view of each activity in one place, making planning easier.
It is usually presented in a visual format, which allows for a quick overview of the status, including activities, their dependencies, and start and end dates.
The elements that make up a project's timeline can vary depending on the size of the project and the amount of detail you want to show.
A project management timeline can have many forms, although Gantt charts have been the most popular type of timeline used for decades.

Project management timeline advantages
All good project managers know that a project timeline is their trusty partner when starting a new adventure.
Not only does this tool help everyone involved visualize the steps of a project, but it also helps in keeping track of activities.
Here are some of the key advantages of a project management timeline:
It reveals a clear path: it's easy to see which step to take first and what needs to happen next.
See the big picture: it's hard to see the end of a project when there are so many small steps required to get there. A project timeline helps you visualize the bigger picture.
It ensures that everyone shares the same goal: the whole team must be on board for a project for it to be successful. Project timelines help everyone see what role they play in the overall success of a project.
Keeps everyone abreast: A project management timeline helps everyone involved to track the status of a project, which builds trust with stakeholders and also makes communication significantly easier.
Prevents bottlenecks: this tool allows you to see dependencies that could lead to bottlenecks that delay a project and ultimately frustrate stakeholders.
Makes changes easy: Projects don't always follow a linear path. A project management timeline makes it easy to actively edit elements.
How to create a project management timeline
Creating a project management timeline should be among the first steps you take on any project.
Setting it up beforehand will help you get started faster and stay on track.
First, there are five key elements involved in a project management timeline:
Activities
Their expiration dates
Their duration
Dependencies
Team members or employees assigned to them
Having made these elements clear, move on to creating a project management timeline: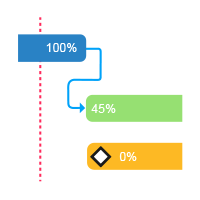 Plan your project timeline
Twproject offers you all needed functionalities, divide your project in activities, add temporal planning, with resource allocation and evaluation of bottlenecks.
Try Twproject!
Understand your project scope
Before doing anything, it is crucial to know your project's scope.
This will help in deciphering how much time each task requires, the overall timeline, and how many team members need to be involved to get the job done.

Split your project into milestones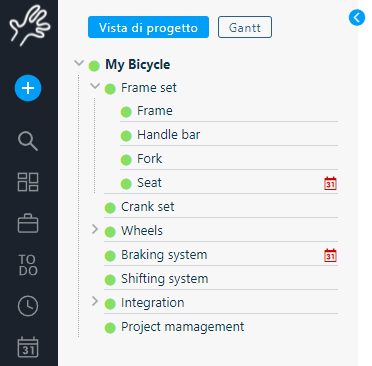 After writing a purpose statement, you need to list everything involved in the project process.
After identifying these items, you can turn that list into work packages.
From there, you proceed to break down each milestone into smaller, more manageable tasks and track them in the timeline.
For example:
The first package might involve developing a bicycle frame set for your client. This might result in a developing frame, handle bar, fork and seat.

Estimate how long each activity will take
It is considerably easier to estimate how long a task will take if it is split into different parts.
Although it may be difficult to know how long it will take to create, for example, three mock-up logos, you can be reasonably confident about the time it will take to host a meeting, execute a customer survey and perform competitor research.
For each of the smaller tasks listed, identify an estimated time frame so you can begin to see the overall project take shape.

Assign tasks to your team
Now, you'll proceed to distribute your tasks to the corresponding team members.
First of all, you should be explicit about all the resources you might need, stating what skills and expertise are required.
Needless to say, each task should be assigned to the team member who possesses the most suitable skills, as well as to the one able to complete the work in the necessary time because it is not already allocated to other activities.
In this case, having a tool that is able to evaluate resources workload is essential.

Choose project management software
You can track your project management timeline using a spreadsheet or some other manual method.
Nevertheless, it is considerably easier to use project management software that allows you to manage this feature in real time.
Also, this way the project management timeline will be in one place, accessible by everyone at any given time and place.

Track each activity on the timeline
Once you insert the tasks into your timeline, you will be able to see all the dependencies.
This will give you a better insight into what tasks will happen at any given time allowing team members to easily manage their schedules.
This is easily done with a tool like Twproject which includes a Gantt editor already integrated with the drafting of the wbs (division into activities) and the distribution of the workload!
On a final note, a project management timeline can make the difference between success and a chaotic pile of tasks that yield poor results.
Managing a project is tough, but with the right tools, many challenges can be overcome easily.
Manage your projects' timelines with Twproject.