New free features and a new site
We are very happy to announce that after a long period of development we have just released Twproject 5.4 (build 59600).
This new release includes a relevant redesign of the interactive Gantt chart, moreover we improved the interface usability of the entire application, fixing most of the bugs signaled through our support forum (thank you!).
This release also contains a major internal refactoring focused on providing better access to Twproject trough an API that will be released soon.
Some additional fields have been added on the database schema, now supporting custom fields on resources; it is also functional to maintaining custom orderings in Gantt chart. As usual the upgrade procedure will perform all necessary steps automatically.
Gantt Chart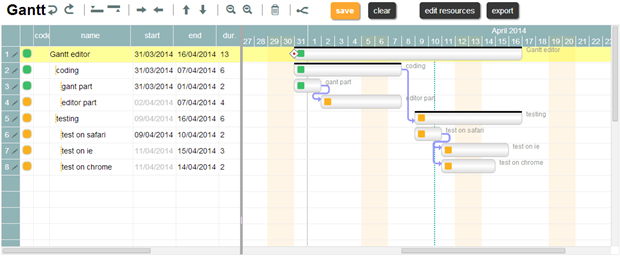 The new interface has been rebuilt using HTML5 and SVG, giving to our users a brand new usability experience.
We lets you navigate the grid using your keyboard, in this way editing and creating task will be much easier. We also introduce the fixed header to help users interact with complex trees. Task and dependencies can be selected and removed directly from the chart side.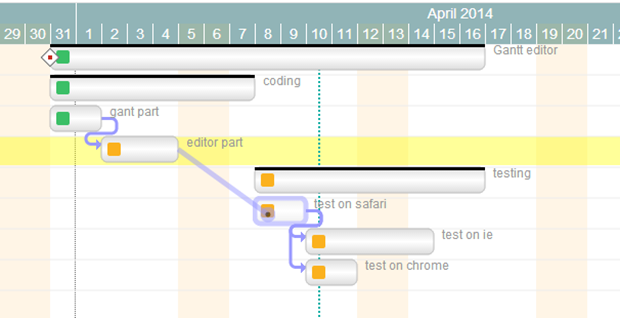 The Gantt chart is now really easier to use. You can manually link projects creating dependencies, task names are displayed beside each task, task days are shown while you are enlarging or reducing tasks.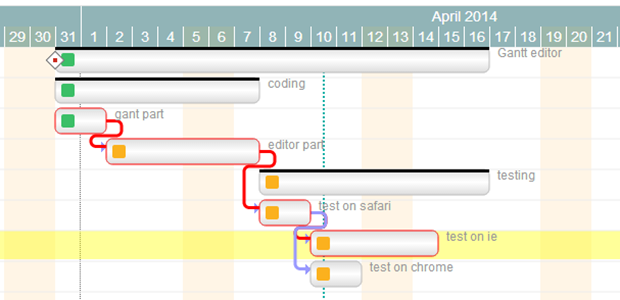 The new Gantt editor also includes critical path identification. Critical path computation can be turned on and off and is updated automatically with your tree changes.
Discussions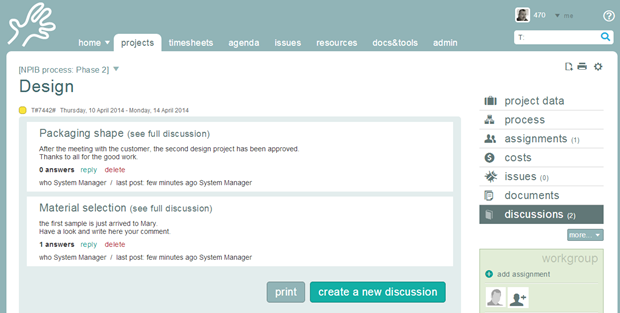 We think that team communication is essential for task progress and for this reason we enhanced discussions' strength giving new visibility to this feature.
Now is easier to create conversations and contribute. Users can initiate a new discussion on each task, so that will be easier for workgroups to discuss about specific task matters. Subscriptions and notifications keep your group up to date.
Mobile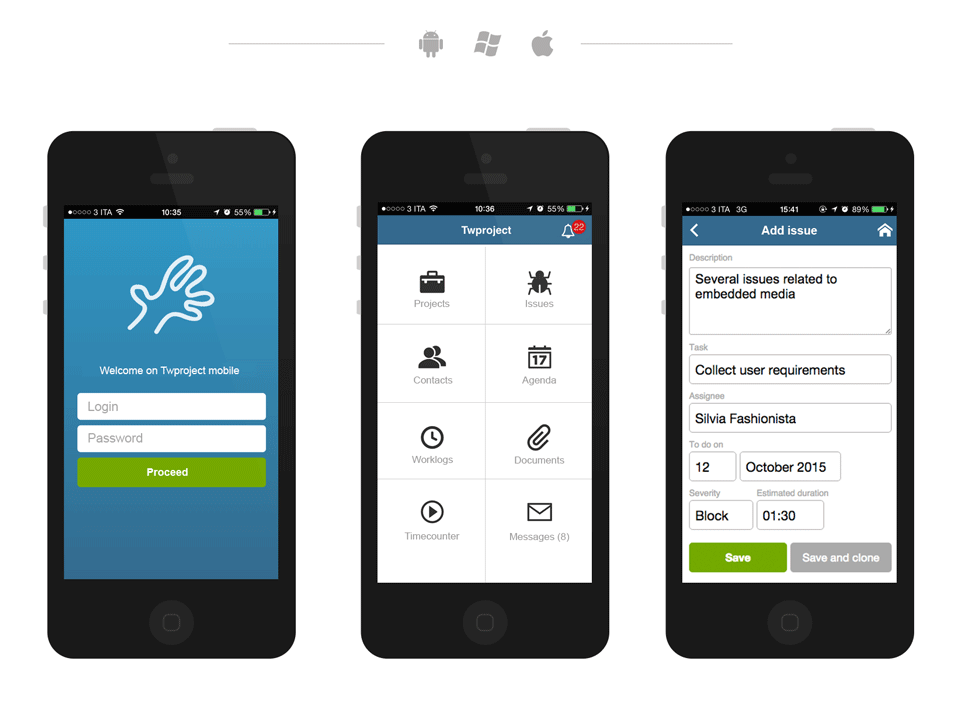 Minor changes and a really nicer skin.
Minor features and bugs
Added paginator on bottom page lists
Added isPersonal and isUnavailable in agenda's small editor
Added custom fields on resources
Fixed header and footer on worklog week
Main menu can now be opened in new tab
Redesigned Copy task feature for a more intuitive cloning procedure.
Fixed issue filter with duration>0
Fixed agenda search bug on private event
Fixed issue order on Kanban
Full search for Task: filter is now preserved
Fixed moving issue assignment bug
Fixed public page bug
Minor bugs fixed
Twproject Shop
Since Twproject 5.4 you have direct access to Twproject shop in order to easily increase you number of user licenses or update your license expiry date. The new license will be generated and sent to you within few minutes. If you are using our cloud solution, your environment will be automatically updated.
A brand new site for Twproject and guide
We are also very proud of our new Twproject website released last week. We worked really hard to make all information about our software features available to customers in a simple and intuitive manner.
Buying Twproject is now more simple and fast, licenses are sent to your email address immediately after purchase and Amazon dedicated Instance are instantiated automatically too, in a few minutes.
We completely redesigned our guide that is now a dedicated site to help all our acquired customers finding answers on their work management problem.