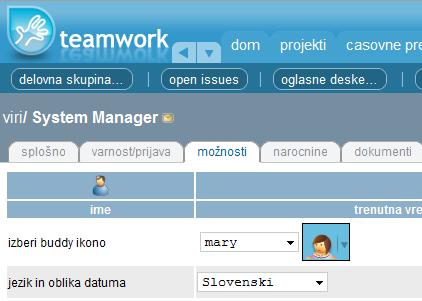 This new release includes some useful new features, the translation in Slovenian, and some bug fixes.
Many of these fixes and features come from Teamwork users who, always help us improving the software, making Teamwork more usable and "comfortable". In particular we should thanks Marko Vaupotic from the Skrasistemi for the Slovenian translation.
Download this release here; there are no database schema changes from latest release. Technical note: the web.xml of the application will be updated.
Collect errors with BugsVoice:
From this new release Teamwork's errors are going to be collected using the BugsVoice online service. This will probably not be a big difference for Teamwork users, because the page shown in case of errors is quite the same (the same information with a new skin 🙂 ), but it is a complete example of BugsVoice usage. Give it a try to trap your errors!
Features:
1. Possibility to notify a user by email once his/her account has been created.
2. In the first step of Teamwork usage, if you chose "software house" as company type, the operational role will be changed adding to it the permission of issue creation (according to how this type of company generally work: everybody can add issues)
3. Possibility for a resource a resource to modify his/her personal data even without the resource_write permission.
4. Added the possibility to choose if drawing or not your sticky notes in case the user has more than 30 when logging in.
5. Added a in the list of subscriptions a new one which alerts if a child task is created.
6. Teamwork scheduler know sends e-mail in a nicer format.
7. Added a smarter link for sending e-mail, if you use Gmail for example the e-mail link redirects you to it.
8. Added the possibility to remove all subscriptions with one click.
9. Added the possibility to customize the text automatically added in the action of the worklog created on issues: If you close an issue the action includes the label "CLOSED_ISSUE_PREFILLED_ACTION" If you simply add worklog on an issue the action includes the label "ISSUE_PREFILLED_ACTION "
10. Traslation in Slovenian.
Bugs:
1. Fixed bug on combo box in issue editor.
2. Fixed a bug on saving worklog in the issue editor.
3. Fixed bug on search: task with notes and tags were not found searching by something written in a custom filed.
4. Fixed bug on search result: notes, tags an custom filed were shown without spaces.
5. Fixed an inconsistency in the view of costs in the worklog analysis page.
6. Fixed a bug in the report with worklog detail(task name showed twice)
7. Fixed an inconsistency of behaviour in worklog management. Users without permission now cannot change the status of their worklogs.
8. Fixed a bug in the generation of a link-type document.