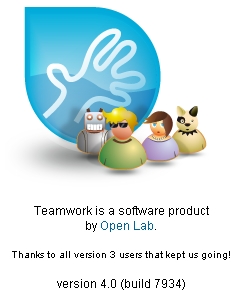 Download Teamwork 4. Today, 30th of January, 2009, Teamwork 4 is available for download. Get it here:
http://www.twproject.com/download.page
In the same page you can generate a 30 days evaluation license. The multi-platform installer includes an upgrader from version 3; you can buy both new and upgrade licenses here:
http://www.twproject.com/licensing.page
The base cost is 90 Euro per non-expiring license.
(If you live in a country where the currency is now particularly weak with respect to the Euro (e.g. Brazil), apply for a discount here. There are free licenses for blogger / journalist reviewers, as usual.)
See the introductory video and download the user guide here:
http://www.twproject.com/documentation.page
What we achieved. Producing Teamwork 4 was really difficult, because we had several aims that we wanted to pursue with this release:
get more integration between the different sections of Teamwork
expand project management functionality with resource management and business processes
create a "Teamwork talks" set of functionalities, so that Teamwork would natively interact with the various services which now are widely used to track one's activity, from Google apps, to Twitter and Subversion
deeply revise the user interface, by:

keeping "embracing the web", but empowering the basic url request – page display cycle with dynamical web parts that allow in place and multi-line editing
make it easier to reach information, through silently smart search functions and empowered dashboards  (see the future blog post on group ranking)
The last point was particularly intense, as we had to "absorb" the fact that the web itself is a source of user interface standards, and it has stopped trying to imitate other platforms.
User requests. Many of the changes and improvements came from recurring user requests: have an extended and printable user guide, interface translation in German and Spanish, in place task tree edit, Subversion integration, and many others. So post your requests on our feedback service, and you'll see them realized with a little patience.
Features of version 4. How can a short blog post summarize Teamwork release 4? There is just too much, both conceptually and functionally. There is only one way to get to know Teamwork 4: see the intro video, download and install the application, give it a try, maybe have a look at the new user guide to get more in depth on the subjects that most interest you.
A very synthetic way of telling what's new in version 4 is by using simply a tag cloud of the user guide contents: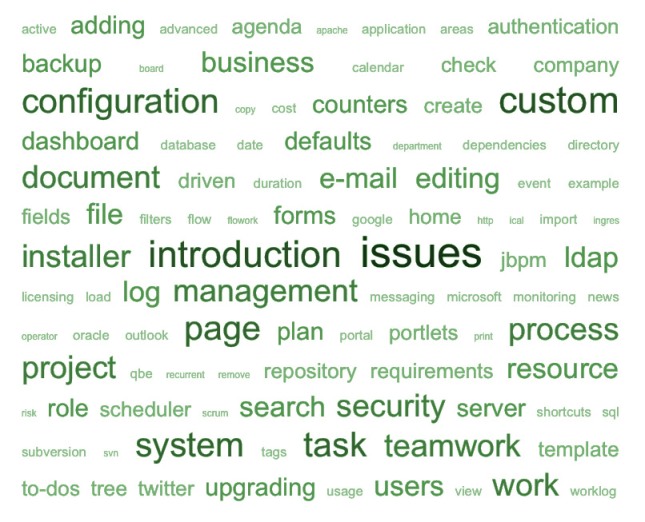 Thanks. The team that produced Teamwork 4 is here:
http://www.twproject.com/staff.page
Thanks to all users of version 3 that provided feedback and special thanks to beta testers and translators. Have a good evaluation!