An issue in a productive environment is something smaller than a project or task, but that is important enough to deserve separate treatment. Lets take a look at the life of issues.
How does Twproject help us in issue tracking?
Twproject can deal flexibly with the many sides of issue tracking, with user friendly and powerful functionalities. Over the years we have met many different ways of using issues and we have evolved Twproject in order to support a variety of scenarios.
Lets see how Twproject meets the different needs listed above.
Issues simplify
Twproject multi-row issue editor makes a breeze creating and updating all the issues you have in mind and could forget. Supports simple drag-and-drop of images / documents on the issue. And who is interested will be notified, who isn't won't. Of course you can deal with all issues on your smart phone, if you wish.
And you can discuss issues – this too is a part of the project's story.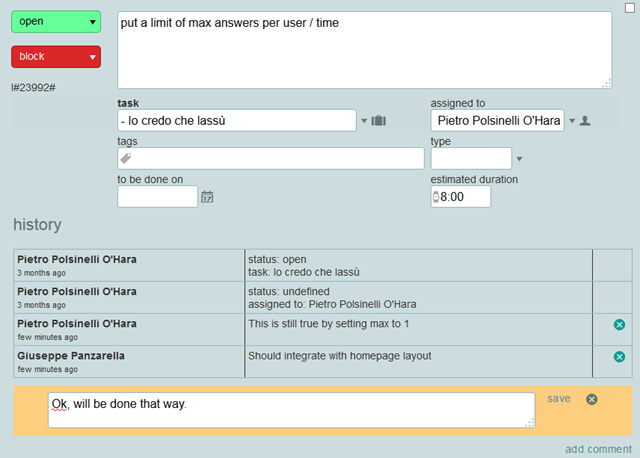 Issues multiply
Twproject can deal with large sets of issues, providing graphical tools for handling them. Filters, reports, custom views, Kanban like management, bulk move, all can easily be done in Twproject.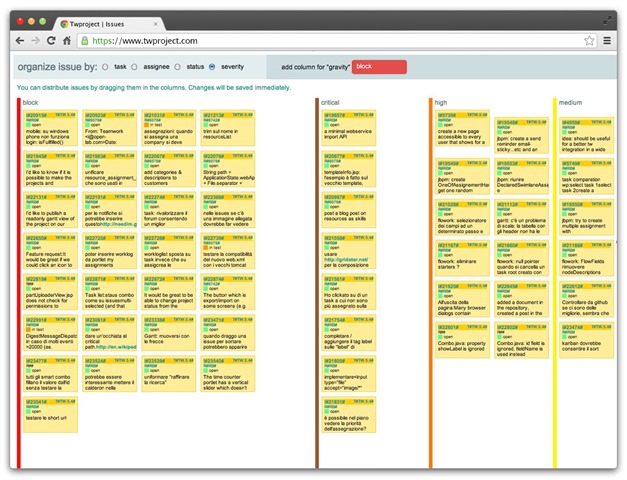 Issues transform
Twproject provides you with all tools needed for transforming and moving issues.

Issues ease teamwork
Twproject supports sharing issues through projects, tasks, areas, involving the team implicitly defined.
Issues are a knowledge source
Twproject lets you group issues in any way: by task, date, resource, gravity, status, contents, tags … . And the resulting groups can be printed, exported as spreadsheet, bulk edited, discussed, linked.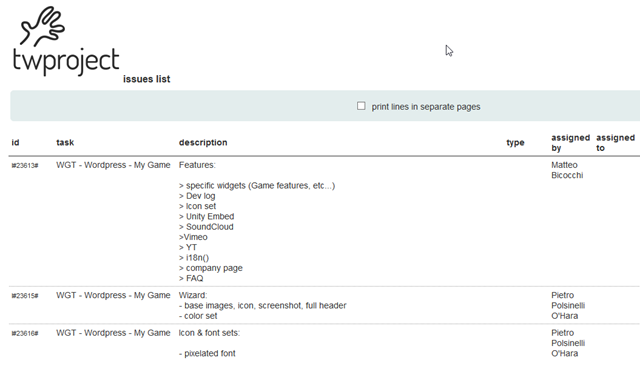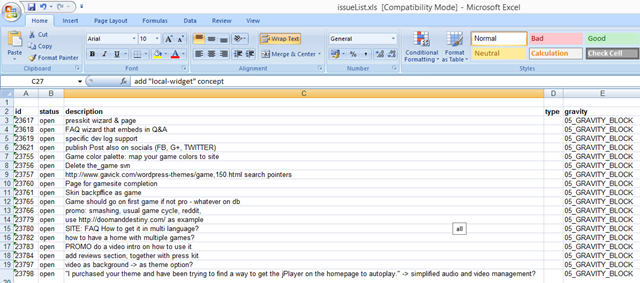 Issues give you timing
Twproject supports distributing issues to projects and in time via simple screens that let you quickly distribute tens of issues.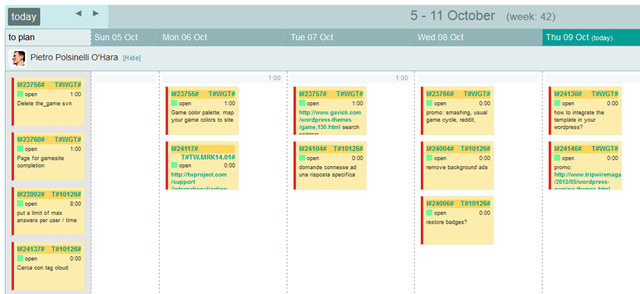 Issues have several meanings
In Twproject issues can be used with a variety of meanings by the same group on the same project.
Twproject also supports custom fields. for issues, which can also be used in search and aggregation criteria.