A project management software is a versatile way to simplify the process of managing any project.
A project management software helps to unify the work process on one or more projects. This avoids forcing teams to work on different applications and platforms.
Thus, communication tools, file sharing, activity and deadline monitoring, and reporting are all inserted into a single software application.
A project management software works like a real-time workspace. It helps keep the eye focused on the big picture, effectively managing the details day by day.

When do you need project management software?
It is important to point out that a project management software is designed for completing projects that require time and teamwork.
An organization needs a project management software, when it is necessary for different individuals and business units to coordinate, both internally as well as externally, to complete certain tasks.
Establishing precisely when it is the exact time to switch to the use of a project management software is not easy. However, there are unmistakable signs that make clear that perhaps this time has come. The telltale signs that an organization needs a project management software include:
Delay of projects due to over-correspondence via e-mail and work was lost in the mailboxes of team members.
Confusion over too elaborate and not user-friendly worksheets.
Lost of some deadlines due to lack of accountability and transparency in the process.
Poor communication between team members and the project manager due to failure to report the status of the project or individual activities.
Overlapping or redundant jobs due to the confusion that reigns over the specific role of each team member.
Not clear or lost timelines due to poor planning or poor communication.
Therefore, choosing a project management software solution can simplify the entire process. It can allow the team to offer higher quality work in a shorter period of time.
Effective softwares allow the project manager to save and track multiple projects simultaneously.
In essence, the workload can be saved on a single platform. On this platform, each team member has access to all the information needed to do his job.

How does a project management software look like?
Generally, as starting base, we also find a dashboard. This control panel provides access to all major software features.
From the dashboard, users can create new projects and manage and organize old ones.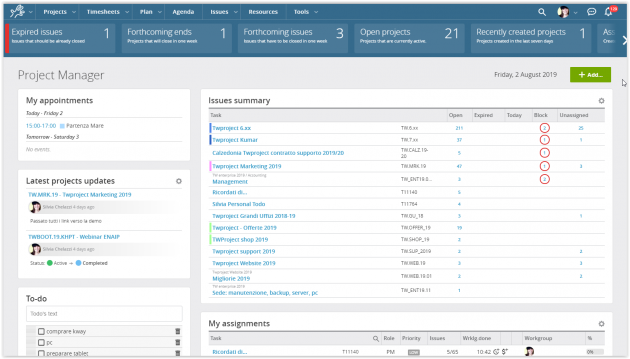 In many project management platforms, the dashboard is also the site of an overview of active and completed projects, which users can access at any time.
Project management softwares clearly have different capabilities, and it is important to assess what the business needs are before choosing one solution.
For project managers, complete control over project management is essential.
This way, they can reassign the work and reprogram it, if a team member is overloaded while others are not, managing resources more effectively.
With detailed summaries and reports, project managers can also more easily keep pace with new developments.
Any complex project has many moving parts and it is therefore important that the manager is informed of all the details.

Choose the right project management software
Most quality project management softwares offer the features described above, but of course there are other aspects that vary from platform to platform.
This is why it is important to select a project management software that allows to ensure the success of an organization.
A large company, for example, will have different needs than a small startup with a small team.
So, examining each software and asking the right questions is the key.
Implementation and ease of use should be two key factors essential for the decision.

5 fundamental aspects for the choice of a project management software
Here are the 5 fundamental aspects in order to choose the right project management software:

1. Respond to the whys
The process must begin with a transparent and honest assessment of why the organization needs a project management software. The project manager can start by tracing the needs and identifying current problems. This can be followed by an analysis of the existing processes to highlight the negative points and, consequently, to look for a software that allows to overcome them.

 2. Looking beyond the "big names"
Clearly, there are project management softwares most famous than others, but are we really sure that these represent the right choice for any organization? For a given company, in fact, a less well-known project management platform could be the ideal solution. So, it becomes important to search online to see what types of software are on the market, collect different opinions, ask the team members what they used in their previous organizations, etc. In short, do some research and compare the various features.

3. Identify implementation barriers
 Once the project manager has chosen a potential project management software, it is important to consider the obstacles or implementation barriers that the organization might encounter. These implementation barriers could be anything: From team resistance to longer than expected training sessions, from difficult data migration to insufficient purchasing budget. The idea is therefore to identify all the factors that could cause a block to the implementation of the software, to verify if these barriers can be eliminated and to find a solution.

 4. Do a test drive
Almost all the available softwares are supplied with a free trial (if you want to try TWproject for free you can click here). It is therefore important to make the most of this opportunity, using realistic project scenarios to scroll through the list of software features. The PM will not have to act alone, but choose a team just as it would in the case of a real project. The team chosen for the test drive will thus have the opportunity to explore the new software and give the most accurate feedback possible. It is important to keep the communication open in order to discuss any problem straight away.

5. Draw up a detailed implementation plan
A final factor to consider before officially choosing the project management tool, is to plan the implementation and make sure it will be as smooth as possible. Typical elements to be considered at this stage include time frames for implementation, adequate training for the various stakeholders, and possible data migration activities. It is also necessary to evaluate the level of support that can be obtained from the supplier of the software as well as the long-term technical support.

Conclusions
The choice of a project management software therefore requires much more than a decision based only on a couple of "big" names, on a superficial analysis of the functionalities, and on the feedback of a few people.
Choosing a new project management tool can be a long and complicated process, but one that is worth it in the long run.
The right choice will be an advantage for the organization in general, for customers, as well as for the project team.