Keep your timesheets under control, task and issues on agenda, identify your customer's projects
Here again: a new free release for our customers (version 5.6.59800) rich of interesting features. Download your update or a free trial here.
Twproject timesheets:
In this release we have introduced a new powerful tool for keeping under control the timesheets of your team.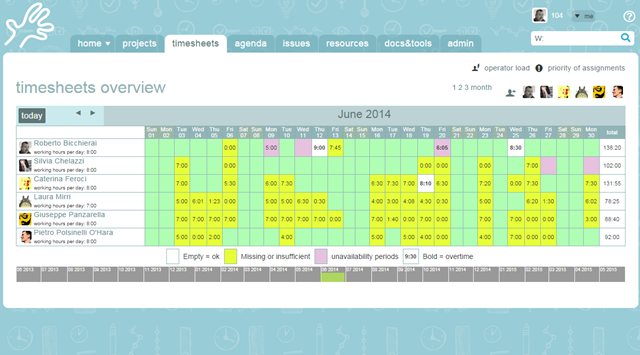 In a single fast page you will see discrepancy from expected working hours and time recorded. Unavailability and holidays are taken into account and shown as well. Moreover a new schedulable job will send reminder by e-mail for timesheet completion.
Twproject agenda:
Thanks to our customers suggestions we have added a new great feature on the agenda so that it now shows issues and task start/end.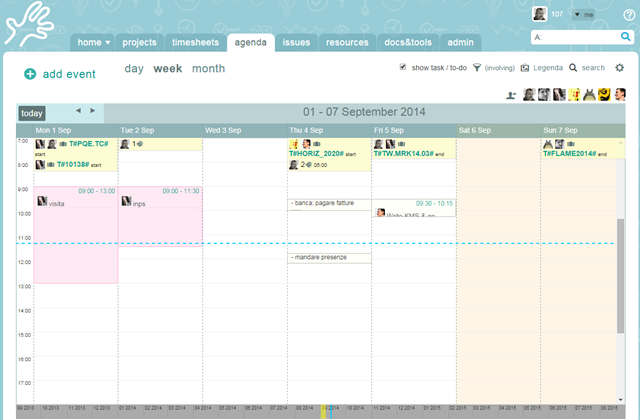 Every user can see his own issues/tasks, or, by selecting a workgroup, the issues/tasks where the team is involved in. Links will bring you to the right view.
Worklog analysis:
Twproject refined security model allowed to define the "customer" of a project by assigning it with a specific role. We have reinforced this concept by allowing to define the default role used to identify it.
The immediate benefit of this change is for instance on the "worklog analysis" page, where you are able to search for time spent for a specific customer, eventually cross-project.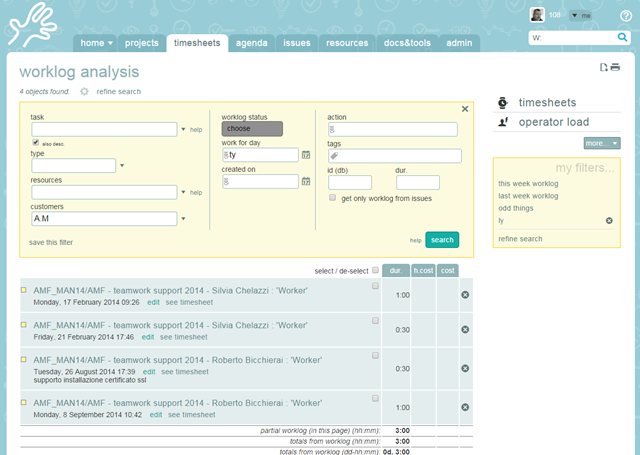 A dedicated option on the admin page will allow to set the default name for the "Customer" role, as it is for "Project manager" and "Worker" .
Project public page:
Task public page has been enhanced, it can now show the project Gantt in read only modality: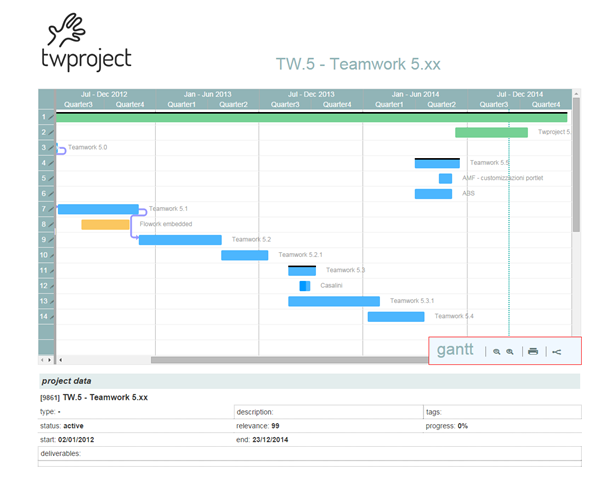 Minor improvement and bug fixes:
Several minor improvement have been implemented:
milestones are now visible on "my projects" widget
same scale in task statistics for issues and time spent
worklog analysis now allows to search on task tree structure, also searching with QBE
when you clone a task you can now decide to copy custom fields too
worklog by task report layout improved
Some bugs has been fixed:
Outlook issues on time zones
LDAP creates user on login check
process instantiation error in case of missing roles
burndown graph link visible again
scheduled job editor shows delete preview box when editing