How are disruptive technologies redefining the Project Manager figure?
The third PMI Report addresses exactly this topic.
As already highlighted in the previous articles, 1st article and 2nd article, disruptive technologies are revolutionizing entire sectors and entire organizations. In short, they are forcing all organizations to change both what they do and how they do it.
This third Report evaluates the results of a survey of 537 executives – including PM – from all over the world on the effects of disruptive technologies on people, projects, work, culture and strategy.
Project Managers and disruptive technology management
In order for organizations to remain within the market, managers and project managers must learn to manage the influence of disruptive technologies.
Currently, the most used disruptive technologies are those shown in the following table.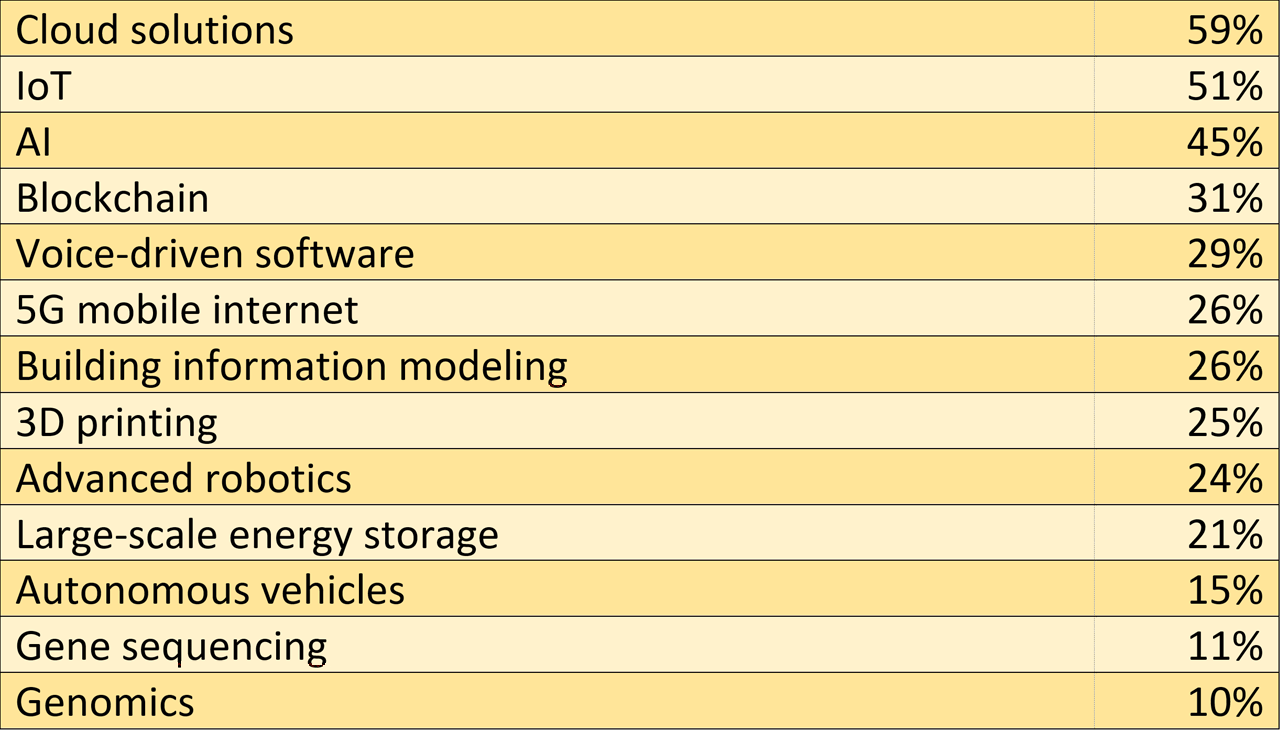 [av_notification title=" color='green' border=" custom_bg='#444444′ custom_font='#ffffff' size='large' icon_select='no' icon='ue800′ font='entypo-fontello' av_uid='av-1be8a98′]
Already today, disruptive technologies allow many organizations to do their jobs better and respond more quickly to fluctuations in market trends and customer demands.
[/av_notification]
When talking about change, the Report highlights that the most active organizations are worrying about:
Embracing a culture that promotes constant transformation
Understanding that change management is critical
Identifing managers and PMs as "leaders" of change, when they make disruptive, digital, and transformation changes.
However, one aspect is fundamental: organizations should not limit themselves to just one or two disruptive technologies.
[av_notification title=" color='green' border=" custom_bg='#444444′ custom_font='#ffffff' size='large' icon_select='no' icon='ue800′ font='entypo-fontello' av_uid='av-n1wcy4′]
True digital transformation is based not only on the intelligent adoption of different technologies.
Each organization must create its own "digital recipe".
[/av_notification]
Managers often take the initiative in creating a digital transformation strategy and become the driving force of change throughout the organization.
It is therefore no surprising that more than half of high-performing organizations consider the leaders responsible for managing the change.
In fact, the most effective way to drive change is to create senior leaders who believe in digital transformation and can manage the culture of transformation within the organization.
The change takes place from the top down and will not work unless the employees are managed and led by leading people.
Disruptive technologies: best practices
Considering disruptive technologies, there is no single approach for every organization.
The Report lists some best practices related to promoting change in organizations, which Project Managers should pay attention to:
Participate in the change process actively.
Organize meetings and campaigns for change.
A successful action is to meet regularly with employees in order to discuss the benefits of digital transformation, the way in which disruptive technologies can improve workflows and increase productivity.
Communicate effectively and ask for regular feedback.
But digital transformation doesn't just happen thanks to this.
Organizations also need a well-designed strategy, smart technology choices, and project management skills. All these factors that should be found in the project manager.
Organizations also need team members with an innovative mindset. This sometimes means choosing people who do not have a high level of experience, but have the ability and willingness to try new things, experiment, fail, move forward.
As a result, many organizations are starting to train their talents in order to strengthen the entire company.
Executives believe it is important for talents to have project management skills among the top three skills.
People with project management skills often support and even adopt frequent changes to compete and succeed in a fast-paced business environment.
Therefore, a robust organizational change management program is a top priority in order to help organizations embrace new technologies.
The 5 fundamental steps for change
To instill a culture of constant change and innovation, organizations must:

1. Invest in continuous education and training
New tools and techniques allow employees, including project managers, to work more efficiently and quickly than ever before. Investment in talent and continuing education must therefore be a priority for organizations. Ultimately, the use of disruptive technologies also affects people and not just technology.

2. Fully involve employees
As promising as new technologies may be, such as artificial intelligence and robotics, workers will easily consider them a threat.
To allay their fears, organizations should provide timely and accurate information on new opportunities.
The management, the PMO, and project managers can help make insecurities disappear by guiding change management from the inside.

3. Make leadership and project managers the leaders of change
Project leaders will play an important role in integrating the culture of innovation and change, evangelizing new technologies and methods throughout the organization. In this way they become educators, helping people understand how to apply new technologies and new systems.

4. Create a data-based organization
Data is the lifeblood of a digital organization.
Rapid advances in data science enable organizations to analyze vast amounts of data for insights and processes. Moreover, predictive analysis can help managers identify problems and risks before they occur therefore taking preventive actions.
To truly make the most of all this information, organizations must promote a data-centric culture in which leadership is based on these to make decisions. For the next generation PMO and future project managers, data science will be an essential part of the skills. Considering all this, also a project management software can play a decisive role.

5. Eliminate the fear of making mistakes
Building a culture of innovation requires the freedom to experiment with new ideas and new ways of working, without the fear of being "punished" if something goes wrong.
By adopting disruptive technologies, organizations must accept an environment in which employees, by experimenting, can fail, learn from their experience, and move on to the next "experiment".
Traditional leadership is not accustomed to accepting failure, but must allow this experimentation mentality so that innovation can flourish.
A huge part of a successful digital transformation depends on an organization's ability to embrace change.
This evolution is pushing organizations to rethink how to evaluate the success of project management.
Project management was once measured in terms of ability to deliver on time, within the budget and with quality, but what differentiates and creates success in project management is now the ability to innovate within the project.
This is where project leaders become strategic.
Here the link to download the Reports
https://www.pmi.org/learning/thought-leadership/series/disruptive-technologies/the-c-suite-outlook