Teamwork Mobile and 4.7 release
This is an important release and update: Teamwork now has a custom made mobile module that allows to access it using mobile devices like iPhones, Android, Blackberries to read all your Teamwork data online and also to update some of its contents.

The mobile module is an additional module that can be purchased and activated any time – see all details below.
Moreover the core web app has been greatly updated: the 4.7 update is a free update as usual for all users of version 4. Please read the update instructions below.
Teamwork Mobile
Teamwork Mobile is a new interface designed for accessing Teamwork with mobile devices. It allows reading all Teamwork data and insertion/editing of issues, worklogs and events in the agenda.
You won't need to install anything on your mobile: it is simply HTML5, which also facilitates updates. So if your users use different kinds of mobile devices, say some have iPhones, some Android devices and some Blackberries, all of them can use Teamwork mobile.
The mobile module can be used only if you have a running Teamwork instance updated to 4.7 – it is not a stand-alone application. And your Teamwork must be visible on the web, of course.

What you can do. Access all your Teamwork projects, issues, worklogs, events.  Add and close issues, record worklogs, add events. Read documents. And a nice last touch, you can access Teamwork's file storages, so Teamwork is acting as a gateway for you mobile access to your intranet documents.

Where it works. Teamwork mobile works on the following devices: iPhone 3/4, iPad, and on updated Android and Blackberry (do test your device on the demo).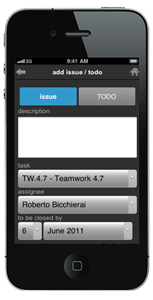 How to try it. Create a demo account at the usual demo installations:
http://demo.twproject.com/mobile
respectively.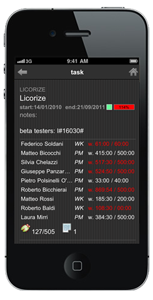 How to buy. The mobile module is not included in your Teamwork 4 license (but the update to 4.7 is), also not included in unlimited users licenses.
The mobile module has a fixed price, 990 Euro per server, 490 Euro if you are using yearly licenses. So you can buy it at a fixed price and use it with all the Teamwork accounts from your Teamwork installation. The mobile license module expires at the same date of your "main license" expiry – so if you have a non expiring license, it never expires.
You buy it here: http://www.twproject.com/licensePrices.page
The license you will receive after purchase (usually within two working days at most) must substitute your existing Teamwork license.
All new demo licenses generated on Teamwork web site include the mobile module.
How to activate.  You have to update your Teamwork to 4.7 and buy the extended license. This done, you just have to point your mobile browser to [YOUR TEAMWORK URL]/mobile. So for example if your Teamwork is at
http://myteamwork.com
you will need to go to
http://myteamwork.com/mobile
with your device' browser.
Teamwork 4.7
This free update contains several major improvements.
Multiple incoming e-mail automatic testing

This feature considerably expands the management possibilities for anyone handling helpdesk like situations. You can now have multiple "background jobs" running in Teamwork that check several e-mail accounts (say, one per main project) and create issues for incoming e-mails.
In the user guide at 5.4.2 Adding issues to tasks XXX this feature is documented in detail.
Updating and refusing appointments
Handling of sync of the agenda through iCal sent via e-mail has been improved:
– If you create an appointment / meeting in Teamwork, those who have activated sync with their e-mail client can now refuse. If they refuse, the creator of the appointment will be notified, both via e-mail and by Teamwork sticky note.
– We also support sending from the client proposals with a new schedule, again the creator of the appointment will be notified, both via e-mail and by Teamwork sticky note (the appointment will remain
unchanged).
– Moreover we made it compatible with refusals also from Google mail /calendar, which uses a completely different format.
Kanban / Organizer view

Now you can add issues directly from the Kanban / organizer view.
Project diary HTML support
The project diary entries now support HTML contents and formatting.
Faster dynamic lookup combos
All dynamic lookup combos e.g. the one for selecting resources when creating assignments respond way faster.
Minor features

– The workflow management part can now be disabled, simplifying the interface.
– Project processes can now be cloned.
– Email password fields as passwords in settings.
– For Pop3 configuration you can set a port on settings.
– Worklog analysis now can filter also by issue.
– Load computation considers the plan for Saturday and Sunday if present.
– Events found from event search can be bulk deleted.
– Plan calculation revised according to "Wouldn't it be more appropriate to sum the planned hours over the whole task duration and then remove them from the estimated worklog in order to properly calculate the load" – see http://answers.twproject.com/questions/1849/work-load-calculation-and-planning
– On mobile you can add resources via vCard.
– When using LDAP, create user on login, and mixed mode auth ON, login name is disabled on resource editor.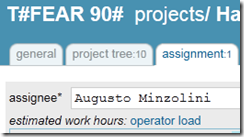 – While creating assignment: once selected a resource (even not saved yet) added a link to operator load.
– Issue list: if task name is big the text for issues is small… –> Fixed.
– Add to options in public task page: remove spam protection (e.g. case of intranet).

– There is a new web part: panic board, to follow closely the progress of a single project.
– There is a task filter in the web part "create issues".
– Copy task: added property "copy cost" in addition to "copy additional costs".
Updated the technology
This update also contains a major technological update under the hood. This means for example more compatibility with Microsoft Project © imports, that Teamwork is compatible also with the new Apache Tomcat 7 and more. Also the database resources used by Teamwork have been considerably lowered.
Bug fixes
– In some cases cloning a task did reset on dates.
– Task description is taken from flux definition when defined. (As requested:  http://answers.twproject.com/questions/1369/define-task-description-in-flux )
– When creating the event for task expired it creates a wrong path to the task.
– Fixed dynamic combos for IE9.
– Twitter integration libraries updated.
– "By updating to the current teamwork version we just experienced that ""t:"" in the searchbar isn't working anymore the same way as before… In the past t: searched also in the (code/short name) of a task – now it is only doing it in the (name/description/notes) field?" –> Fixed.
– Issue editor: pm with only operational could not assign a new resource (not already on the task) –> now he/she can.
– Assignee combo in project list: if resource has no name but only surname it can't find it –> fixed.
– Print pages sometimes print the print menu –> Fixed.
IMPORTANT FOR UPDATING: Remove all Jars from Teamwork's WEB-INF/lb directory before the update, as most of them have been updated. To empty the "lib" directory you will need to stop Teamwork. So proceed as follows:
1. do complete backups as documented here:
2. stop Teamwork
3. empty the […]WEB-INF/lib directory
4. do the update
5. verify that the  […]WEB-INF/lib contains the 83 Jars of the update
6. start teamwork
The update procedure will also update your web.xml file. And finally, if you installing on Oracle, be careful of using the same schema name of the user and writing all in upper case

.