I had the idea of this post reading an interesting article by Katelyn Anton http://newhiteboard.com/2012/01/18/the-practical-project-cost-management, I warmly suggest you to have a look at it as it is a brief but well structured overview.
Most of the other Project Management tools approach "cost management" as something relegated to complex projects with thousands of subtasks, resources and bucks; for this reason this approach is often cumbersome and requires trained personnel. A different possible approach, chosen by most of the light on-line tools, is to ignore completely the matter.
Actually, using Twproject, we can try to have a lighter approach to project cost management following few rules and getting all the benefits without the pain.
In this article we would like to show how to use Twproject for project cost management.
First of all an "official" definition of the cost of a project from the PMBOK:
"The resources necessary to complete scheduled activities."
Practically you should estimate and track costs for hours spent by resources, not only working on tasks, but also working on project management activities (do not underestimate PM work). Then you should consider fixed costs like third part services, machinery, other costs not directly connected to your resources and resource diary costs like travel and stay expenses. Twproject lets you track all these kind of costs.
We can identify two distinct phases: Planning and Managing.
Planning
Overview:
In the first phase you need to formulate a prediction about resources' effort, schedule, fixed costs.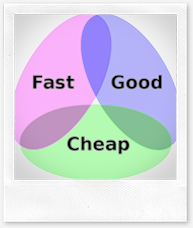 An interesting consideration is exemplified by what is known as "project triangle": it shows how the same project can be managed differently according to the aspects you are focusing on. Everyone would like to stay exactly in the middle :).
A perfect estimate needs a complete analysis of the problem which may require as much time as making it, so we have to stop somewhere and try to guess. There are many different kind of approaches, but generally we suggest to start decomposing the project in subtasks that should be easier to estimate.
Twproject lets you decompose a project in many subtask' levels, so you can decide the granularity of your analysis. When should I stop? There is no a magic spell, but a 20 days subtask should be a good compromise.
(from wikipedia)
Twproject example:
In our test case we are a company organizing a refresher course on security for customer' teams. The example is very simple (almost stupid), actually we would like to show you how to build a nuclear submarine, but we gave up :).
Here is the project Gantt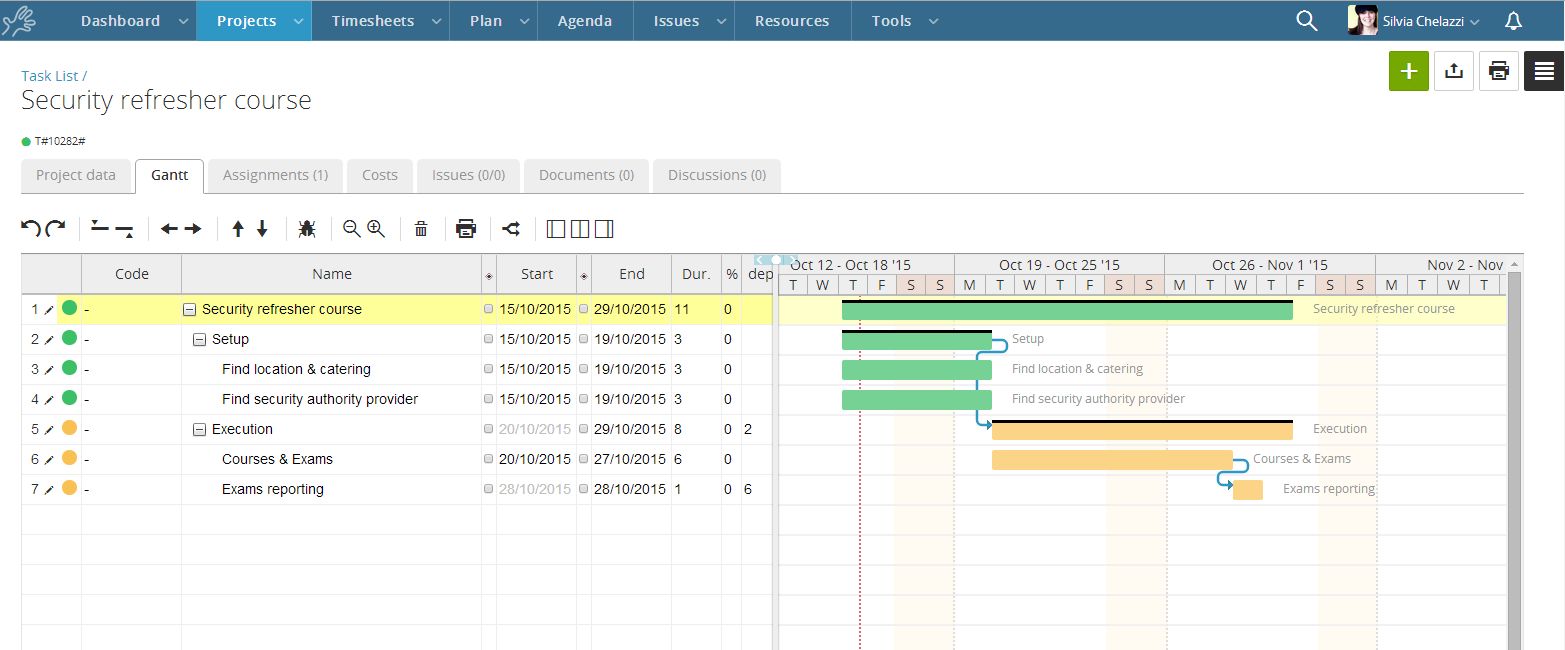 Even in this simple example, there are two different types of estimation. The "setup" task is uncertain as we do not exactly know the effort needed to find a partner and a location, while the "execution" part is determined by fixed costs.
Let's focus on "setup": resource management in Twproject starts by assigning resources to task.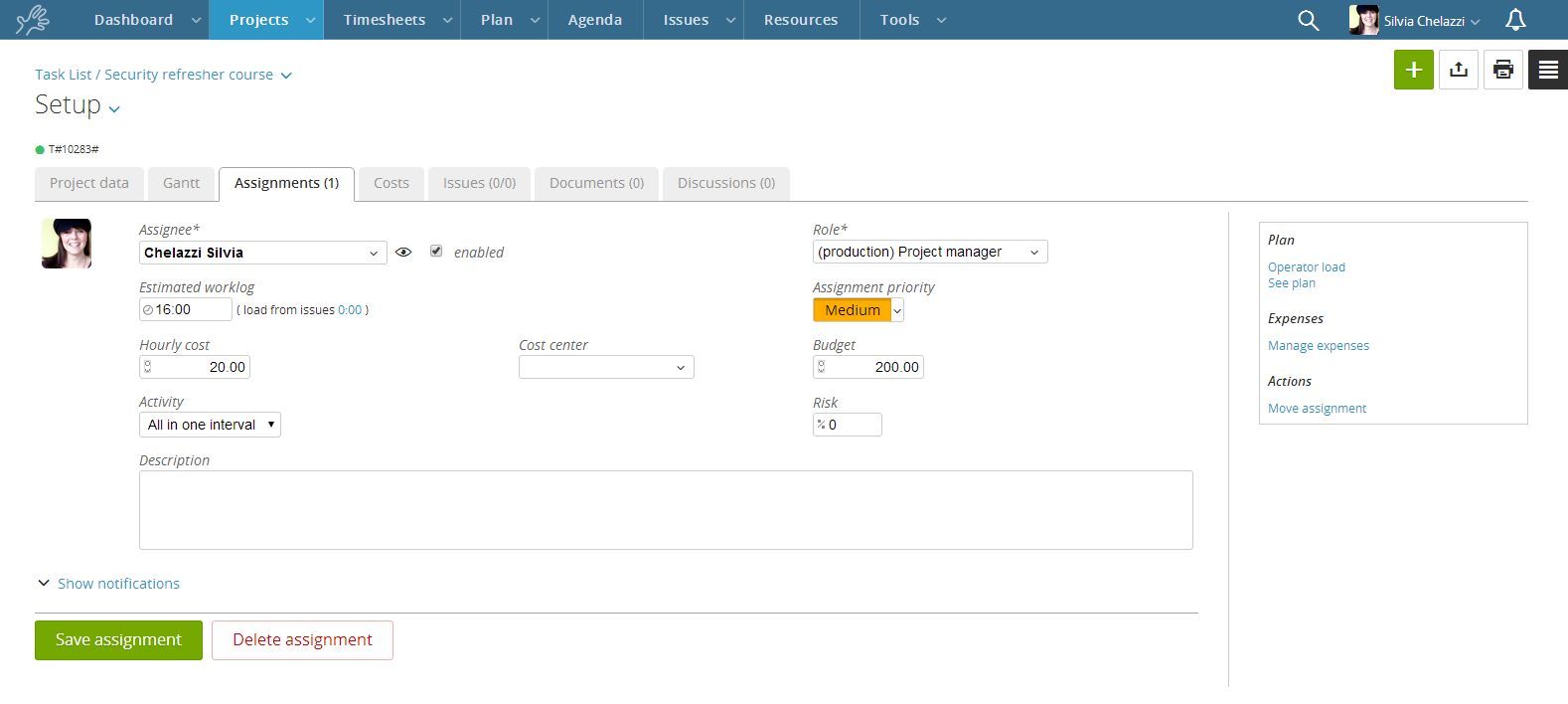 Here we have assigned Silvia and we have estimated 16 hours to perform her task and a personal budget of 200 for expenses; in the meanwhile we have completed assignments for the setup phase, adding other resources.
Notice that "budget" for expenses is distinct from work estimation and that you can specify an hourly cost directly on the assignment, so that it could vary in different tasks (even for the same resource).
The execution phase is more straightforward, and we decided to assign a budget of 6000 for location and catering and 5000 for teacher.
Here is our estimation for the project: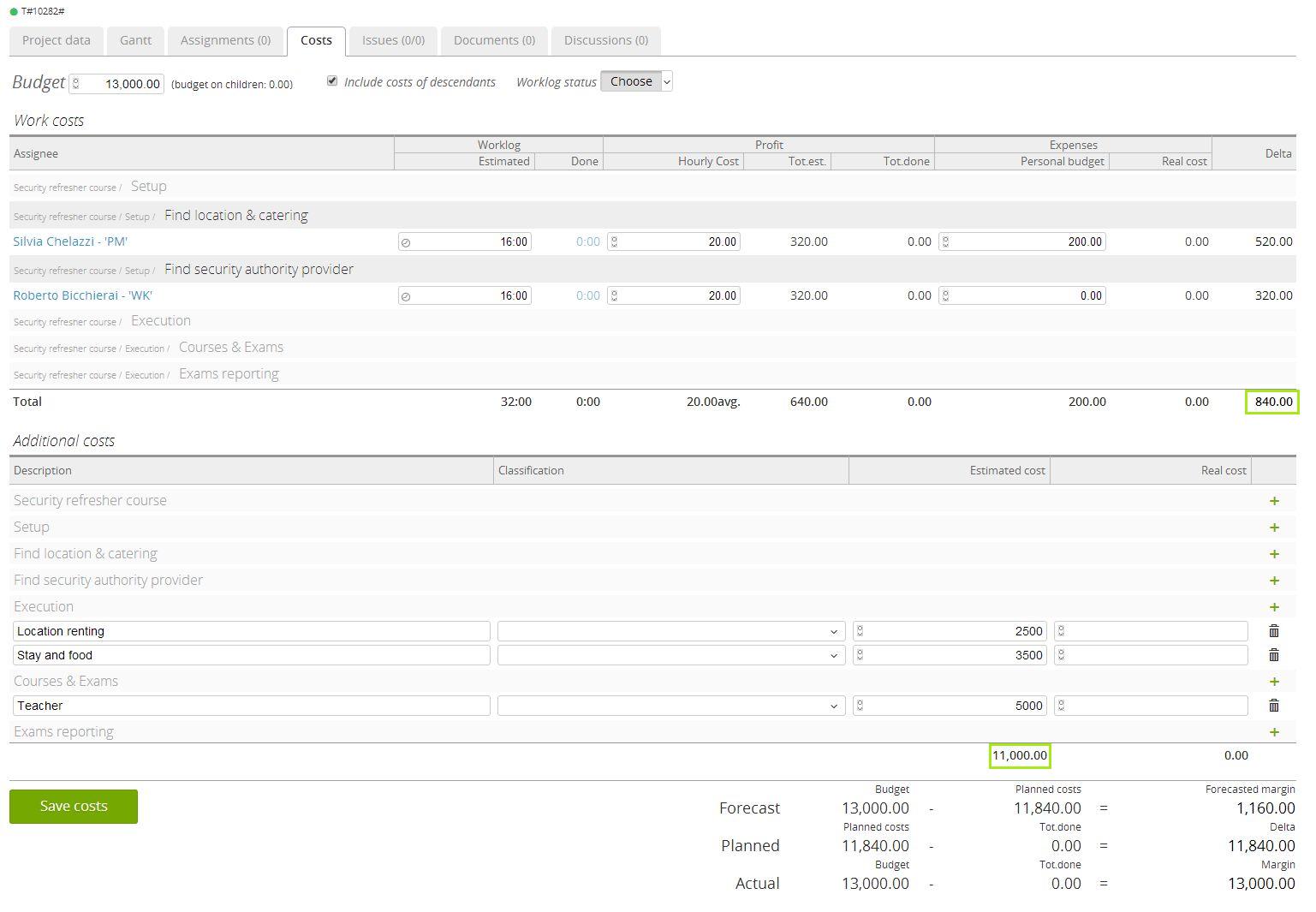 Twproject shows the total planned costs for our task: the first box shows planned costs in terms of estimated work hours for our resources. The second box, instead, shows the course's fixed cost estimated.
We set a budget of 13000 on the root because this is a very simple example. This ends the planning phase.
Notice that "budget" can be used with two meanings: as the maximum cost set for this project, or as the price your company "sells" this project. The latter case usually fits small company's needs.
Reporting & Monitoring
Overview:
This phase is usually the Cinderella of project management. In the past we focused more on planning, building huge Gantt charts that we hang on the wall behind the PM's shoulders, than on keeping track of project executions.
This choice was not made exclusively by bad management, but also because there weren't tools for collecting data where this information was produced; at the time the only PM tool was Microsoft Project :).
Only a tool widely used by the whole team allows gathering consistent and up-to-date data; data rises from front-line people in the team.
Twproject is built to help collecting data bottom-up.
Twproject example:
Let's get back to our example.
Project started and Silvia picked up the phone looking for a good location for the course.
She visited one of them and at the end of the day she recorded her work
And expenses (eventually adding her scanned receipts):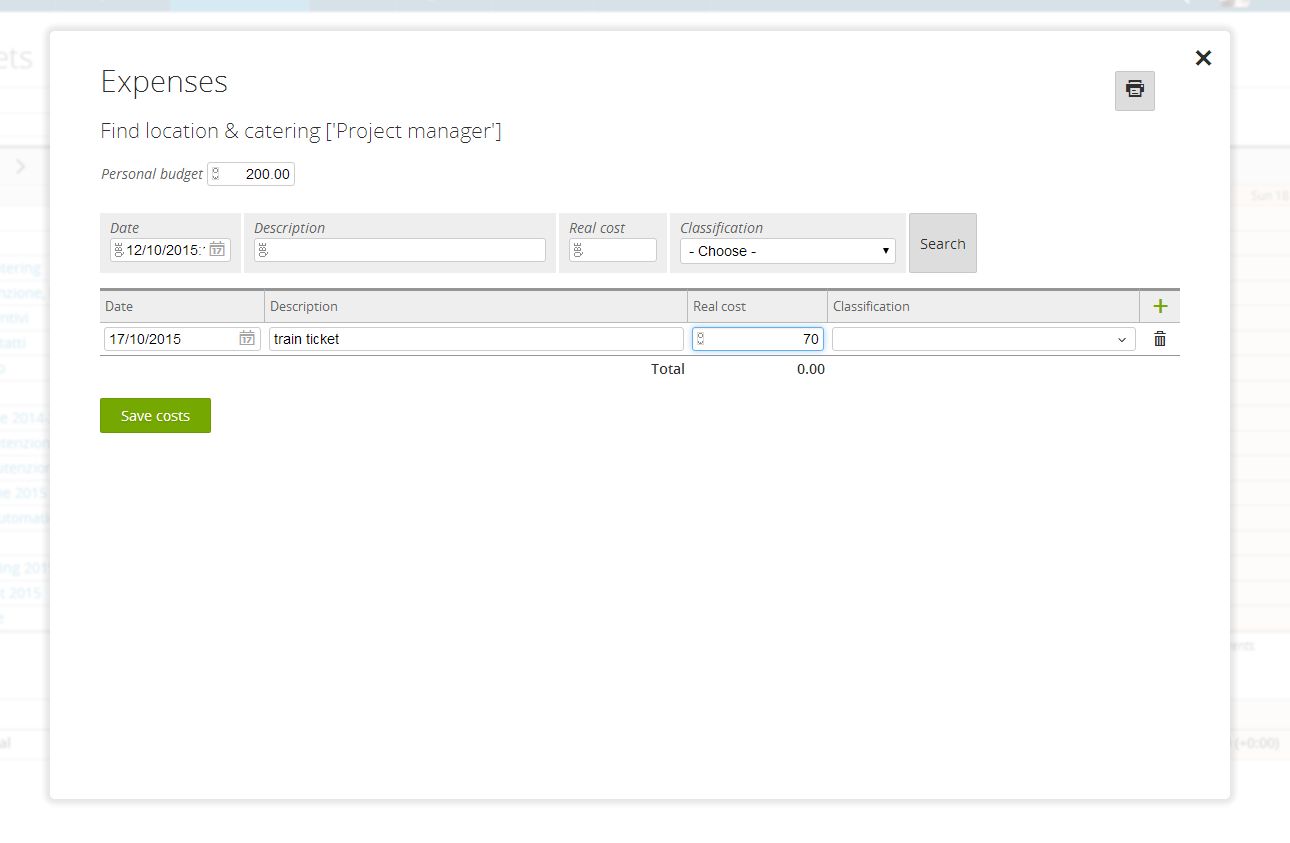 In the meanwhile Roberto had some trouble finding a teacher with the given budget. He spent 22 hours finding him and the best price she got was 5500.


Twproject notification system, alerted the Project Manager about Roberto's overflow.
At the end of the course the cost situation is summed up as follows: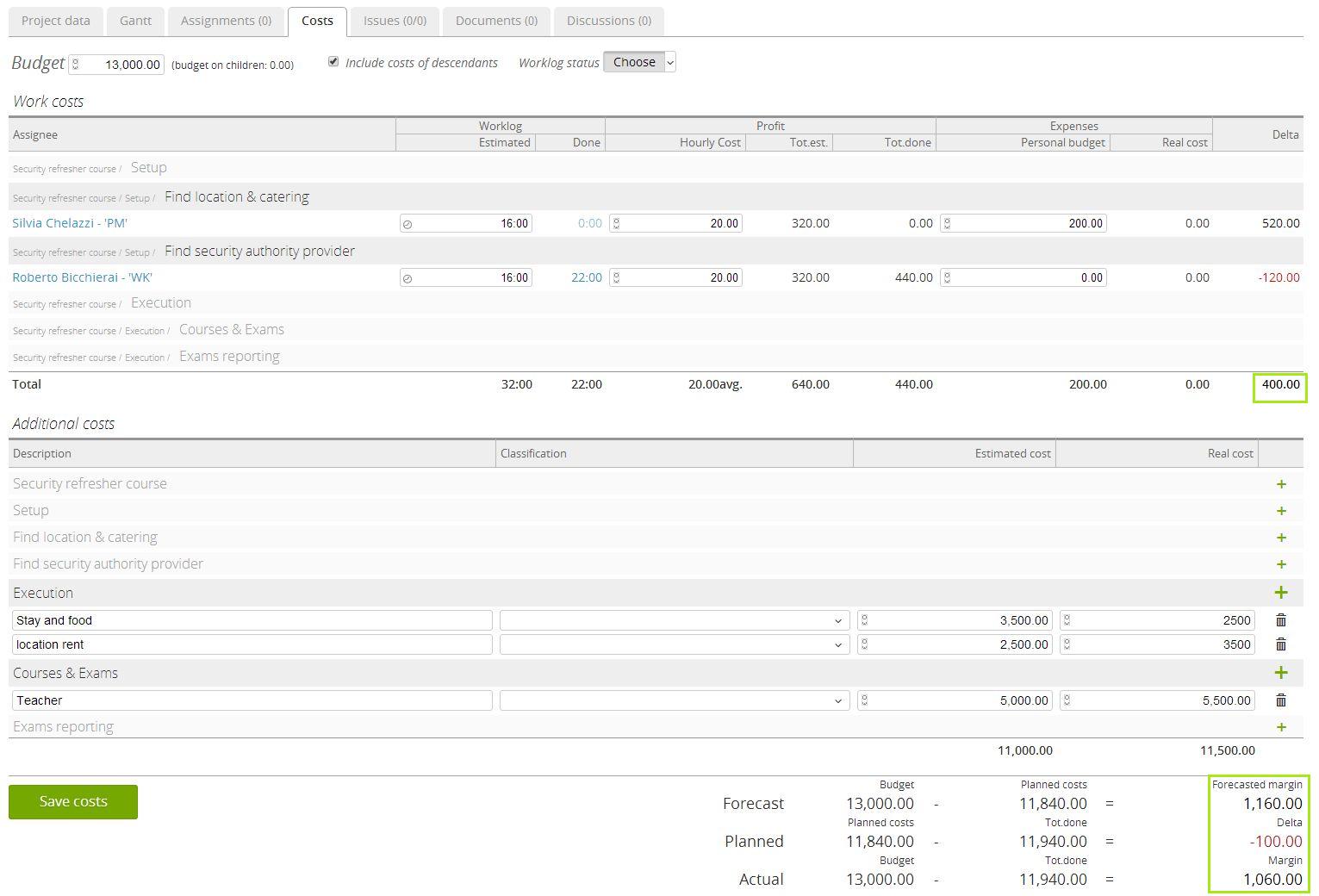 In this case we were lucky as overflows are still in the margin forecasted. In case of budget overflow Twproject 's will alert subscribed users (usually PMs) about the sad event.
Of course this is a very simple example but it should give you an idea of all Twproject cost management functionalities, which can be applied also to more complex projects.
If you have questions, suggestions or doubts about cost management with Twproject approach let us know on adding a comment.