One of the open discussions I've found wondering on the web is about people who try to manage their work with social networks. Since I'm a developer of a work management software and at the same time I'm social network addicted, I find this topic quite interesting. My first consideration is that social networks can be used to manage work only if your needs are limited, for example if you need only to log your time; for this, some use Twitter. This friendly little tool lets you share brief contents, send message to friends and trace activity in time (by scrolling it 🙁 ).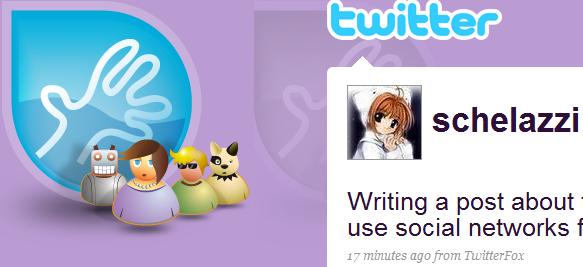 Reading blog discussions about social tools for management, I gather that who uses Twitter for work management, uses it also to log personal experiences and communicate with friends.
Probably if you write a twit every hour, it comes natural to use Twitter as time tracking tool, moreover with the  @tag you can send personal message, creating a sort of work group. Using Twitter in this case is a good way to save time considering that you will probably spend the same time on it even if you don't use it for work!
However I can't believe that users are satisfied from this service. The other day I read the post of Seth Godin Love(and annoying) and I immediately connected his words with my consideration about Twitter. Seth Goding said that
"If people love it, they'll forgive a lot. They'll talk about it. They'll promote it. They'll come back. They'll be less price sensitive. They'll bring their friends. They'll work with you to make it better."
But he doesn't say that if people love it, they also probably will use it in a way that hasn't been foreseen: using Twitter to manage work is a very clear example of this, and it happens all the time with many other applications like Excel, for example. This is fine, as long as you don't want to extract information afterwards….
Twitter can log your activity but it can't tell you which twits go where and how much time you have spent on a specific project, you can only calculate it by hand.
I think that the needs of work groups that really want to organize their work can't be satisfied from what Twitter gives; it wasn't meant to give more, it's the above usage which is forced.
My conclusion is that some people use Twitter to manage work only because they love using Twitter, and having it as work tool sometimes is a good excuse to use it frequently :-).
Silvia Chelazzi
Follow me on Twitter (I have no fear of paradox)