The guys developing Teamwork are indeed using Teamwork for managing work. How we do that? Well, even in our small group, people have different functions and habits. We have two areas, production and accounting; inside prodution, there are people with different roles, and consequently see and use different data, to which the interface adapts seamlessly. We extensively use the dashboard customization functionalities so that everybody sees what they want.
Some issues editable in place.
Teamwork 4 has won the long-standing war with paper. We have to confess that for some short-lived issues, some of us (including me) were still using post-its and notes on paper as an integration of issues. But Teamwork 4 won: the Ajax issue multi-editor is just too practical. There is no more paper on our desks; add Balsamiq mockups for replacing paper interface drafts, and the coverage is complete.
We cross post issues and bugs, which we get notified thanks to the subscription engine.
Worklog reads from Twitter and Subversion
Teamwork worklogs are inserted with help from Twitter and Subversion logs, which Teamwork 4 does natively.
A section which is widely used is the agenda integrated with meetings, which as it synchronizes with our e-mail clients, is quite practical.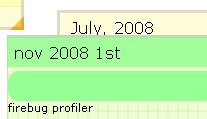 We use boards too, for example to collect notes for our technical meetings. Careful collection of worklogs allows to monitor costs, and also comparison between releases, cost per team etc. .
For authentication, our Teamwork is integrated with our Active Directory. As we are  "advanced users" :-), we have added to the scheduled jobs a "SiteAliveTester" job which tests that our servers are up and sends e-mail alerts.
Strategic company news.
We have added some parts to the defaults, such as RSS reader, user voice reader.
Of course we also use news, for example to publish scores of our table-tennis tournament!